Make takeout for cheap at home with these easy slow cooked, sweet and sour meatballs.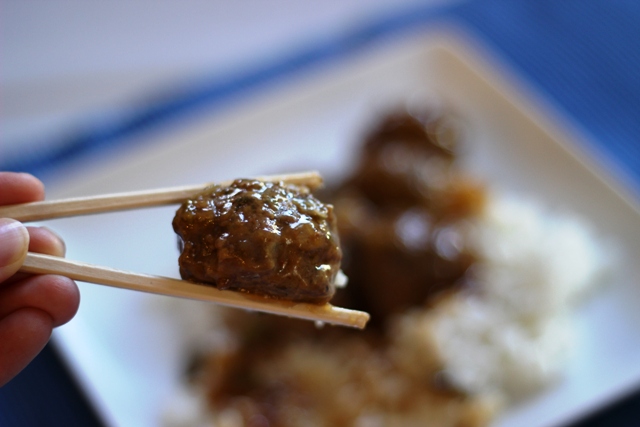 My kids are big fans of Chinese food. I can't blame them. So am I. The mere sight of a Chinese food take-out box in the stands of the hockey rink this weekend prompted my youngest to ask if we could have Panda tomorrow. Unfortunately, the answer is no. For our family, that's easily a $40 meal. When I can make a meal at home for about a fourth of that cost, it doesn't make sense to do it that often.
Instead, I'm working to recreate Asian-inspired dishes at home — at a fraction of the price.
My kids were a little surprised when I served up these Sweet and Sour Meatballs. The sauce tastes just like Chinese food, Mama!
Well, good. That was the effect I was looking for. This meal is pretty easy to make, especially when you have frozen meatballs on hand ready to go. I make my own, but you could use commercially made meatballs as well.
While I made these with beef, next time around I'll use ground pork or chicken as I think the flavors in the sauce will really complement those proteins. Let us know what kind of tweaks you try.
Recipe: Slow Cooked Sweet and Sour Meatballs
Ingredients
24 frozen meatballs
1 cup pineapple chunks
1 tablespoon oil
1/2 cup chopped onion
1/2 cup chopped bell pepper
1/3 cup pineapple juice
1/3 cup chicken broth
1/4 cup soy sauce
2 tablespoons rice vinegar
1 tablespoon brown sugar
1 teaspoon sesame oil
1/4 teaspoon crushed red pepper
2 tablespoons cornstarch
Instructions
Place the meatballs and pineapple chunks in the crock of a 4-quart slow cooker.
In a medium skillet, heat the oil until shimmering. Add the onion and bell pepper and saute until tender, about 5 to 7 minutes. Add this to the crock.
In a small dish, whisk together the pineapple juice, chicken broth, soy sauce, rice vinegar, brown sugar, sesame oil, and crushed red pepper. Pour this mixture into the crock.
Cover the slow cooker and cook 4 hours on high.
Remove the meatballs, pineapple, and vegetables with a slotted spoon. Cover to keep warm.
Whisk together the cornstarch and 2 tablespoons water. Add this mixture to the liquid in the crock, whisking until well blended. Cook until thickened, about 10 to 15 minutes.
Add the meatballs, pineapple, and vegetables back to the crock. Stir gently to coat with the sauce. Serve with white rice and steamed vegetables.
To freeze: cool the mixture. Wrap, label, and chill well before freezing. Reheat before serving.
Preparation time: 15 minute(s)
Cooking time: 4 hours 15 minutes
Number of servings (yield): 4