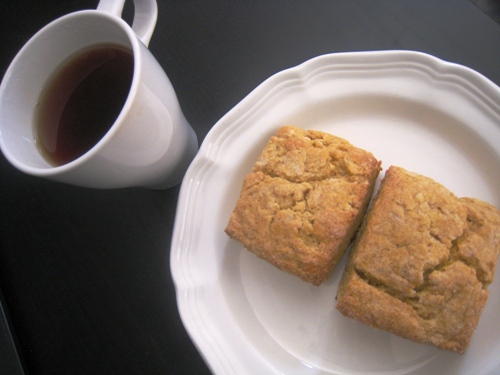 These were a spur-of-the-moment creation, based on a half jar of pumpkin sitting in the fridge just crying to be baked into something delicious. Scones sounded lovely.
And they were.
I use a food processor to cut in the butter and then transfer those buttery crumbs to a bowl and then mix in the liquid ingredients. You can cut the butter in with a pastry blender or with two knives if you don't have a food processor. Though honestly, I don't know what I would do without my food processor.
These are delicious for breakfast with your morning coffee as well as an afternoon snack with tea or milk. Cut smaller scones for younger folk; bigger scones for us old people. There are benefits to aging.
Recipe: Pumpkin Spice Scones
Ingredients
3 cups unbleached, all-purpose flour
2 cups whole wheat pastry flour
1 cup granulated sugar
1 Tablespoon baking powder
1/2 teaspoon ground ginger
1/2 teaspoon ground cinnamon
1/2 teaspoon ground nutmeg
1/2 teaspoon salt
1 cup butter, cut into small cubes
1/2 cup canned pumpkin puree
1 cup buttermilk
2 Tablespoons cinnamon sugar, made by mixing 1/2 teaspoon cinnamon with 5 1/2 teaspoons sugar
Instructions
Preheat the oven to 375°.
Line baking sheets with parchment paper.
In a large bowl combine the flours, sugar, baking powder, ginger, cinnamon, nutmeg, and salt. Cut in the butter until coarse crumbs form. (To speed up the process, you can do this in batches in a food processor. Then pour the mixture into a large mixing bowl.)
Add the pumpkin and buttermilk. Fold them in gently until combined. The dough will be sticky.
Turn the dough out onto a floured surface and fold 2-3 turns or until dough comes together.
Gently pat or roll the dough into a 1 inch thickness.
Sprinkle the cinnamon sugar over the dough.
Cut the dough into twelve squares.
Place the scones on the prepared baking sheets and bake them for 15 minutes or until lightly brown.
Cool on a wire rack before serving.
You can also freeze the scones, baked or unbaked. Flash freeze and store in an airtight container in the freezer. If baking from frozen, increase baking time 5 minutes. Alternatively, bake and cool the scones and store them in an airtight container in the freezer.
Preparation time: 15 minute(s)
Cooking time: 15 minute(s)
Number of servings (yield): 12