Dinner comes together quickly and easily with this one-dish dinner of chicken, vegetables, and rice.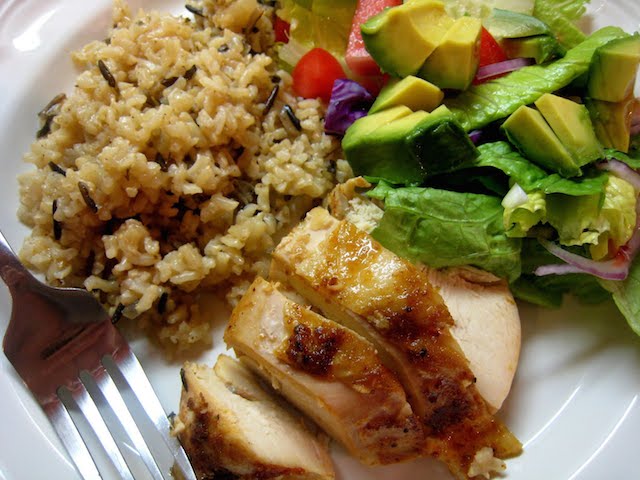 I love being able to throw ingredients in a pan, slide it in the oven and walk away. There are so many other things I'd rather do than stand over a stove and babysit dinner. This chicken and wild rice bake is one of those fix it and forget it kind of recipes. The rice and chicken bake while you make a salad or other vegetable side dish. Delish!
The recipe is based on one that I found in my mom's yellow, weathered, Pillsbury Family Cookbook, circa 1972. LOVE that cookbook! It was written in the days when people still used real ingredients instead of packaged mixes. You can still find them on ebay. I bought my sisters each one, so that someday the family copy is mine. I'm selfish like that.
The original recipe did call for a packaged rice mix, but I've adapted it to use regular rice and spices. I've given directions for preparing this as a freezer meal at the bottom.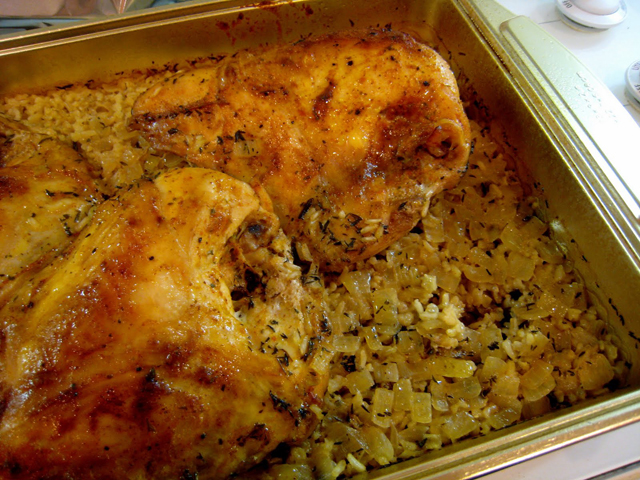 Recipe: Chicken and Wild Rice Bake
Ingredients
3 bone-in chicken breasts or 1 cut-up chicken
1 batch herbed vinaigrette or 1/2 cup your favorite oil and vinegar dressing
2 cups brown rice
2 Tablespoons wild rice
1/2 teaspoon dried thyme
1/4 teaspoon pepper
1/2 cup chopped onion
1 rib celery (optional)
1/2 cup chopped mushrooms (optional)
4 cups chicken broth, water, or a combination
Instructions
Combine chicken breasts and vinaigrette in a large ziptop bag. Seal and massage bag. Allow to marinade for several hours.
Preheat oven to 375°. Spray 9×13 baking dish with nonstick cooking spray. Combine rice, wild rice, thyme, pepper, onion, celery and mushrooms in pan. Stir in broth.
Remove chicken pieces from marinade and place atop rice.
Cover with foil and bake 1 hour. Uncover and bake an additional 30 minutes or until rice absorbs liquid and chicken is cooked through and juices run clear.
** To prepare this as a freezer meal: Combine chicken breasts and vinaigrette in bag. Label. Combine rice and spices in a second bag. Label. Lay out onion, celery and mushrooms in a single layer on a baking sheet. Flash freeze. Place vegetables in a third bag and make sure to label them. Place all bags together in a larger bag, labelled Chicken and Wild Rice Bake. Be sure to include baking instructions. Freeze. Thaw chicken before baking. Bake as directed above.
Check out the Ultimate Collection of Freezer Cooking Recipes and Tips for the 411 on freezer cooking.