Football never tasted so good. Fire up the stove and sauté these peppers and onions to top your brats. Touchdown!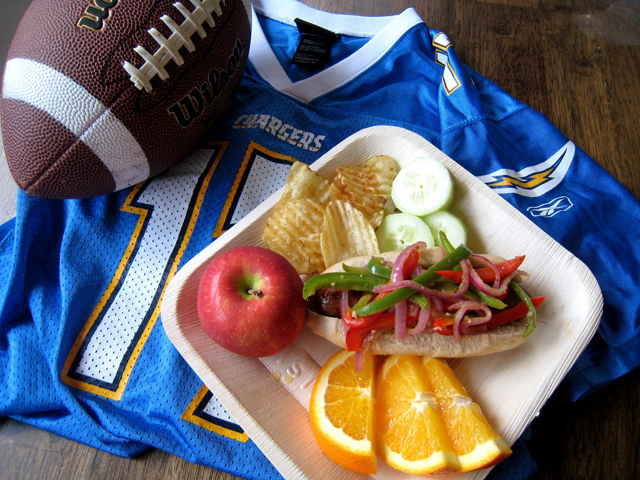 OK, so our Chargers won't be playing this weekend. It was a sad, sad day in these here parts when the San Diego Chargers lost to the NY Jets. Sigh….
At least there were good eats! My friend Cristina introduced us to this dish and my husband now has fond memories of bratwurst. Previously he only tolerated them. Now, he looks forward to eating them. Go figure.
It's such a simple preparation, but so delicious. The perfect addition to any tailgate party.
Bratwurst with Sauteed Peppers and Onions
Top grilled bratwurst or Italian sausages with this delicious mixture of sautéed peppers and onions.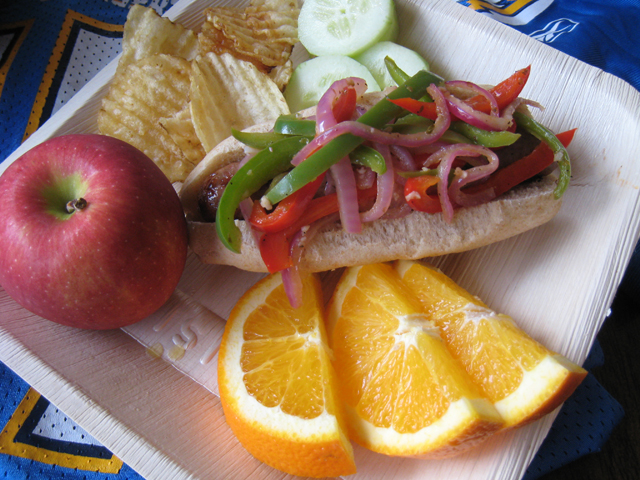 Preparation Time: 5 minutes
Cook time: 10 minutes
Total time: 15 minutes
serves 4
Ingredients:
1 tablespoon olive oil

1 red bell pepper, cored, seeded and thinly sliced

1 green bell pepper, cored, seeded and thinly sliced

1/2 onion, thinly sliced

salt and pepper

1/2 teaspoon dried oregano

1 tablespoon red wine vinegar

bratwurst sausages, cooked according to your preferences
Instructions:

In large skillet, heat oil until shimmering. Add peppers and onions and saute quickly until tender, but still slightly crisp. Season with salt and pepper.
Stir in oregano and red wine vinegar.
Serve hot or warm over brats in buns.
How do YOU top your hot dog or sausage?
Want the dish on delicious ways to act your wage? Subscribe to GCE in a reader or via email.