Dessert can be amazingly simple and sweet, especially if you stock the pantry accordingly. Prepare for quick desserts so that you can treat guests — or yourself! — anytime.
It can be fun to have friends and family over to hang out and enjoy a bite to eat. It's even more fun when you're so prepared that you can spontaneously invite folks over and KNOW you can treat them to a feast — without freaking out or going broke.
Seriously?
Yes! It's all about building a pantry that truly works for you.
I've been working on this concept with my workshop students this past month. When you shop the sales and the clearance racks and keep an eye open for great deals, you can build a mini grocery store in your kitchen — one that has exactly what you need and use at a price that's better than your average grocery shopping trip.
Then you can shop your kitchen when it's time to make your weekly meal plan or when unexpected company drops by.
Here's an example of what I'm talking about. Not too long ago, I wrote about preparing a snack tray in anticipation of unplanned visitors. Good Cheap Eater Christine wrote to tell me that it was a super duper success the very first time she tried that strategy. After reading the post, she shopped accordingly, and low and behold, folks dropped in unannounced over the weekend!
Needless to say, Christine was able to provide her friends with a tasty spread — and impress the socks off her husband, who was newly reminded what an awesome woman he had married.
I can't decide which is better, the company-worthy spread or the wowed husband! I can hear love it when a plan comes together….
Building a pantry that really works for you pays off in money and time savings but also in feeling really good about your skills as a home cook and host or hostess.
This is never more important than when it comes to preparing for quick desserts!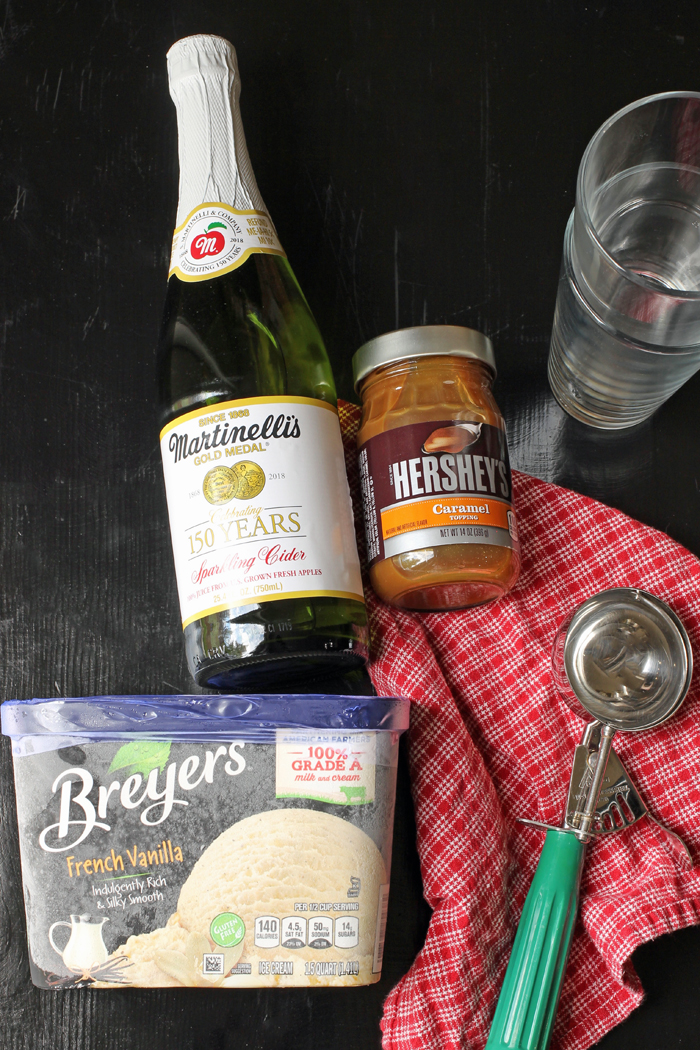 Stock Your Pantry for Easy, Quick Desserts
Quick dessert ingredients are easy enough to run out to the store, but that quick trip can easily cost you 15 bucks for the above items! Why not shop and stock up on sale items and pay about half?
Check your grocery sales flyers each week and see what quick dessert ingredients you can add to your stash. You don't need to do this all in one fell swoop; that will likely bust your budget. Adding a package of cookies or a carton of ice cream here and there — when they are well priced — can easily build your pantry, making easy quick desserts, well, easy and quick!
Here are some pantry/fridge items to stock for simple, impromptu sweets:
ice cream and sundae toppings
ice cream, coffee and hot cocoa for affogatos
apples, whipped cream, and caramel sauce for Apple Crowns
sparkling apple cider, ice cream, and caramel sauce for Apple Cider Floats
fresh fruit and tea biscuits
frozen puff pastry and applesauce for Chausson aux Pommes
chocolate chips and evaporated milk for a quick fondue; fruit and frozen pound cake or puff pastry for dipping
What do you stock for quick desserts?
Ease your holiday stress!
Speaking of easy dinners and delicious desserts…. Want to make the holiday season a little brighter this year?
Ease your seasonal stress by planning in advance how you will handle your holiday kitchen.
Learn more here.