You've heard about this freezer cooking thing. You may even have checked out a cookbook or two from the library. But, the problem in the kitchen is the same problem in your life – a shortage of time. You just don't have the time to figure out this freezer cooking thing.
Or maybe you're just so eager to get started, you don't want to spend time reading. You just want to get cooking!
I hear ya. I hate reading directions, too. My husband just shakes his head at me as I just feel my way through a project instead of simply picking up the manual.
Here's a quick start guide to cooking, freezing, and enjoying homemade meals in the coming weeks.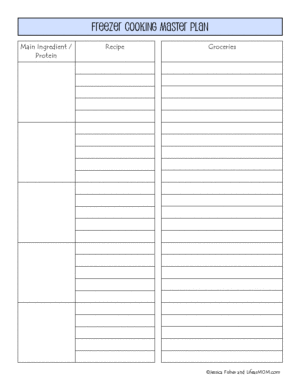 Print out a Master Freezer Cooking Planning Sheet.
Choose one protein, such as chicken, to cook for this round of freezer cooking. Write that in the first square under "main ingredient/protein." Next time you can get all tricked out and make different kinds of dishes, but we're doing baby steps here.
List your four favorite chicken recipes in the next column. If you need inspiration, consult this list of what freezes well.
Pull out those four chicken recipes and create a grocery list in column three. You're going to prepare double or triple batches of each of these items (you choose). So adjust your grocery list accordingly. Check your pantry to see what you have and what you need.
Go shopping. (Make sure there's enough room in the fridge to hold all that you're bringing home.)
Review this precooking checklist.
On your freezer cooking day, prep all your vegetables and other ingredients that might need chopping, slicing, and dicing.
Prepare each recipe in assembly line fashion. Don't forget that you're doubling or tripling recipes. Lay out 2-3 baking dishes to fill and put them together quickly and efficiently.
Wrap, label, and freeze as you go. Make sure that food cools to room temperature before freezing.
By the time you're done, you should have 8 – 12 dinners ready to go for the coming weeks.
Are you ready to get cooking?

Curious about freezer cooking? Consider purchasing my cookbook, Not Your Mother's Make-Ahead and Freeze Cookbook from Amazon, Barnes and Noble, or your local bookstore. It's chock full with over 200 freezer-friendly recipes, planning pages, shopping lists, cooking plans, and basic and advanced how-to's to making freezer cooking work for any home, family, and lifestyle.