Roasting a whole chicken is a delicious and economical way to enjoy a hearty protein. But, how in the world do you carve a whole chicken?!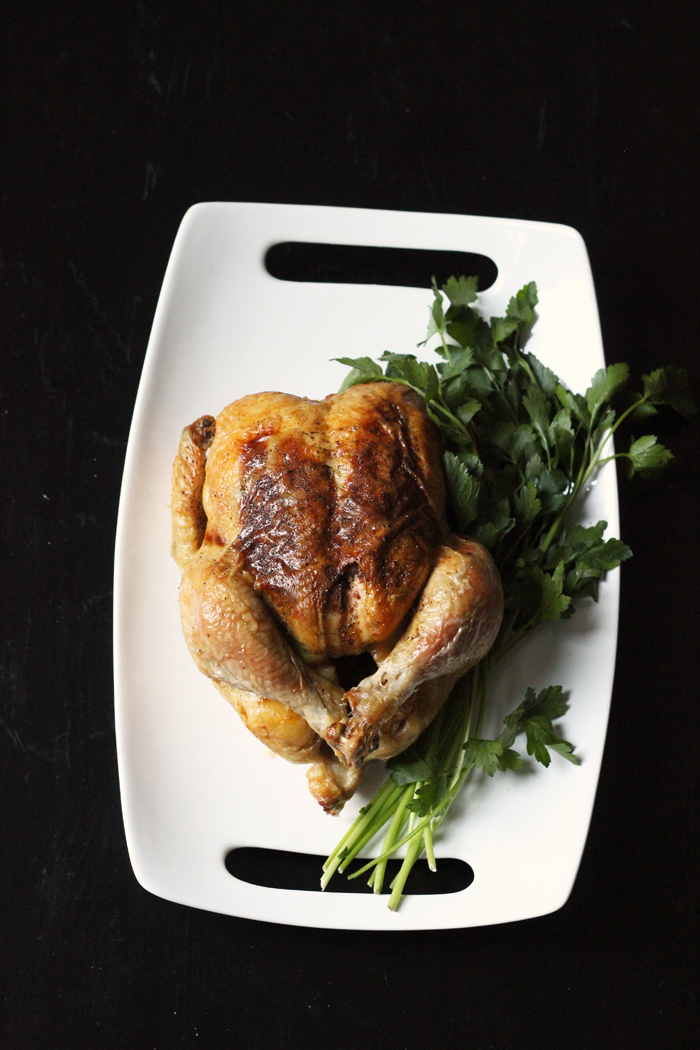 There's no question that roasting a whole chicken (or buying one from the grocery store rotisserie) is a great way to enjoy succulent chicken meat for a lower price and better taste than cooking individual pieces, particularly the boneless, skinless kind. The roasting part is pretty easy. It's the "how to carve a whole chicken" that can be the challenge.
How do you get from that picture above to this: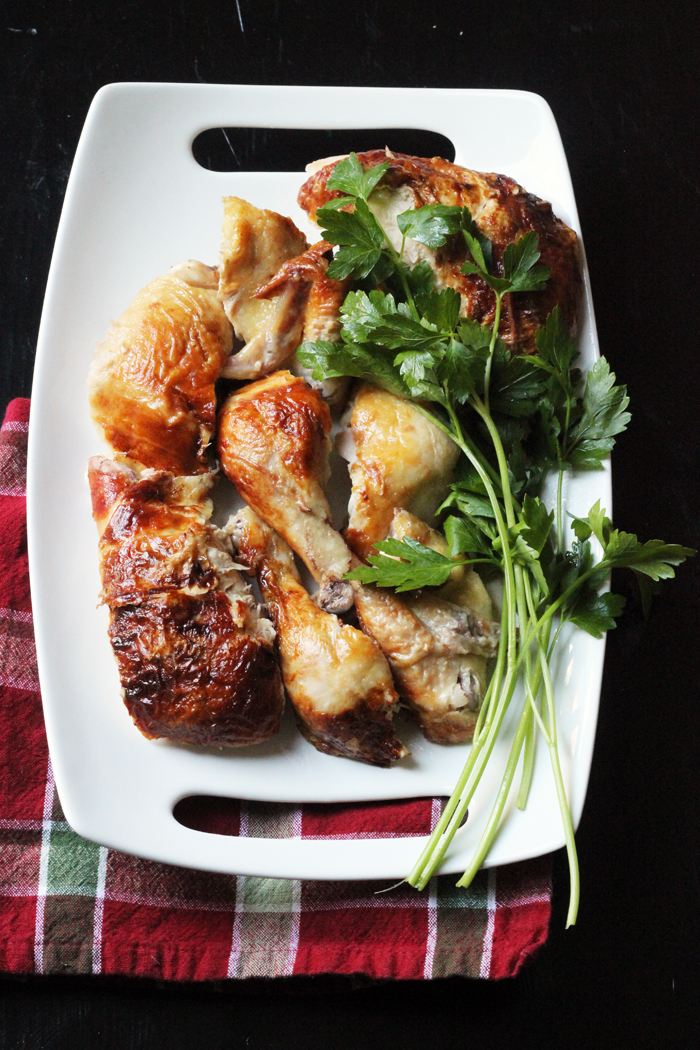 At least without hacking it all to bits?
After carving up two chickens a week for the last few months, I'm here with a pictorial to help with all your chicken — or turkey — carving needs. Yes, twice a week. Either I roast my own chickens or we pick up a couple at Costco. I'm getting lots of practice; trust me.
How to Carve a Whole Chicken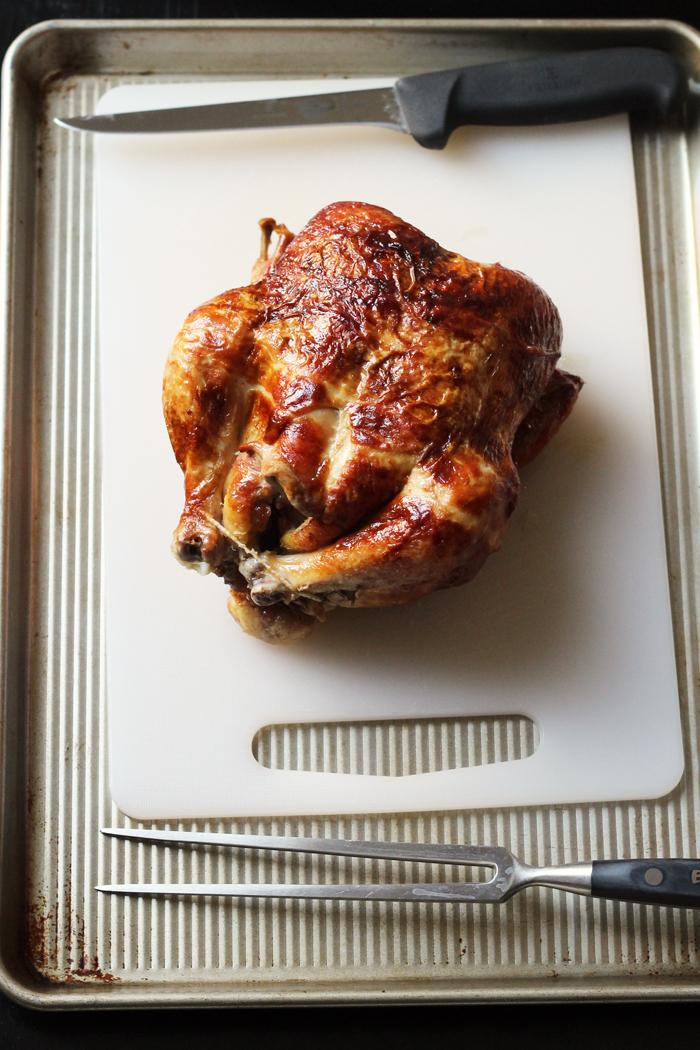 I recommend that you carve a whole chicken on a cutting board placed inside a rimmed baking sheet. This is a great way to catch all the drips and keep your countertops clean. I also use a boning knife and a carving fork. (Scroll down for specific product links.)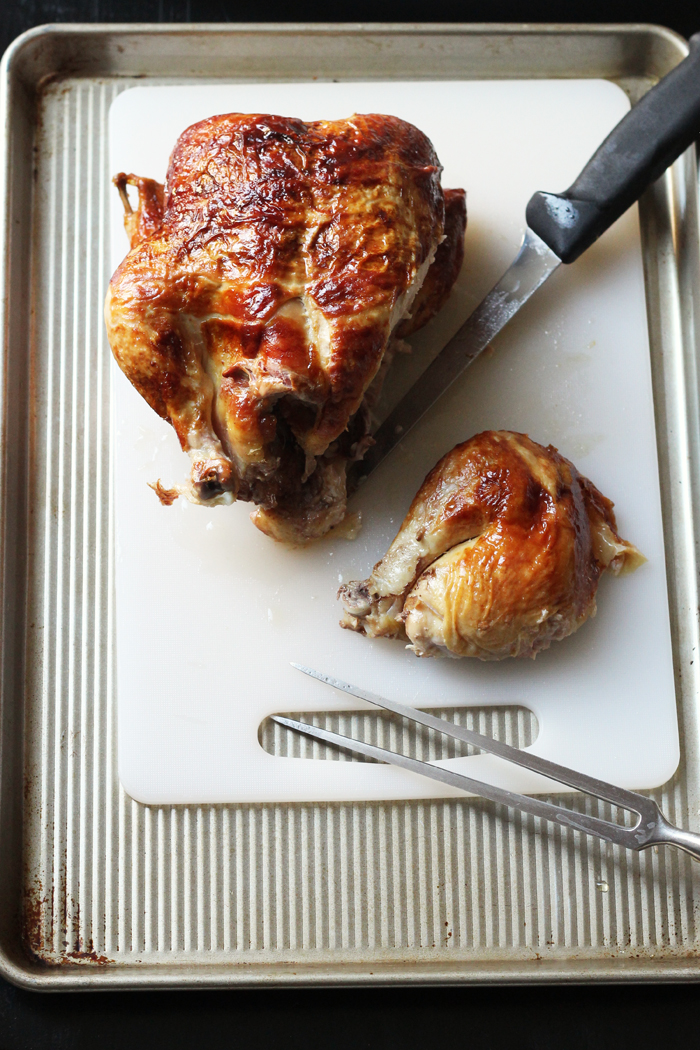 The first step is to remove the legs. You'll place your carving fork into the breast and wiggle your knife in between the joint of the thigh where it connects to the bird. Separate the whole leg and then you can cut the thigh and drumstick apart.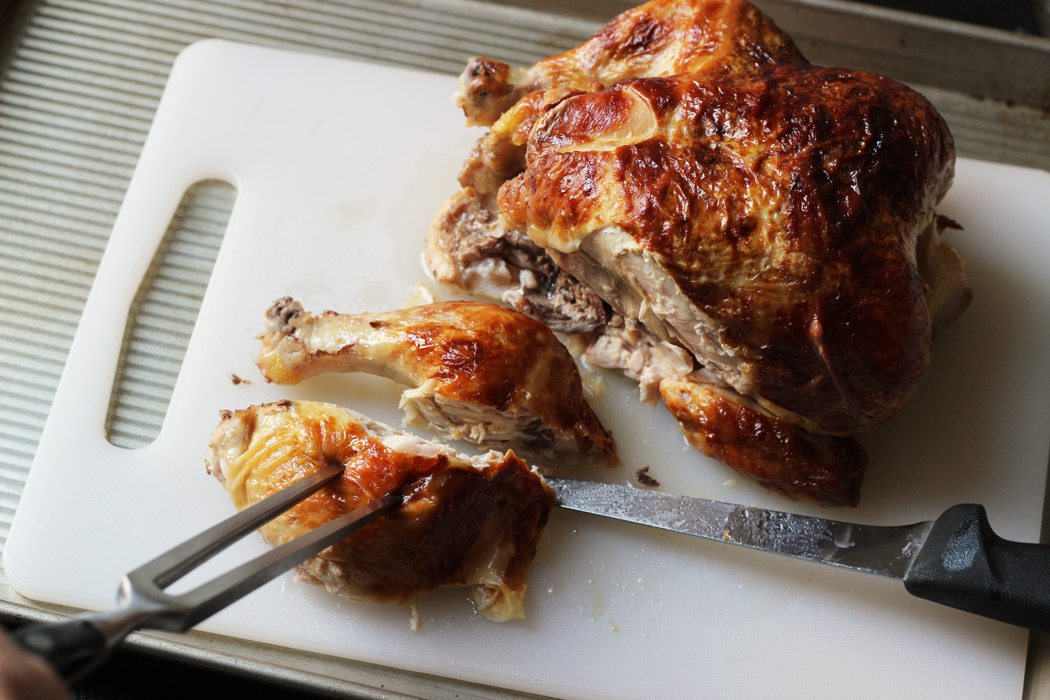 Repeat this on the other side.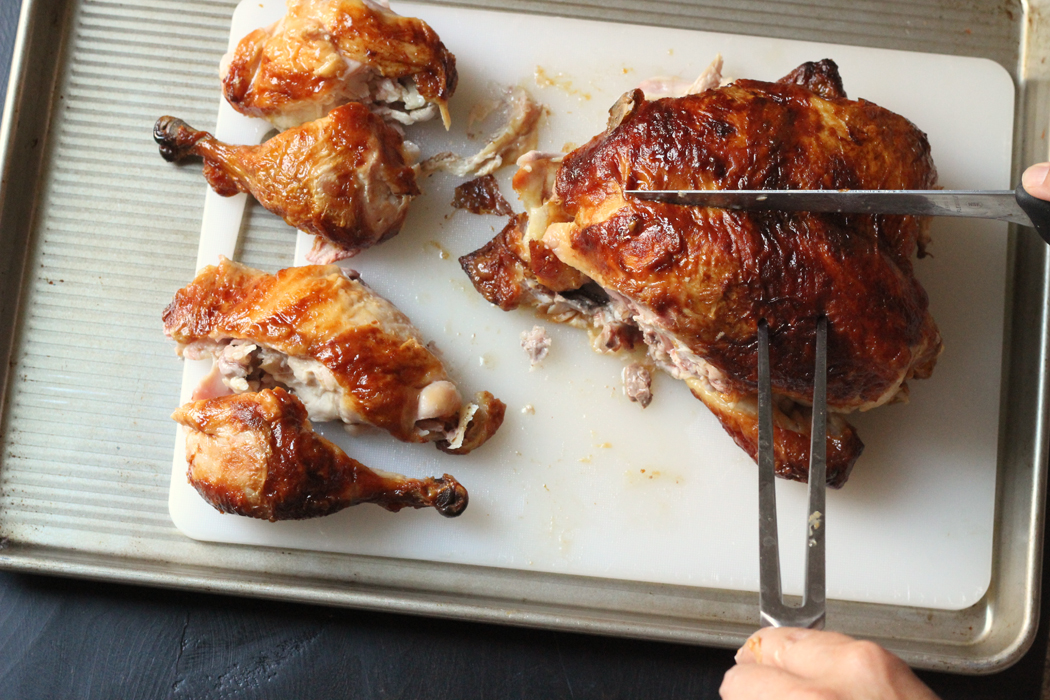 Once you have the legs removed, you can slice off the breast meat. Slice down the center, rubbing the knife against the center bone.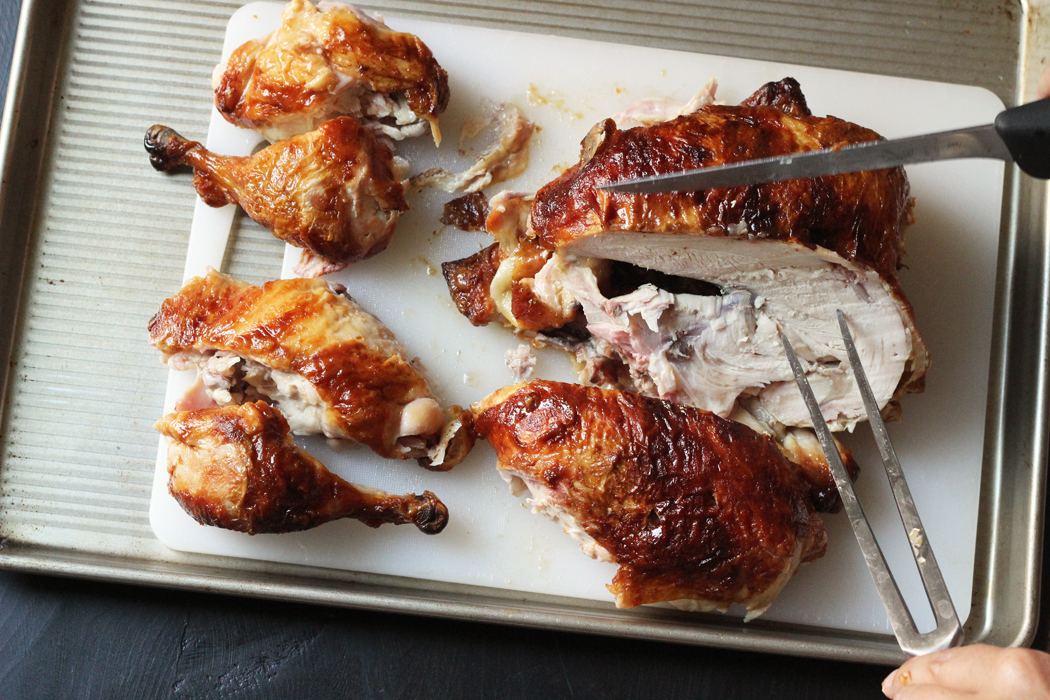 You may miss the mark a bit and have some chicken meat remaining. That's okay, you can remove this and use it in soup or casseroles. Repeat the process on the other side, so that both breast portions are removed from the carcass.
Then slice away the wings, again wiggling your knife into the joint to separate the wing from the carcass.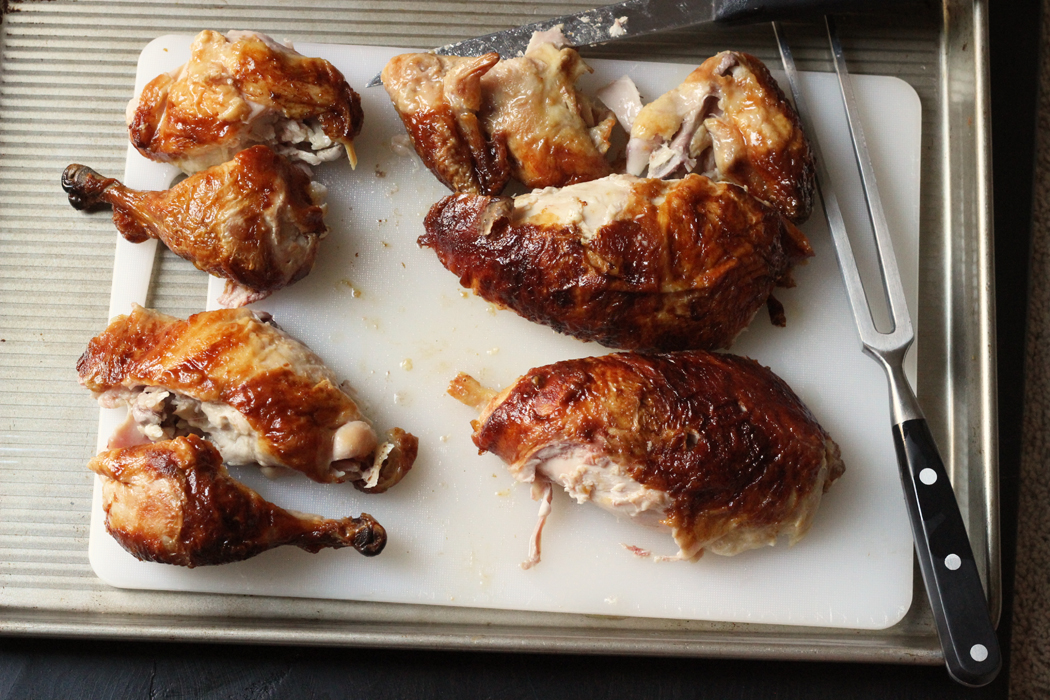 You should have eight pieces ready to serve. There may be remaining bits of meat on the carcass. Don't leave this behind. If folks are waiting to be served, go ahead and enjoy the roast chicken. Then later, come back and with your fingers remove any small bits of meat left on the carcass.
There are two little nuggets of meat on the back of the chicken that you don't want to miss. These are called the oysters. They don't look particularly pretty, but they are super tasty! The French call them "what the fool leaves behind." Don't be a fool! Remember to remove those.
And be sure to make chicken stock with the bones and any drippings you've got accumulated in your baking pan.
Favorite Roast Chicken Recipes
Tools I use to make this easy: