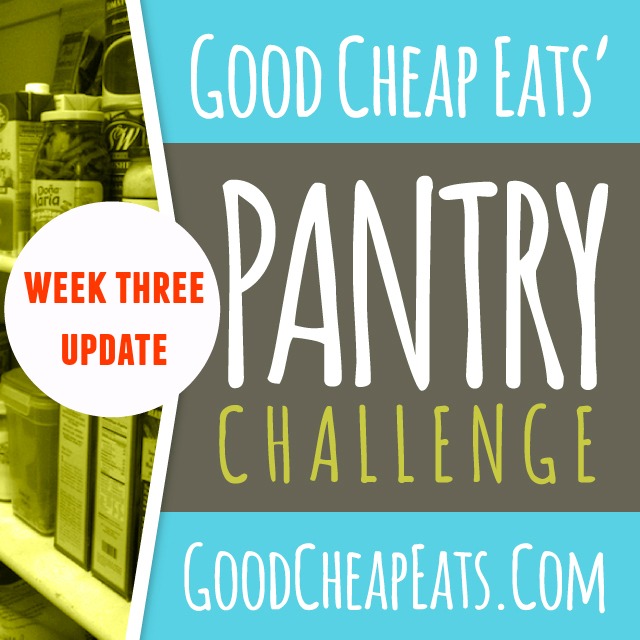 We are in the home stretch, people! Week Three is done. Whew! I'm so glad. Our pantry is looking pretty sparse. Pasta is gone; rice is gone; most of the beans are gone. The big freezer is emptied and unplugged. Only one week to go!
This last week is kinda crazy. I'm not quite jumpy like I have been in past years when week four was close to break me. I think it helps that I kept our one meal to eat out each week. That's been a welcome respite. 
This update combines my meal planning and Grocery Geek posts into one post for the week.
Meal Planning
Week 3 Meals
Here are the meals we had this week:
Waffles with some corn flour/meal
Hot Cereal with toppings
Bruegger's Bagels from the freezer
toast bar, milk, bananas
Breakfast Cookies, milk, fruit
Pantry Minestrone (recipe coming soon)
Tuna Sandwiches with Homemade Mayonnaise, Cucumbers
Sandwiches
Fish Chowder and Biscuits
Pesto from the freezer on pasta, grapefruit
Scrambled Eggs, Hashbrowns, Bacon
Cilantro Chicken, Brown Rice, Carrots, Nanna's Apple Pie
Sauerkraut and Spare Ribs, boiled potatoes
Pasta with Meat Sauce, Caesar Salad, Buttery Garlic Knots
Mac and Cheese, Meat Sauce, Spinach Salad
Pizza night
Planned Meals for Week 4
We are only going to go through Friday night. That will be our last night, completing 28 days.
Eggs x 2
Minestrone
Sunbutter/Almond Butter Sandwiches x 2
Chicken Noodle Soup
Pesto Pasta
Papa's Bday Supper
Lasagna, but with beschamel sauce instead of middle cheese layer (see Good Cheap Eats cookbook)
Groceries So far
My big boys are getting their wisdom teeth out tomorrow so I had to go to the store to stock up on soft, comforting foods for them. I spent more than I would have liked, but I think we'll be able to squeak through the week with maybe a milk purchase or two. Here's hoping, anyway.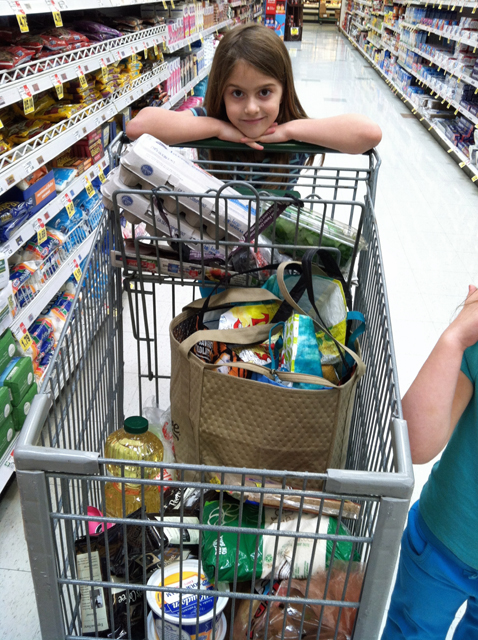 Ralphs
Last Sunday the girls and I went to Ralphs for some basics: coffee, sugar, potatoes, oil, spinach, eggs, sour cream. Hubs and I went back a few days later for milk.
Total spent at Ralphs this week: $47
Target
On another day I was at Target and picked up two loaves of bread.
Total spent: $6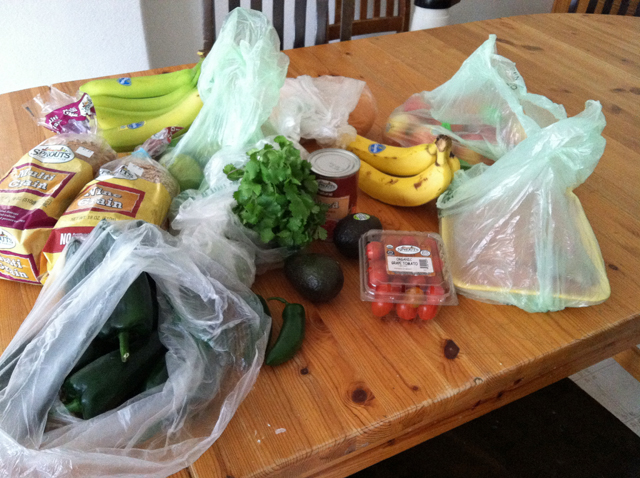 Sprouts
This weekend I went to Sprouts for things to round out the coming week: bread, cilantro, poblanos, jalapeños, avocados, tomatoes, chicken, bananas, apples, pears, and grapefruit.
Total spent: $38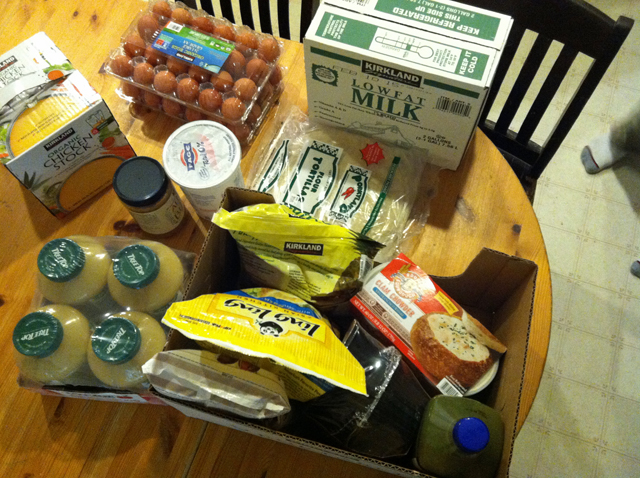 Costco
Last night I went to Costco, mainly for a good deal on the things my boys would need after their dental work: applesauce, chicken broth, frozen fruit, mashed potatoes, yogurt, almond butter, juice, and clam chowder. I picked up the potstickers for my husband to hold down the fort with when I'm out of town for a day this week.
Total spent: $112
Spent this week: $203
Month to date on groceries: $532
Wow! Even with the extra soft foods for the boys, we're still doing pretty well. We should be able to be under $600 for the month, about half of what the USDA estimates it would cost to feed my family at home for a month. We still ate out a few meals, but I'm very pleased so far.
How's the month shaping up for YOU?