Two weeks done, two weeks to go. Here's my update on the Pantry Challenge for week two: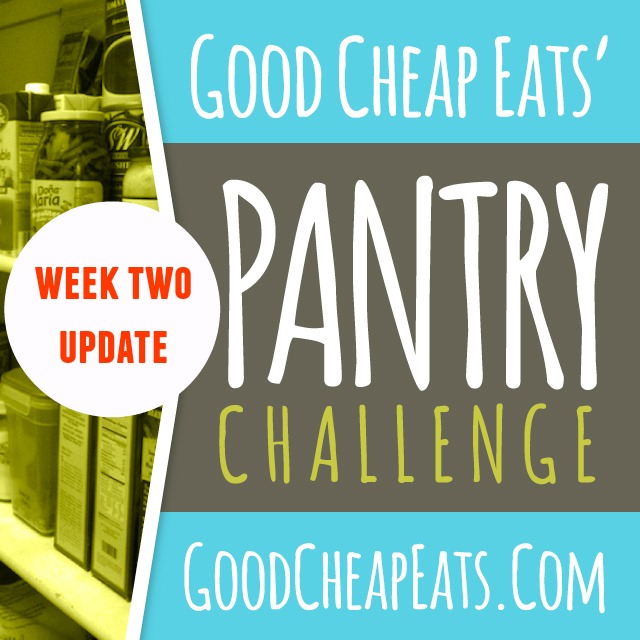 Whew! Week two came and went in a flash, didn't it? I am stunned that today is Day 16. I'm also rather relieved. I am not sure how much more I can take. Ha!
It's hard to be self-controlled and not buy what you want whenever you want to. Granted, there was a time in our life, when I didn't really have a choice; there just wasn't money to do it! But, since we started living debt-free, we've had more money to play with. Isn't that crazy?
A pantry challenge, when I spend some time focusing on using up what we have, is good for me. Keeps my frugal muscles in good shape.
So far, we've eaten pretty well this month, even if every day didn't go according to plan. Here's a summary of what we were able to make last week, mostly from what we'd already had on hand.
Week Two Meals
Egg dish
Pancakes
Granola/Hot Cereal/Monkey Salad
Beans and Rice
Burritos
Chicken Curry with Brown Rice
Leftovers
Grilled Pork Tenderloin, Couscous, Caesar Salad
Creamy Alfredo Noodles with Chicken and Veg
Pizza Night (with chicken for the protein)
Split Pea Soup with Bacon (from Not Your Mother's Make-Ahead and Freeze Cookbook)
Grilled Fish, Mashed Potatoes, Caesar Salad
Chicken, Sausage, Vegetables, Rice, Caesar Salad
Going into week three, I'm feeling a little weary. We are running low on lots of things: sugar, pasta, broth, and vegetables. I will need to infuse the pantry with some new supplies as well as some creativity, but I am confident that we may be able to cut our regular budget ($1000) in half this month.
That is if illness and dental work don't derail me! We've been sick since before Christmas. And a couple kids have some dental work ahead of them. Both these situations call for special groceries. We shall see, I guess.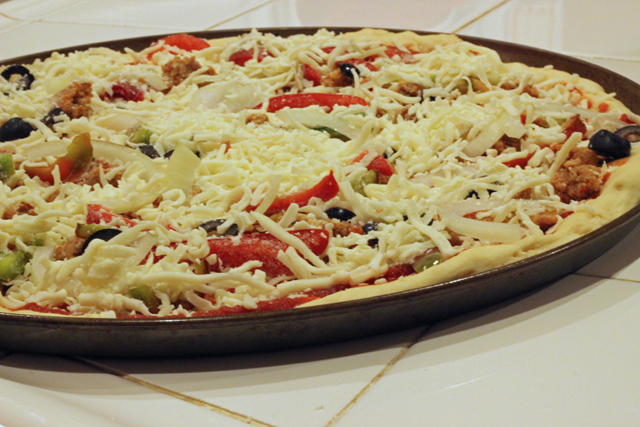 Here's the meal plan for the week:
Week Three Meals
As you can tell, I have a lot of baking in my future. I'm not really looking forward to it. But, I do have some sourdough starter ready to go, so maybe that will help.
Here's how my grocery shopping went in week two.
Groceries So Far
Costco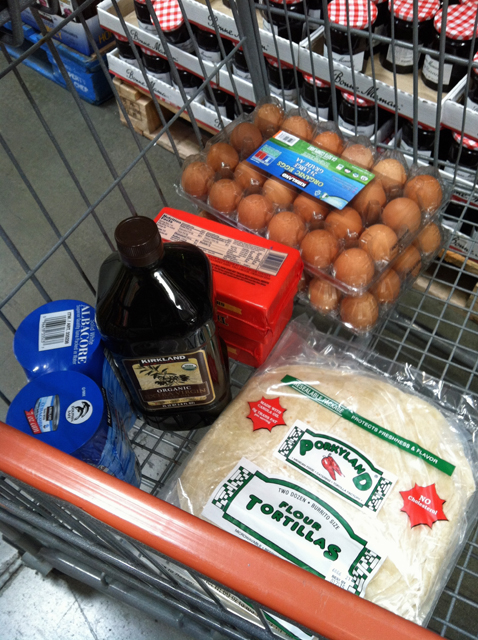 I had a list of things that I really needed to get at Costco. I took back that Skipjack Tuna I took a risk on last month, so buying new Albacore tuna didn't count into my spending allowance. In addition to what's pictured, tuna, olive oil, cheddar cheese, tortillas, and eggs, I also got a jar of peanut-free almond butter.
Total spent $50
Sprouts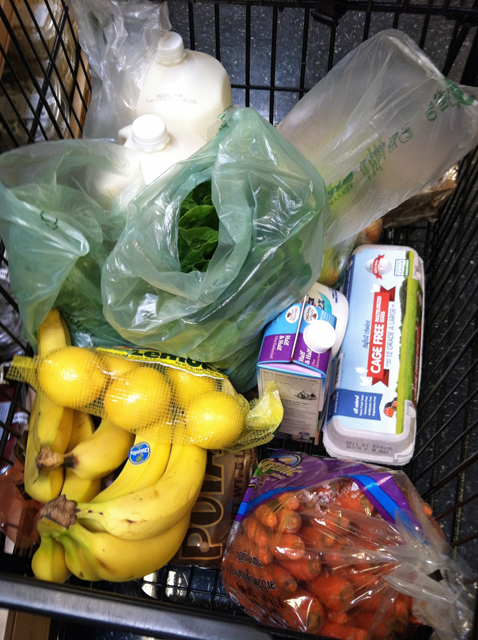 I headed to Sprouts as well for produce, milk (that we didn't need earlier in the week when I was at Costco), safe eggs, half and half, and yogurt. The lettuce and bananas are already gone, so I'll need to go back again soon.
Total spent $54
Weekly total $104, when added to last week's total of $225, equals $329 to date for the month.
MTD spending: $329
I'm actually very pleasantly surprised that our total is so low. No wonder I'm so tired! We're using up what we have. Unfortunately, we're already out of much of the dairy, eggs, and produce I bought this past week, so I will need to hit the store again soon. But, we will be pretty low this month which is exciting!
How's the Pantry Challenge going for YOU?
What challenges do you anticipate in the coming week? Meet you in the comments!