Ready to save some money and use up the food you already have? Time to join the Pantry Challenge.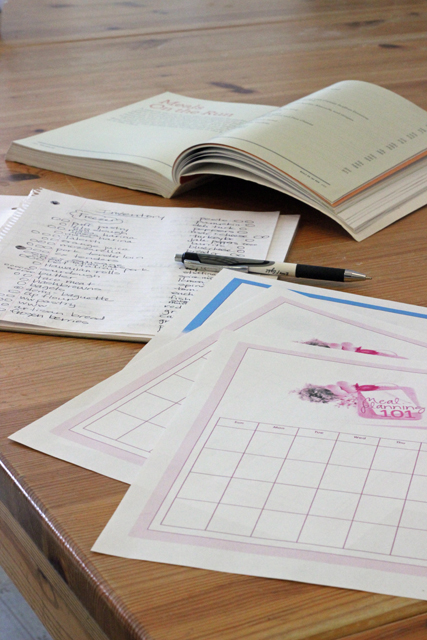 A Pantry Challenge is a concentrated period of time to cook from your pantry instead of going out to buy more. It can be a great way to save money, waste less, and still eat well. Years ago when we paid off $18,000 in consumer debt in 18 months, we had to be pretty resourceful, particularly in the kitchen which had the most adjustable budget.
A Pantry Challenge also serves as a reminder to me about how to scrimp a little and make the most of what we have. Should we ever return to hard times, I know we'll be just fine.
I have spent the morning and part of the afternoon, planning for this month's Pantry Challenge. This is our FIFTH January doing a challenge. I learn something new every time — and we always save some money.
If you haven't already, consider this four step process to prepare for a Pantry Challenge:
Execute the plans.
I am really excited to see that we can probably make it through the month with very few trips to the store. We don't really have a ton of excess in the freezer, fridge, or pantry, but it seems that we have the right stuff.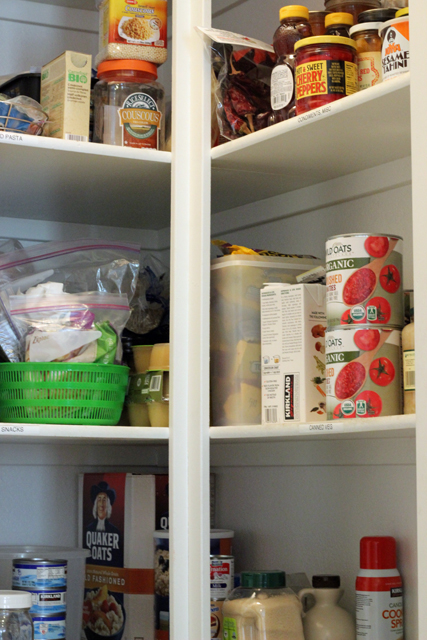 I had four main areas to inventory this morning: the deep freeze, the side-by-side freezer, the refrigerator, and the pantry. It is so nice to know what we have and to have it a little tidier. Unfortunately, I did have to chuck a few things: random frozen bits that now appear way too small to have saved, pasta, beans, and rice that were a couple years past their dates (how did THAT happen?!), and some leftovers from the holiday that were overlooked.
Once I got all that sorted and counted, I started in on my paper work. I've got several lists going:
my inventory of all our food
a list of meals we can make with those
month-long calendars that list each of my breakfast, lunch, and dinner plans for January (breakfasts have a four-week meal-planning calendar, lunches have a calendar, etc)
week-long lists that combine each meal of the day
prep lists for each week as well as incidental grocery lists
FishChick6 kept me company while I took inventory and made my lists. I was amazed at how savvy she was about what meals we could make with the ingredients. Seriously. She pegged exactly what I would make with the items on hand.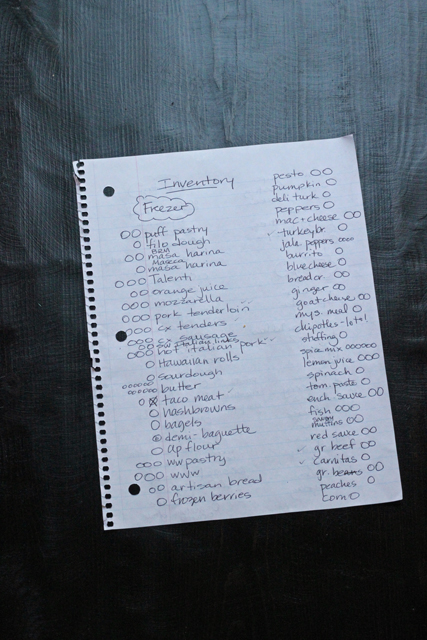 I still have weeks two to four to finish mapping out for prepwork and groceries, but we are set for this first week.
My goals for this pantry challenge are as follows:
1. To spend as little as possible.
I have never been able to pull off a no-spend month when it comes to food. In the old days it was lack of will-power. Nowadays it's more about the disconnect between my children's ginormous appetites and the groceries we have on hand. We will need to buy groceries. End of story.
But, I'm hoping that we'll be able to spend just a fraction of what we normally spend which lands somewhere between $900 and $1200 each month. Now that I have every meal for the whole month planned, I suspect that we will need to buy milk, cheese, eggs, and produce. Otherwise, we really can use up what we have.
A caveat: I think that a Pantry Challenge is a great reminder/practice of resourcefulness and making do. That said, my family sometimes struggles with the idea of "doing without". We aren't destitute, so why should we eat like we are? I'm hoping to stave off those feelings by doing a lot of baking and cooking, but also by keeping our dining out budget the same. A typical week has a date night, a family dining night, and a family meal out. I'm keeping these in our routine this month but will focus on meals prepped and eaten at home for reducing our expenses.
2. To use up as much as possible.
Right before Christmas, our landlords had a termite inspection. While there isn't yet damage, there is evidence of termites. Boo! We see a possible tenting situation in our future. I'd rather not worry about the foodstuffs we have on hand — or have to bag them all up. So, it's my plan to use up as much of what we have as possible.
3. To start today and go through the end of the month.
While I didn't plan for it to start until tomorrow, the Challenge has already begun at our house. Yesterday I found us out of milk, honey, cheese, and a few other things that really make every day meals a little easier. The cheapest place for those items is Costco. It didn't seem right to go crazy at Costco two days before the challenge, so I bravely restrained myself.
I budgeted $100 and only went over by $8 when I bought an extra 4-pack of butter. The other grocery stores already have butter jacked back up to $4 and $5/pound while Costco had it for $2.25/pound. I knew it was a stockupportunity. Butter and olive oil are the main fats we use, so I would rather buy it now at a great price, than buy it later for twice as much.
I'll be posting my Day 1 tonight. Feel free to join me now or start tomorrow. I'll be sharing my month-long meal plan tomorrow as well.
Remember that we'll be chatting on the Good Cheap Eats Facebook page tomorrow, Sunday, January 4 at 6 pm. Come with questions and problems that we can collectively help you with.
What are YOUR goals for the Pantry Challenge?
Leave a comment about your goals for the Pantry Challenge below. Feel free to leave the link to your blog if you've posted about your challenge.