This month our family is participating in a Pantry Challenge. We're focusing on using up what we have in order to save money and time as well as to reduce waste.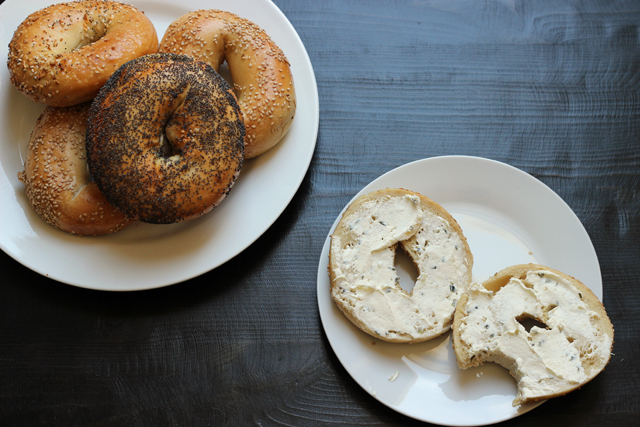 Today was a busy day. I started out getting my yearly mammogram. Yes, on a Sunday. The machine was broken when I had my appointment last month, so they rescheduled me for a Sunday. Pretty chill actually. I didn't realize until I woke up that it was for 9 am. Good thing I made Cinnamon Rolls yesterday. The kids had that for breakfast.
While I was out, I drove a little extra way to Bruegger's Bagels where I had a $30 gift card to use. (The brand sent it to me to review. Be sure to enter the giveaway coming later this week.) I had originally ordered one dozen bagels with some spreads, but when the clerk told me there were freezer bags, my eyes lit up. Since the bakery is a 30-minute drive from my house it made more sense to use up the whole card. So, I bought two dozen, planning to freeze the extras for later.
I got caught up reading a book and kept glimpsing people going back for bagels. Luckily, a dozen still made it to the freezer.
I also forgot to make lunch. Well, honestly, they ate bagels and it was noon, so that was lunch.
I tore myself away from Lord Peter and got to the kitchen where I knew I would have a fair amount of work to do. My 8-year old daughter helped me to make a double batch of granola, three loaves of Vanilla Cranberry Bread (recipe from Not Your Mother's Make-Ahead and Freeze Cookbook) and homemade mayonnaise. We also made a quick trip to the store for some produce and dairy items to make the week easier. I spent $23 (up to $131 so far).
By the time I got home, we scrambled to get dinner started. I didn't have time to finish before the Facebook party started, so FishPapa finished up and delivered me a delicious plate of grub. We ended the evening with coconut gelato and cranberry bread.
Breakfast: Cinnamon Rolls

Second Breakfast/Lunch: bagels and cream cheese

Snacks: fruit

Dinner: Pasta with Pesto Sauce, Green Beans seasoned with Jamie's Spice Mix, Hawaiian rolls from the freezer.

Dessert: Talenti coconut gelato (a fave) and Vanilla Cranberry Bread (recipe from Not Your Mother's Make-Ahead and Freeze Cookbook)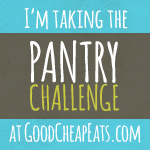 This post is part of the 2015 Winter Pantry Challenge. Read through the archives to catch up.