This month our family is participating in a Pantry Challenge. We're focusing on using up what we have in order to save money and time as well as to reduce waste.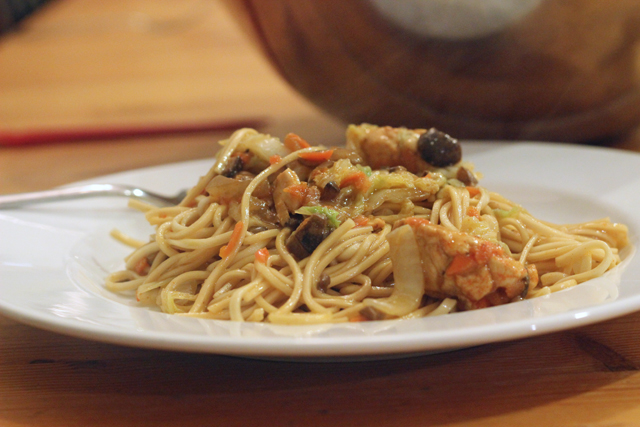 I really am quite pleasantly surprised that we're already to day 24 without too much carnage. In fact, today was quite tasty! If you follow me on Facebook, you know that I was a little late on the draw when it came to dinner tonight. After a rather nerve-wracking day nursing my two Wisdom Teeth boys, I didn't really have a plan for dinner that I wanted to eat.
I made it an experiment. I had chicken and cabbage and was leaning toward Asian, so I rummaged for the Japanese Udon and Ramen noodles I knew were in the pantry and pulled together a really tasty stir-fry dish. The boys with the sore mouths had clam chowder from Costco and the rest of us ate this. It was so good! I had a hard time stopping. I'm so glad there's some leftover!
The day started out with baked donuts. I made a few tweaks to this recipe. They were really sweet and spicy, but honestly? Tasted like muffins, not donuts.
For lunch we had chicken quesadillas. And then, of course, you already know about supper. For dessert, the girls took the last package of puff pastry and made Cinnamon Puffs. So yummy!
I've got four more days to the challenge, one of which is a birthday for my sweet husband. That will be our family dining out night.
Breakfast: Baked Donuts

Lunch: Chicken and Cheese Quesadillas

Dinner: Chicken and Cabbage Noodle Stir-fry

Dessert: Cinnamon Puffs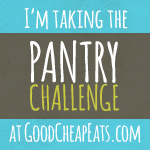 This post is part of the 2015 Winter Pantry Challenge. Read through the archives to catch up.