This month our family is participating in a Pantry Challenge. We're focusing on using up what we have in order to save money and time as well as to reduce waste.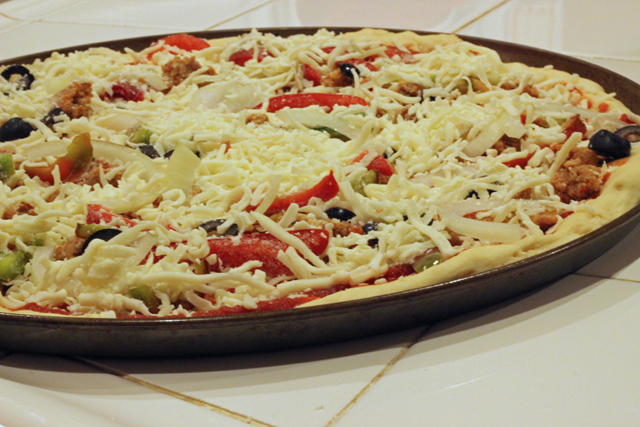 Can we really be halfway through the Challenge? Yay! Time flies when you're having fun. As promised, a better photo tonight. It's pizza night!
Since one of my sons is having a dental procedure on Friday that will result in sore gums, I decided to bump pizza night earlier in the week.
I grabbed cheese, sliced peppers, and cooked hot Italian sausage from the freezer, made a quick batch of dough and Last-Minute Pizza Sauce, sliced up some onions and we were GOOD TO GO! It was so yummy!
Since it only made one large and two small pizzas, I made a large romaine salad with feta, olives, tomato, and scallions. I didn't toss it with the dressing since I wasn't sure how hungry they'd be. I made ChiChi's Italian Dressing, so it was super yum. There was enough for a good size lunch salad for me tomorrow.
I am curious, though, what the kids would have done if I had made Caesar Salad.
The best part of the night was when I went fishing for compliments about the pizza, asking my husband didn't he think it was better than Costco's? He hesitated. Ahem. Then I said, pretty good dinner for a Pantry Challenge, eh?
The kids all said, "This is a Pantry Challenge?!"
Why, yes, yes, it is. And it's already day 12. My job is done here.
Breakfast: Mix and Match Muffins with Mixed Berries

Lunch: Burritos and Quesadillas

Dinner: Pizza and Salad with ChiChi's Dressing

Dessert: Nanna's Apple Pie, made almost completely by my 8-year old!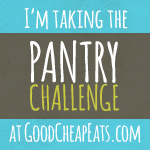 This post is part of the 2015 Winter Pantry Challenge. Read through the archives to catch up