Did you participate in our Pantry Challenge? How did it go? Were you pleased with the results?
I'm thrilled to say that we spent $143 for the two weeks, down from a typical $400 for that same time frame. I think this is the first Pantry Challenge that I didn't reach my goal of emptying the deep freeze.
Since we still have lots to use up, we could go on with the challenge for quite some time. However, I've got some recipes that need my attention, so I will need to shop a bit more. I will continue working from what we have at the same time. Hopefully, I can return to the challenge before we leave for Europe in the fall. It would be great to leave the freezer empty and unplugged while we're gone and save more money for the trip.
One of the best parts of doing a challenge like this publicly is interacting with you guys. I absolutely LOVED our Facebook Party. That was super fun.
For me, the Pantry Challenge was a welcome respite from cooking. I was able to delegate the cooking to my kids since I wasn't creating new and exotic recipes.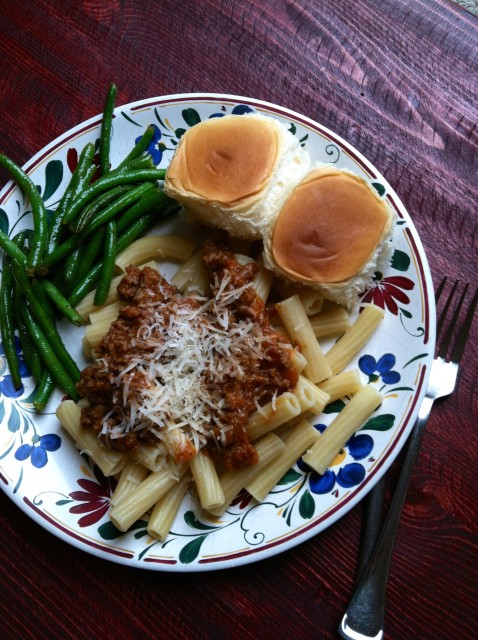 This was a meal mostly prepared by my 13yo. This is an old standby good cheap eat: pasta with meat sauce, green beans, and rolls. Everyone gobbles this down with very little leftover. As it should be…
And I was thrilled to get feedback from different folks:
From Melanie:
Thanks for the motivation for the pantry challenge. I stock up on food (frozen and canned), and then have trouble using it all before it expires. We are preparing for a move, and I told my husband we were going to do a pantry challenge, which we've tried before and failed. I have been highly amused by his response. Where before he turned up his nose at many of the dishes I would prepare and would complain when we ran out of things he liked (like butter), he has now embraced the idea of not buying any groceries except milk, eggs, and bananas. I have been busy working and have no motivation right now to think about preparing elaborate meals from what we have, but my husband seems to enjoy the challenge. He told me today as he made breakfast that we must "have the motivation and the dedication to meet the pantry challenge!" Who knew I had to use the word challenge to get him on board?
From Hollie: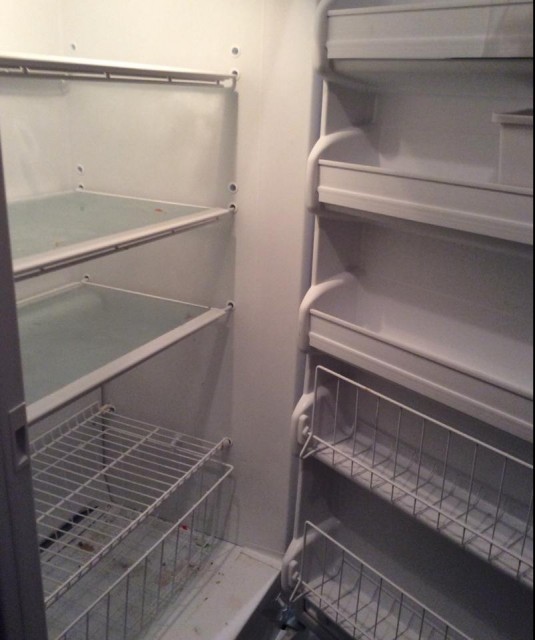 From Jackie:
Tips for preparing the freezer for a pantry challenge.
We'll be doing another Pantry Challenge in January. I've got some really good ideas on how to help folks save a bundle of money after the holidays, so stay tuned!
How did the Pantry Challenge go for YOU?
Tell us in the comments about your general experience and how much money you saved.