This month I'm doing a Pantry Challenge. For two weeks, I'm focusing on using up what we have to save money and time and to reduce waste.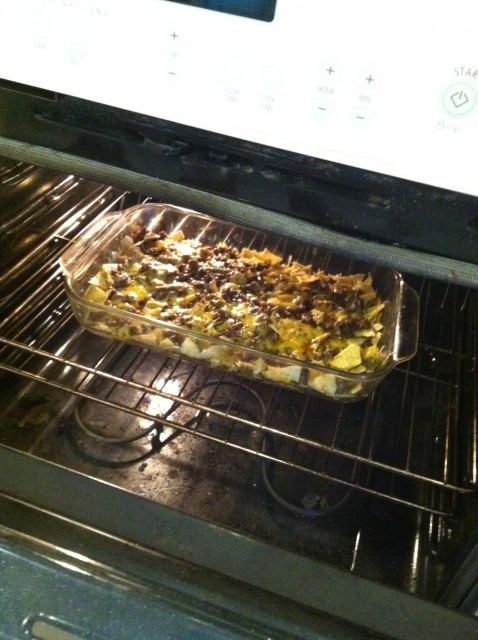 Sorry for the weird picture there. For some reason, I was busy at mealtimes today so I didn't take too many pictures. Even though I bought some things at the store yesterday, it was like scraping the bottom of the barrel in terms of meals.
Before yoga class I had a rice cake with sunbutter. Afterward I made some eggs with leftover grilled vegetables. The kids had bagels.
At lunchtime, I made mac and cheese and steamed green beans. The kids split the last apples in the house.
For dinner, my 17yo made the Lawnmower Taco. I had stale chips in the freezer that I was saving for just such a dish. It's a HUGE favorite at our house. The kids demolished the entire pan themselves as it was date night. FishPapa and I used an expired Groupon at a local burger place. In California, the amount you pay never expires. Then we cruised by Trader Joe's to restock a few things.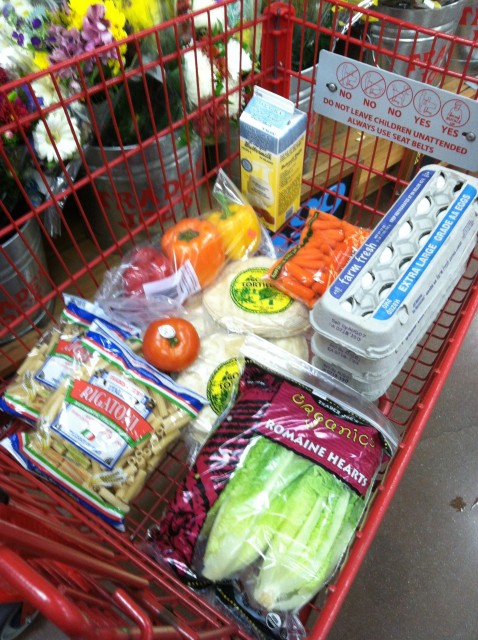 I got 2 pounds of pasta, 3 dozen tortillas, 3 romaine hearts, 3 dozen eggs, 1.5 pounds of carrots, 3 bell peppers, a tomato, a quart of buttermilk, and a partridge in a pear tree. I spent $23. That brings my Pantry Challenge total up to $83. Hopefully, THIS lot and our produce box this week will get us through.
Breakfast: Bagels, Eggs

Lunch: Macaroni and Cheese, Green Beans, Apples

Snacks: Popcorn

Dinner: Lawnmower Taco, Burgers with a Groupon
This post is a part of the Summer 2014 Pantry Challenge where we're trying to save money on food by using up what we have. I'll be posting daily updates on how the challenge is going.