This month I'm doing a Pantry Challenge. For two weeks, I'm focusing on using up what we have to save money and time and to reduce waste.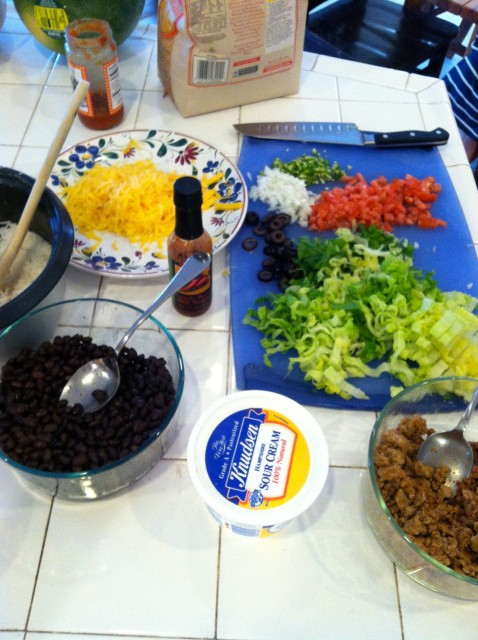 More iPhone pictures. Sorry about that. I need to get a different lens for my DSLR so that I can get more in the frame without taking it from the house next door.
Pantry Challenge update! Today flew by. It was passport day, so we had to get ready and out the door by 9. For folks who homeschool and thus, rarely have to be anywhere, getting up and out by 9 is not the easiest of things. The kids did fabulous — and they had a hot breakfast before we left: fried eggs and toast.
After the passport experience (which went really well), we went to In-N-Out Burger because passports. for eight people. including photos. Nuf said.
Dinner was another Mexibar, featuring rice, beans, seasoned turkey taco meat, the rest of the cheddar, shredded lettuce, tomatoes, olives, onion, serrano chiles, sour cream, and hot sauce. I had a jar of salsa leftover from an event to use up as well. I typically make my own salsa, but we were out of cilantro. The temptations at the store could have proven too great to go just for cilantro, so we went without. We made bean and rice bowls.
FishBoy13 made rice to level 3 on our rice cooker and it wasn't enough. He's still hungry so he's eating the leftovers from last night. How am I going to feed these people?!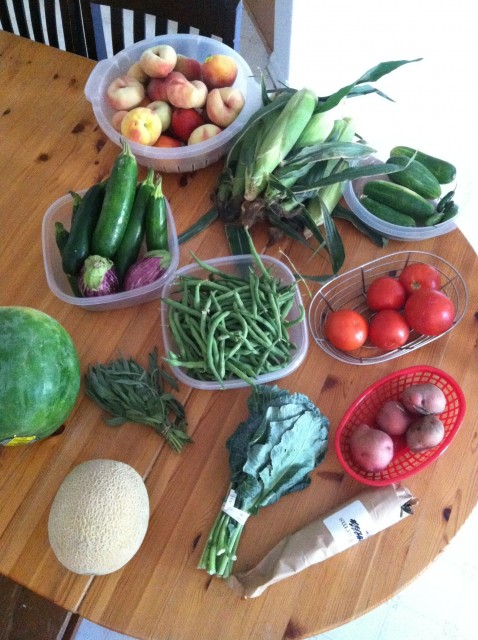 The produce box came today. I've mostly set it on hiatus for the last few months while I was deep in recipe development. Today's delivery was beautiful, but rich in zucchini and peaches — too much of both. Now the clock is ticking on using up the zucchini and finding uses for peaches that I don't like cooked. I've blogged on this extensively which shows me that I just don't love summer produce baskets.
Give me fall with apples and grapes and pears and other stuff.
Breakfast: Fried Eggs and Toast

Lunch: burgers out

Dinner: Bean and Rice Bowls
This post is a part of the Summer 2014 Pantry Challenge where we're trying to save money on food by using up what we have. I'll be posting daily updates on how the challenge is going.