This month I'm doing a Pantry Challenge. For two weeks, I'm focusing on using up what we have to save money and time and to reduce waste.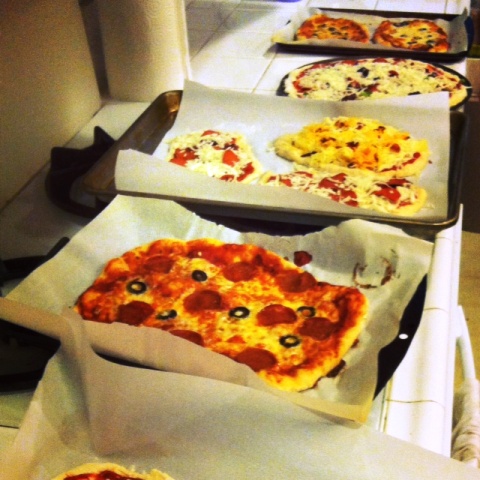 FishBoy16 and I are trying to sync our gym times. Since he doesn't drive yet, it will make it much easier on me if he goes when I do. This involves a little compromise. Read: I went to the gym a little later than I would have liked this morning. I think he would have gone earlier if I could have dragged myself out of bed sooner. So, it's not his fault.
All that to say, breakfast was later than I had planned, and so I put out a breakfast bar instead of making waffles. The kids had granola and clementines. I made an egg and sausage for my post-workout meal.
I redeemed myself on the waffle fail by making Sauerkraut for lunch. I even got it in the slow cooker before seven am. This is one of my kids favorite meals ever.
Dinner was pizza. I made a double batch of Artisan Bread Dough before we left for our homeschool park day. When we got home I chopped a bunch of toppings: green onion, sundried tomatoes, mushrooms, black olives. I also used up the very little bits of gourmet cheeses we had on hand: Brie, Jarlsberg, as well as Monterey Jack, romano, and mozzarella. I made a 5-cheese and bacon pizza that was out of this world as well as a veggie pizza with the Jarlsberg-Jack-Romano blend. I really liked the little punch that the cheeses gave the pizza.
Can you believe the challenge is 2/3 done? Don't worry. I'll start a behind-the-scenes Pantry Chatter post for those who are continuing their challenge past the 15th. 🙂
Breakfast: Granola, Pumpkin Bread, Clementines

Lunch: Sauerkraut, Pork, and Potatoes

Snacks: Clementines, Fruit Snacks, Carrot Sticks

Dinner: Pizza
This post is a part of the Pantry Challenge where we're trying to save money on food by using up what we have. I'll be posting daily updates on how the challenge is going.