This month I'm doing a Pantry Challenge. For two weeks, I'm focusing on using up what we have to save money and time and to reduce waste.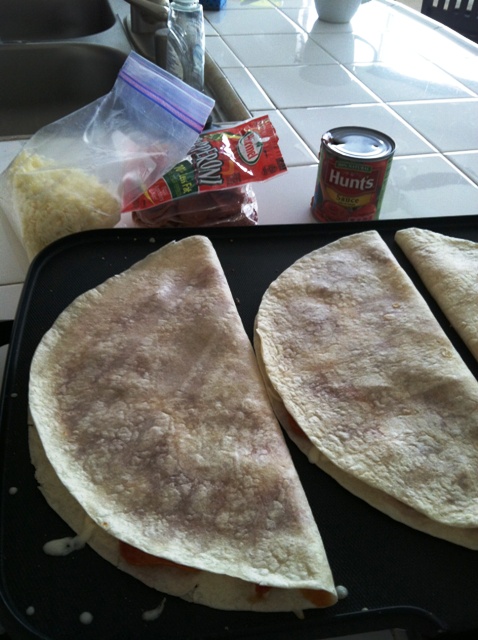 Where did the day go? It seems like I just woke up. But, it was a good day. I hit the gym like I hoped. School was done by 2. We ate well. No complaints here — except that I'm woefully behind on work stuff.
This morning we were all out of milk. That hinders life in the FishHouse. I know that other people don't drink much, but we easily go through 5 gallons a week — more if we have cereal. We were low on eggs, yogurt, and bread, too. So the granola and fruit I put out didn't get gobbled down with as much gusto as they might otherwise.
For my part, I ate leftover spaghetti squash and tomato sauce for breakfast. Yes, really.
At lunch time, I made Pizzadillas for most of the kids. Recipe coming soon. It's basically a pizza and quesadilla smash-up. I cut up a bunch of apples and oranges and there were no leftovers. FishBoy16 and I ate my leftover Cajun pasta from date night. That was pretty darn good. Gonna recreate that soon.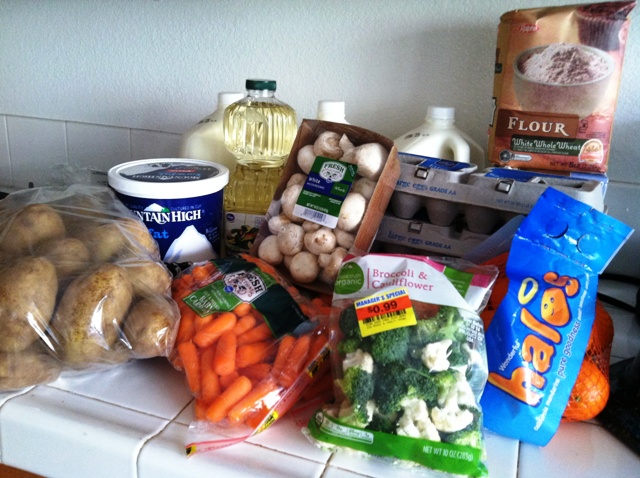 After school FishBoy13 and I went to the store. I had scanned all the new grocery ads and decided that there is no sale thing that we really "need". Eggs, milk, and yogurt rarely go on sale. We went to Ralphs since I have the best luck of getting eggs on clearance. But, no such luck this week. We bought conventional eggs for $2/dozen instead. Before we left I checked Ralphs' Facebook coupons and found a "buy$45, get $5 off" coupon. I didn't think we needed that much stuff, but decided to make the most of it while we were there. I got milk, eggs, yogurt, flour, and some fruit/veg to last us for the rest of the Challenge. I spent $40-something after the coupon, so I still have about $26 in case we really need something between now and next Wednesday.
For dinner hubs grilled some Dijon Chicken over the fire pit. He's been talking about doing that for awhile. It added a really nice smoky flavor. I roasted mixed vegetables (potatoes, mushrooms, garlic, shallots, onions, broccoli, cauliflower, and carrots) in the oven and mixed up a salad.
It was a good day.
Breakfast: Granola, Fruit, leftovers

Snack: Popcorn, Cheese and Crackers,  Fruit

Lunch: Pizzadillas, Fruit, leftovers

Dinner: Grilled Mustard Chicken, Roast Veggies, Salad
This post is a part of the Pantry Challenge where we're trying to save money on food by using up what we have. I'll be posting daily updates on how the challenge is going.