This month I'm doing a Pantry Challenge. For two weeks, I'm focusing on using up what we have to save money and time and to reduce waste.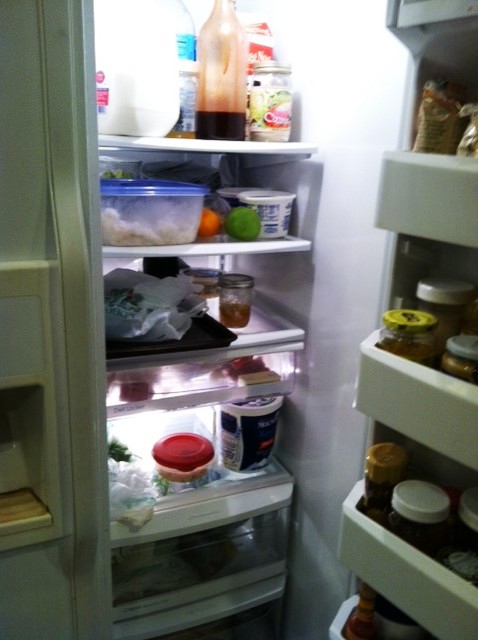 Can you believe it's been two weeks already? I'm making this challenge last a full 15 days since the month is a long one. Makes it easier to budget. So, we've got one more day.
While we could definitely make it longer on cutting our costs and buying less. My family is ready to move on. And that's okay. In the old days I could pull off a longer challenge because my kids ate less and I stockpiled more. Different season, I guess.
The fridge has got some white space going. I like that. That big brown bottle at the top is chocolate syrup that my boys made. I told them they could have "junk" if they made it themselves with more wholesome ingredients. They took me at my word. Last night after I posted my update, FishBoy13 made an Orange Julius. (Recipe in my new book. It's naturally sweetened and SUPERYUM.)
I have a feeling they might be more motivated to cook now that I'm putting in some new parameters on the kitchen….
I was gone for half the day, speaking on meal planning and freezer cooking at a local church. That is always loads of fun — even if I was having a bad hair day and forgot to put in earrings.
The kids ate granola with fruit and milk while I was gone. I made a Not Too Sweet Granola this morning before I left. I've been meaning to post the recipe for weeks now. Soon.
For lunch they made eggs, hashbrowns, and bacon. All on their own. From what I hear, FishChick7 peeled potatoes and FishBoy16 did the cooking. Yay for independent kids!
This afternoon I stepped on the scale and just about had a heart attack. Something is not quite right. I weighed more than I ever have. Like more than when I came home from the hospital with a baby in my arms. So, you can guess what I did? Ate a box of chocolate!
No, I made sure I got to the gym this afternoon.
For dinner, I made Grilled Pork Tenderloin, Beans, Rice, and a BIG salad. I ate salad and some pork. Very good. And pretty much what I should eat all the time. You can guess how I'll be restocking our pantry.
Tomorrow's the last day! Have you accomplished your goals?
Breakfast: Granola, Fruit, Milk

Lunch: Eggs, Bacon, Hashbrowns

Dinner: Grilled Pork Tenderloin, Beans, Rice, Salad
This post is a part of the Pantry Challenge where we're trying to save money on food by using up what we have. I'll be posting daily updates on how the challenge is going.