This is Day 3 of my month-long Pantry Challenge series  where we're eating down the pantry (and freezer and fridge) to use up what we have, rotate stock, and save some cash. I even did some freezer cooking!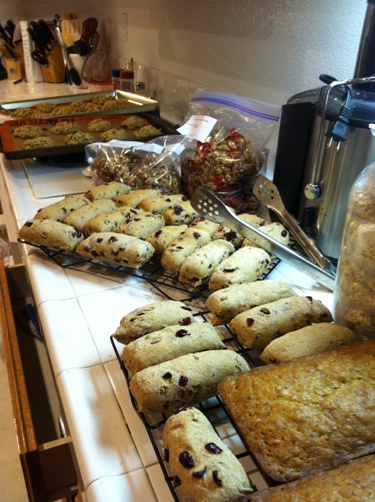 Today went fairly well, considering all things. I spent three-hours answering the backlog of email that had accumulated over the holidays as well as did a substantial freezer cooking session.
Freezer cooking? Pantry Challenge? Is that possible? Yes, because I did breakfasts, mostly oatmeal and baked good kind of breakfasts.
I buy oats in bulk so I had plenty from buying some a week or two ago and lots of leftover baking supplies from before Christmas. I spent four hours and I think we are set! I'll add fruit and dairy and maybe some hard cooked eggs and we'll be able to have some kind of Breakfast Bar all month long.
I'll be sharing the cooking plan tomorrow over at Life as MOM's Freezer Cooking Days.
How did we eat? Here's how:
Breakfast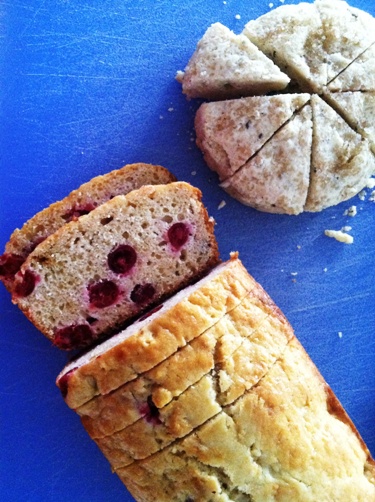 Last night I pulled from the freezer two loaves of Vanilla Cranberry Bread from last month's freezer cooking and two of Bilbo's Seed Cakes that I had frozen. Both disappeared throughout the course of the day. Several of the kids commented that they liked the Seed Cakes better after having been frozen. Not sure if that was their imagination or if the cake's flavor improved upon freezing — that can happen — either way, they gobbled it down.
Lunch
I love meal-sized salads, so that's what I had for lunch with garbanzo beans, avocado, hard cooked eggs, carrot, blue cheese, and some croutons that I made with bread cubes from the freezer.
I seasoned the bread cubes with olive oil and Jamie's Spice Mix from the freezer (cookbook, cough, cough). Loved them! They taste like an Italian Spiced Crouton.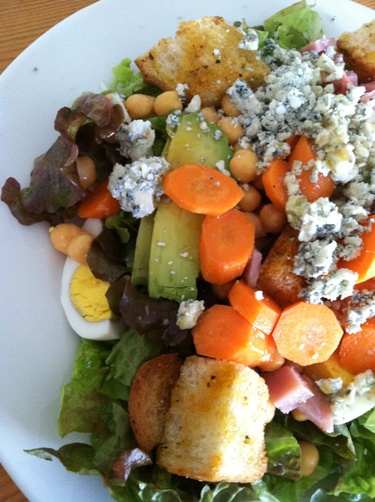 The kids had ham sandwiches on rye bread and hard cooked eggs. I didn't do well on the fruit and veg front. I thawed orange juice and applesauce. Does that count?
We haven't had produce deliveries for two weeks, so the supply is running low of fresh fruit. We've got apples and carrots, though, so I will dig those out tomorrow.
Dinner
Tonight's meal was courtesy of FishBoy15. This morning he prepped veggies, ham, and chicken and we made California Chicken Gumbo for a Mob, tweaking slightly based on what was in the freezer and fridge. It's a slow cooker recipe, so he got most of his work done ahead of time. At serving time, he toasted the rest of the loaf of rye bread and we had that with dinner.
All in all, it was a good day. I anticipate some balking when I serve leftover soup tomorrow at lunch. I'll find a dessert to go with.
Day 3 Menus

Breakfast: Bilbo's Seed Cakes, Vanilla Cranberry Bread

Lunch: Salad Composee for the mom, Ham Sandwiches and Hard Cooked Eggs for the Kids

Dinner: California Chicken Gumbo for a Mob, toast
Are you doing a Pantry Challenge? What are you learning?
This post is part of a month-long Pantry Challenge series. You can read more about my goals for the challenge here.