This is Day 21 of my month-long Pantry Challenge series  where we're eating down the pantry (and freezer and fridge) to use up what we have, rotate stock, and save some cash. I played an at-home game of Chopped and hubs said I moved to the next round!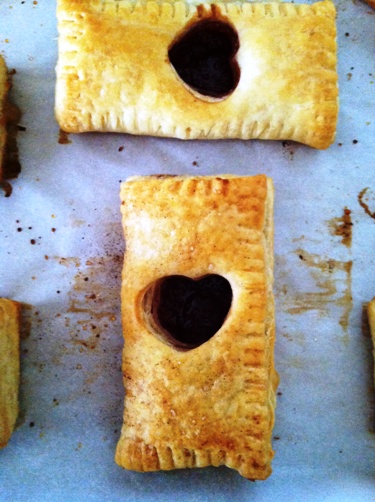 The variety of ingredients is getting slim around here. There's some fun stuff (like puff pastry) mixed in with not-so-fun stuff (like chicken thighs). Somehow I'm making things work together in some odd way. We're getting there. Not sure I can make it another 11 days, but we'll see.
Today was a lazy day at home and meals were my biggest accomplishment. Here's how:
Breakfast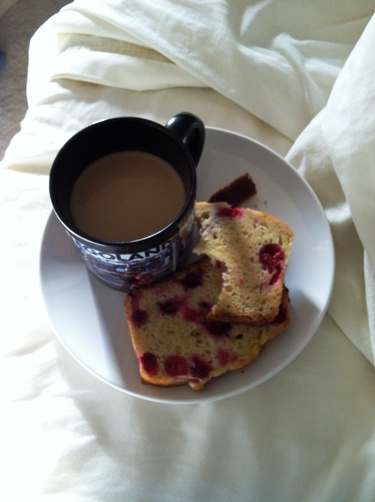 Who doesn't want breakfast in bed? No matter that I had to go downstairs to get it, I did get to sleep in until 8 am. This is major after so many years of early rising with babies. (I did have my 4yo "baby" in bed with me, but I got to sleep in.)
I went down, brewed a cup of coffee, and laid out a breakfast bar of cranberry bread, oatmeal, and granola. Then I headed back up stairs for a leisurely morning, looking over my calendar and planning for the week.
Lunch
A few hours later I headed down to make chili with the leftover beans and pork from the last two days. I am not as big of a chili fan as my family. So, under the pretense of using up the broccoli raab, arugula, and spinach from the previous week's produce box, I sauteed a pan of greens and fried a few eggs in it.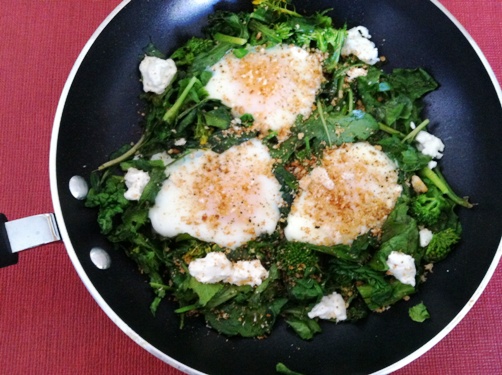 I added a few extras like dollops of goat cheese. It was an experiment. The google told me that arugula's bitterness is offset by the creaminess of goat cheese. I wish I had added more, it was so so good!
Another "extra" was to mix up some seasoned bread crumbs. I read in the latest issue of Bon Appetit about using bread crumbs on anything. For some reason that came to my mind while I was making the eggs. I didn't have any bread for toast to serve with the eggs, so the bread crumbs were a perfect crunchy foil.
I had two wimpy, sad, hard slices of baguette leftover from breakfast yesterday. I ground those up and sauteed them with butter and seasoned them with garlic salt. It was quite good! Much better than chili.
For lunch dessert, we had little puff pastry turnovers, two kinds filled with plum jam and applesauce, like these. Yum!
Dinner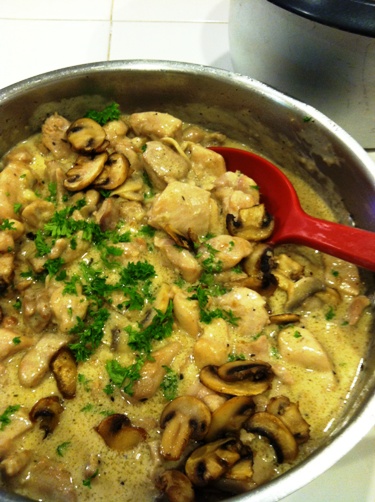 I had thawed chicken thighs that I needed to use. Hubs doesn't like dark meat. I knew he probably wasn't going to be thrilled. I told him it would be like a game of Chopped. He was skeptical that I would make it to the next round. And he said so! (In a joking way…)
So, I made a saute of chicken, mushrooms, garlic, and white wine, seasoned with thyme and thickened with cream and a bit of cornstarch. It was a total winner.
Especially when he looked at me and said, "You made it to the next round."
Ha! I'll be making this again — with chicken breast and a few other tweaks. It was really good.
Day 21 Menus

Breakfast: Breakfast Bar with Granola, Instant Oatmeal, and Cranberry Bread
Lunch: Chili, Skillet Eggs and Greens, Apple Turnovers
Dinner: Chicken and Mushroom Saute, Rice, ButteredCarrots
So that's the day.
How was YOURS?

This post is part of a month-long Pantry Challenge series. You can read more about my goals for the challenge here.