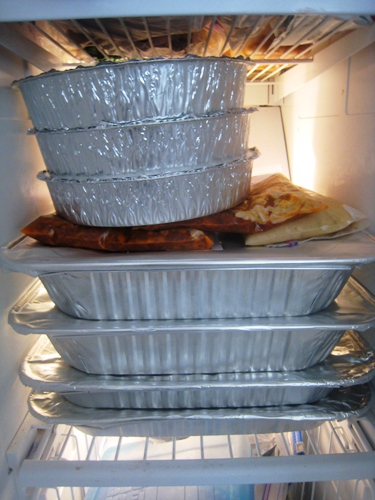 Today is the 31st day of this series, 31 Days of Freezer Cooking. If you missed a post, I've got them all catalogued right here. I'm stunned how quickly October has flown by.
If you're new to freezer cooking, welcome! You will want to join me each month on Life as MOM when I share Freezer Cooking Days. Or daze, depending on how you look at it.
I'm coming off the heels of a mega cooking session, so I'm feeling a little woozy. Woozy, but glad that the freezer is filled.
On the first Friday of each month on Life as MOM, I post about my month's freezer cooking adventures while readers share theirs. It's a great time to swap notes, share recipes, and generate more good ideas to keep the freezer filled and our tummies happy.
Come by Friday when I share my latest adventure in freezer cooking that resulted in over 20 meals for my family to enjoy throughout the busy holiday season. I'll even be sharing a free downloadable cooking plan featuring recipes from my book.
31 Days of Freezer Cooking
For more ideas about how to make freezer cooking work for you, follow along with us here in October as I post 31 Days of Freezer Cooking. You can see past posts here.
For even more Freezer Cooking how-to's you can also buy my book, Not Your Mother's Make-Ahead and Freeze Cookbook.
Don't want to miss a post in this series? Subscribe to 31 Days of Freezer Cooking by RSS oremail.