Challenging yourself to "shop the pantry" is a great way to make the most of what you have. Today we're sharing our progress during Week 1.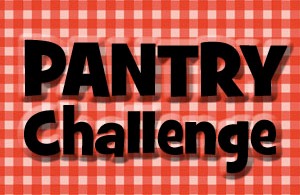 The first week of the Pantry Challenge is behind us! Hopefully, you've been able to stick to your resolve and plug away at your goals for the new year.
One of the challenges of the Pantry Challenge is that typically it involves more than just one individual. Many of us are not only cooking for ourselves, but for other family members or roommates. As such, there are many appetites to accommodate and also other shoppers to contend with for the grocery budget. I feel ya.
So, if things didn't go exactly according to your plan, hang in there! There are still three weeks in the month. So keep on keeping on.
You can check out my daily log to see what we've been eating. Where applicable, I've tried to link to recipes that I used as well as techniques I employed to put together seemingly mismatched ingredients. Eggplant in chili? Oh yeah, baby. And no one was the wiser!
As for my goals, let me see…. how did last week compare with my original intentions?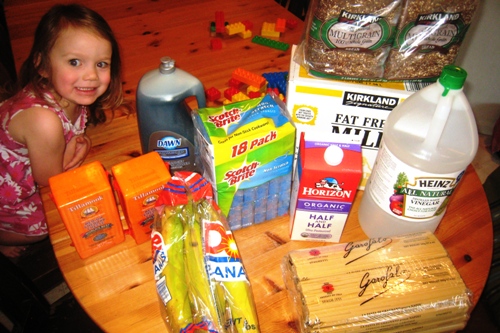 Goal 1. Lower my budget.
Saturday I shared my grocery shopping trips. I spent a total of $64.40 out of pocket and got a "free" grocery trip to Costco.
I spent almost $100 less than we normally spend in a week. However, as I mentioned before, there are three more weeks in the month, so who knows how this will pan out? Too early in the game to predict the final score. But, the first quarter has gone well.
Goal 2. Help my kids be more independent in the kitchen.
I have six children, aged 14, 11, 9, 7, 5, and 3. Each child seven and older has a regular kitchen job, including: emptying the dishwasher, loading the dishwasher, sweeping the floor, wiping the counters, clearing and wiping the table.
On a good day, they can get the kitchen cleaned up on their own, save the pots and pans which I typically do as well as any dishes that don't fit in the washer. (Yes, sometimes we exceed the capacity of our dishwasher, usually when we try to combine loads from two different meals.) As I type this, I realize that it's time to teach some folks how to scrub pots and pans.
So, what else did I do to help make my kids more independent?
FishBoy7 helped me make muffins one morning. We had to be stealth so that the younger kids didn't clamor to help and steal his job.
I started a binder of recipes that my family can access. In order to share ownership, I asked FishBoy11 to organize the printed recipes and create the dividers.
I enlisted children to form their own pizza dough and add their own toppings on pizza night.
Obviously, I have a lot to do in letting go of control in the kitchen. In that vein, I'm setting specific goals for next week and assigning at least one meal to each child to help prepare.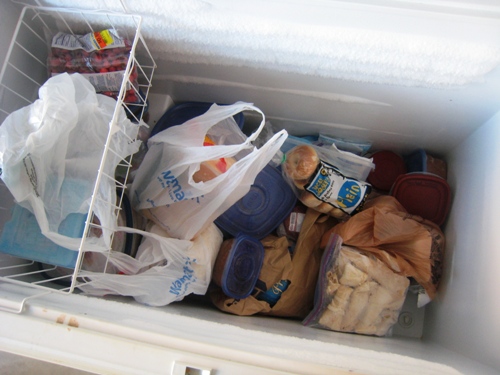 Goal 3. Clean out my freezers and be able to defrost.
I am nowhere close to having the freezers cleaned out. However, we used several containers of vegetables, cooked pork, marinated chicken, and tamales. This past weekend I spent some time organizing that nightmare of a freezer pictured. More on that later. And I had to adjust my week's meal plan accordingly, since my original mental inventory did not match up perfectly with reality. Ahem.
So far, so good.
There's my update for my three goals for this month. I'd love to hear yours! Either tell us about it in the comments section OR link up a recent post of your Pantry Challenge update. Be sure to link back to this post so that it's easier to share ideas.
Every Monday this month we'll share updates here on GoodCheapEats. What works, what doesn't. The challenge officially ends on January 31st.
Hop on by these blogs and see how they're making this Pantry Challenge work for them:
I'm posting daily updates on my Daily Pantry Challenge Log. Visit that page to see how well — or not — we've eaten on a given day. I'll also share links to recipes that are helping me make the most of what I have.