An "eat from the pantry" challenge is a great way to rotate your pantry's stock and to save money on groceries.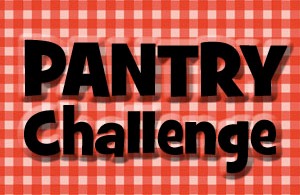 It's that time of year. I'm ready for a fresh start! And so is my kitchen.
The pantry and freezers around here are pretty much bursting at the seems. I've stockpiled a lot of produce from our weekly deliveries by freezing it and now's a great time to make the most of it.
I've done some kind of "pantry challenge" every January for the last couple years. I did it again last July and found it to be just as effective in summer as in winter.
In fact, it's proven to be a wonderful way to trim the budget, keep close accounts on what we have, and rotate our stock to avoid waste. I first saw Crystal do this many years ago, and I was intrigued.
Over the years, I've hosted a "challenge" here at Good Cheap Eats so that others might feel encouraged and try a challenge of their own. So, here we are. I'm ready to go again.
What a Pantry Challenge is NOT
It is NOT a total abstinence of grocery shopping.
It is NOT putting stockpiling on hold.
It is NOT oatmeal and rice and beans until the cows come home.
I once thought this, and it was impossible for me to do a pantry challenge. Life doesn't work that way. Nor does my pantry.
There was a time when we first started paying down our debt that I really couldn't buy groceries due to lack of funds. I needed to make the most of what we had until more cash came in. We didn't starve. I realized that we had a lot in our cupboards already.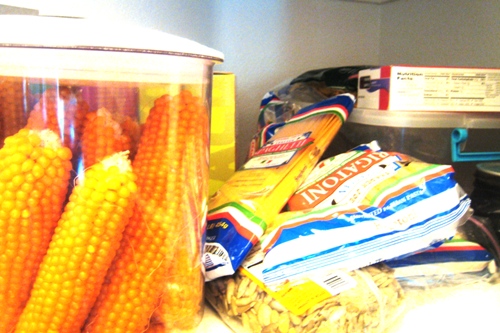 What Pantry Challenge IS
A pantry challenge is a focused, but limited, time to "eat from the pantry." Rather than buying groceries like I normally would, I focus on what we already have. I build my menus around the ingredients I've been avoiding using. Sometimes this is something that is cumbersome to prepare or something that I've been too lazy to be creative with. The pantry challenge helps me deal with those items — and teaches me not to buy it again.
If you regularly stockpile good deals or if your pantry, refrigerator, or freezer are getting full, you may be a good candidate for the "eat from the pantry challenge."
Another fringe benefit to giving my pantry a good cleaning out/overhaul is that we save money, too. And January is a fabulous month to do that, is it not?
My Pantry Challenge Goals
1. Lower my budget.
My grocery budget has been ranging between $600 and $800 every month for 8 people. Each week, I get an organic produce box delivery, costing around $40. That's $160 for the month. Plus, we'll need milk, cheese, and butter which I don't have stockpiled. That will be about another $60 for the month. I want to give myself enough allowance for stocking up on good deals as they come and keeping my hungry crew fed. So, I'm not going to get all crazy. But, I would like to spend around $400  to 500 for the month.
Please remember that I'm feeding 8 people, and that our dining out budget is separate from our regular food budget.
2. Help my kids be more independent in the kitchen.
I do a lot of scratch cooking. It's healthier for us. It's more economical. But, it also takes more time.
When I stop to think that I was an independent cook in the kitchen by age 10, I realize I haven't done a great job equipping my three older boys. They need this essential life skill, and I could use the help in feeding this small army I have. So, I'm hoping to teach my 14, 11, and 9-year olds how to cook a few more items that we eat a lot.
3. Clean out my freezers and be able to defrost.
My garage freezer has developed ice on the walls and needs to be defrosted. But, we need to eat up what's there in order to do that. So, I'll be focusing on the frozen items in order to do that. That may mean that we eat up our stockpile of frozen meats and vegetables. Currently, it's not huge. A good defrost, however, will help with the efficiency of the freezer, saving us money and protecting our future additions to the freezer.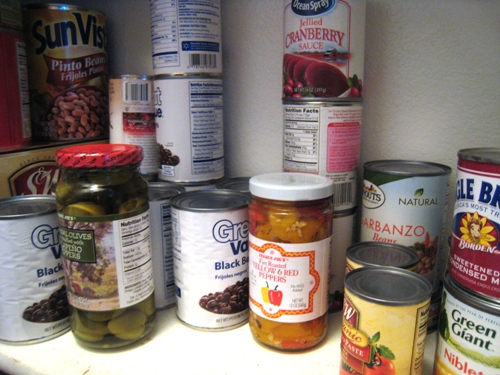 Care to join me?
I'd love to have some folks join me so we can spur one another on. On Monday I'll be posting a link-up for all those who wish to share their goals for the challenge. Then, every Monday following we'll share updates here on GoodCheapEats. The challenge officially ends on January 31st.
Hop on by these blogs and see how they're making this Pantry Challenge work for them:
I'll be posting daily updates right here on my Daily Pantry Challenge Log.
Are ya in?