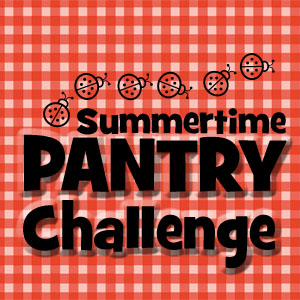 It's been about a week since I "officially" declared my pantry challenge. And of course, we went out of town for three days rather spontaneously, as soon as I said that.
We woke up on Sunday morning and decided to head to the grandparents' for the 4th. I was lucky to remember toothbrushes and clean underwear in our rush to beat the LA traffic. Oh, wait. I forgot the toothbrushes. And we didn't beat the traffic. A 3-hour drive took 6.
Needless to say, I didn't pack much food to share. Instead, we stopped at Trader Joe's and picked up the fixin's for 2 meals so that Gramma wouldn't have to work too hard. But, we're not counting that in my challenge because it was vacation — and besides, I'm making up the rules as I go along.

Meanwhile Back on the Ranch
But, this week we're getting serious. I made one trip to Walmart for some staples like milk and yogurt. And I've been rifling through the freezer and pantry to find out what lurks in there. I haven't yet done a complete inventory, but that's on my to-do list for the weekend.
However, frozen meatballs, fish, and cinnamon rolls were easy things to grab. I've got about 6 chickens and 1 turkey in the deep freeze, too. So, I'll be scoping out a cool day to roast a bird or two. And we've got some cranberry sauce to go with!
You can catch up on what we've actually been eating over here.
There are some really great sales going on at my local grocery stores, so it's going to be hard to control myself. I decided to limit my purchases to fresh produce, dairy, and really, really, really good sale items. The latter is quite rare these days, so I got to grab them when I can.
What are the girls up to?
A wonderful group of ladies is accompanying me on this journey. We don't all have the same goals for the challenge, so it will be extra fun to take a peak into their kitchens and see how they're making things work at their houses. Be sure to bop around and see what's cooking over here:
How are YOU doing?
If you're doing the Pantry Challenge, tell us how it's going. If you're struggling, let us know. Maybe we can help you trouble-shoot. That's what friends are for.