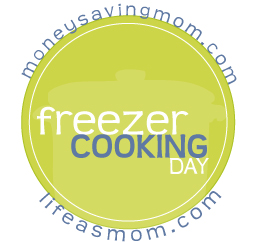 This weekend my friend Crystal and I will be hosting Freezer Cooking Days. It's a few days out of the month that we spend cooking and prepping a boatload of food so that we can save precious minutes later in the month.
I've found that this is also one of the best ways for me to stay under budget for groceries. Bulk buying and bulk cooking can help reduce waste, whether that be in packaging, time repeating the same motions, or in leftovers.
You are invited to join us this coming week.
On Thursday, come to Ultimate Recipe Swap to share your favorite freezer-friendly recipes. Pop over to Money Saving Mom to share you freezer cooking plan on Friday. Cook whenever you want and then link up your progress back at MSM sometime on Monday.
We'd love to have you cook up a storm with us!