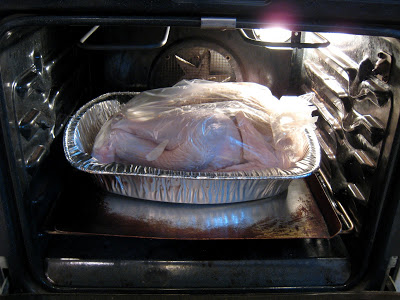 Last night I didn't get a chance to post as I was having a baby. This baby. It was a nailbiter, for sure, hoping that redirects and transfers and hosts and whatsits would do what they were supposed to do. I felt like the dad in the labor scenario, just helplessly watching the action and hoping it all ended in a happy way. Joy did all the work. And she did a great job.
Anyway, I just couldn't bring myself to post about food. And since today and yesterday have their similarities, I'll just lump them together.
Sunday
Breakfast: cereal
Lunch: Chili in the crockpot (just kind of threw a bunch of things together – no recipe)
Dinner: Whole chicken (cooked in the other crockpot) made into tacos with corn tortillas, salsa, lettuce and avocado
Monday
The "plan" was roast turkey. But, after dealing with a bird yesterday, I really didn't want to deal with another bird today. I put it off so long I knew dinner would be terribly late, so I cooked it, but we ate something different. Now, the race is on to figure out what to do with two turkey breasts and 8 cups of shredded meat. Suggestions?
Breakfast: Cereal
Lunch: leftovers and milk shakes (FishBoy5 got 2 fillings and couldn't chew)
Dinner: big green salad with lots of veggies and mac and cheese from the freezer.
How are you eating these days?
Want the dish on delicious ways to act your wage? Subscribe to GCE in a reader or via email.