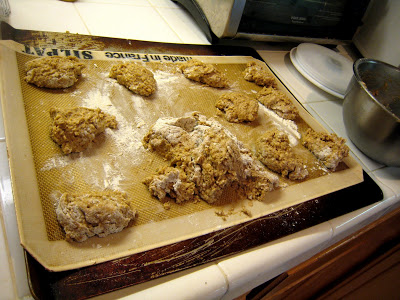 Yes, I know that you're supposed to be able to substitute milk and lemon juice for buttermilk. But, can I just say that it did not work for this morning's scones? They were one big, gloppy mess. I ended up scooping them out with a spoon for drop scones. They tasted fine, but they weren't so fun to make.
In other news, the pita breads were fun to make, so was the couscous salad. (Recipes to follow.) I found a London Broil in the freezer that my brother bought in September and then forgot when he moved away and left us without a live-in manny. Possession is 9/10s of the law, is it not? So, I marinated it in some Mediterranean seasonings and grilled it. Not too shabby.
The fridge is starting to look a little bare. I kinda like it.
Breakfast: Maple-Oat Scones, Blueberry-Banana Smoothies
Lunch: leftover Chicken Noodle Soup for me, frozen TV dinners for the kids
Dinner: Grilled London Broil, Couscous Salad, Green Salad, Pita Bread


One week done, how ya doing?
** Got a failure lesson to share? Pop over to Myra's and tell all.
Want the dish on delicious ways to act your wage? Subscribe to GCE in a reader or via email.