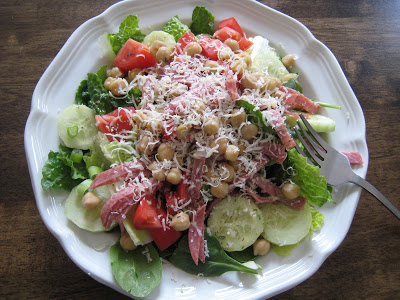 A garlicky, lemony salad with garbanzo beans and salami.
I tried an experiment tonight that I thought would be really wonderful, but it was not. So, instead, here's a shot of my lunch. It was good to try to make a tamale pie that tasted like tamales, but it was a disappointment. Thank God for beans and rice.
Breakfast: Maple-Oat Scones, Cereal, Fruit
Lunch: Frozen Pizza for the kids, Orange Slices, Salads for hubs and me
Dinner: Sort-of, Not-really Tamale Pie, Green Salad, Rice, and Beans
Want the dish on delicious ways to act your wage? Subscribe to GCE in a reader or via email.