Thinly sliced potatoes nestle in a bath of cream, milk and butter, resulting in the tastiest scalloped potatoes on the planet.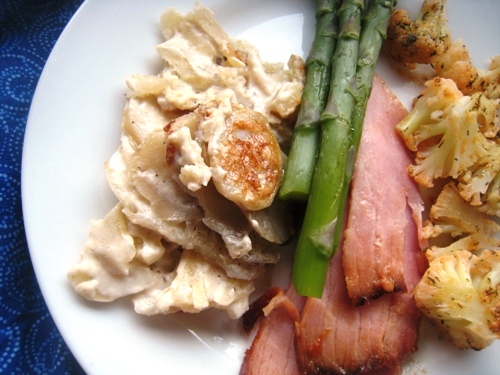 Friends, meet the best scalloped potatoes on the planet. I've been making these for almost twenty years. They are easy to make and there are rarely leftovers. If there are, I wake up early to eat them for breakfast when no one's looking.
They are that good.
I can't take credit for them exactly. I found them in a cookbook years ago. I don't have that book anymore. I don't even remember what it was called. And I never wrote down the recipe.
I have it carved on my heart.
I just make it as I remember it, honestly. And that works for us.
These potatoes are rich, yes, full of cream and butter. And slicing potatoes is a chore, but if you can use the food processor, prep time will be a whiz. It's totally worth it. I promise.
Totally.
Recipe: Tastiest Scalloped Potatoes
Ingredients
3 pounds russet potatoes, peeled and thinly sliced
kosher salt and freshly ground pepper to taste
1 1/2 cups half and half
2 tablespoons butter, cut into small pieces
1/2 cup heavy cream
Instructions
Grease a large baking dish. Preheat the oven to 325 °.
Overlap the potato slices in the prepared dish, seasoning with salt and pepper every few layers. Pour over the half and half and dot the surface with the butter.
Bake for 45 minutes, uncovered.
Pour the heavy cream over the potatoes and bake another 45 minutes until cooked through and golden brown.
Preparation time: 15 minute(s)
Cooking time: 1 hour(s) 30 minute(s)
Number of servings (yield): 6