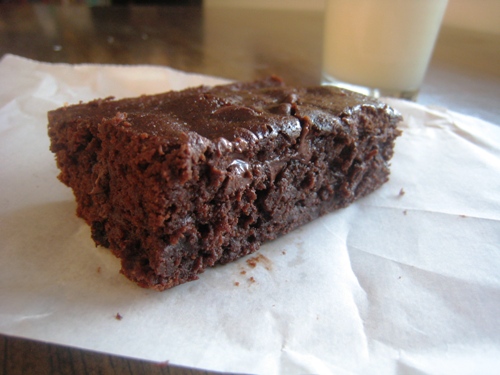 As you know I've been in possession of a wealth of butternut squash. I started with four: Papa Bear, Mama Bear, Big Brother Bear, and Baby Bear. Today all that is left is Baby Bear. We made the rest into all kinds of yumminess, including but not limited to, squash cake, squash muffins, squash pie, squash soup, squash cinnamon rolls and Butternut Squash Brownies.
I've made these brownies three times so far and they are a hit. While the texture is not quite the same as my regular recipe, the flavor is rich and the inside moist. I imagine that you could use pumpkin puree instead, but I've not tested it that way. I am, after all, rich is squash.
Recipe: Butternut Squash Brownies
Ingredients
1/2 cup butternut squash puree
2 eggs
1 teaspoon vanilla
1 cup sugar
2/3 cup flour
1/2 cup cocoa
1/2 teaspoon baking powder
1/2 teaspoon salt
1/2 teaspoon cinnamon
1 cup chocolate chips
Instructions
Preheat the oven to 350°. Grease an 8-inch square pan with nonstick spray.
In a large mixing bowl combine the puree, eggs, and vanilla. Stir in the sugar and combine well.
Add the flour, cocoa, baking powder, salt, and cinnamon. Stir well to blend.
Stir in the chocolate chips.
Spoon the batter into the prepared pan and bake for 25 to 30 minutes or until baked through.
Cool on a rack before cutting into squares and serving.
To freeze, wrap the brownies in plastic wrap and store them in a ziptop freezer bag in the freezer.
Preparation time: 10 minute(s)
Cooking time: 30 minute(s)
Number of servings (yield): 8