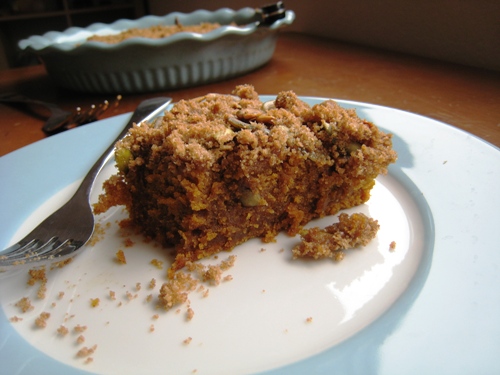 Last winter I found canned organic pumpkin for 50 cents a can. I stocked up and thereby provided myself with dozens of cans. Dozens. We can eat pumpkin until the cows come home.
And we just might.
But, my stash won't last long if I make things like this Pumpkin Coffeecake. Kind of a combination of coffeecake and pumpkin pie, this cake is rich and moist and very flavorful. The pepitas (pumpkin seeds) and sugar crumb top add a nice crunch totally in keeping with the theme of the cake.
Why have I never thought to use pepitas in pumpkin baked goods before?
Well, nuts are delicious, that's why! You could easily substitute your favorite kind of chopped nut for the pepitas. But since we have a nut allergy in our family, we're sticking with pumpkin seeds.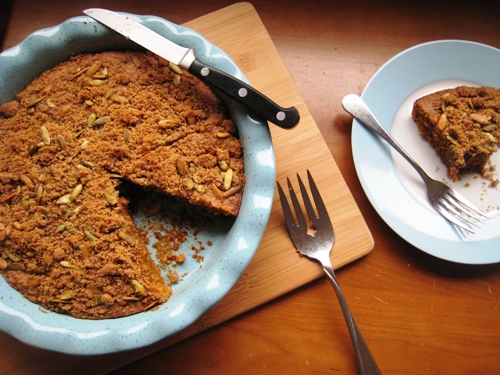 Recipe: Pumpkin Coffeecake with Pepitas
Ingredients
2 cups whole wheat pastry flour
2 cups dark brown sugar
1/2 cup unsalted butter, softened
1 teaspoon baking powder
1/2 teaspoon salt
1 teaspoon cinnamon
1 egg
1 cup canned pumpkin puree
1/4 cup milk
1/4 cup pepitas
Instructions
Preheat the oven to 350°. Spray a 9-inch round baking pan with nonstick cooking spray.
In the bowl of a food processor, combine the flour, brown sugar, and butter. Pulse until coarse crumbs form.
Remove 1 cup mixture and set it aside.
Add the baking powder, salt, cinnamon, egg, pumpkin, and milk to the remaining flour mixture. Blend until smooth.
Pour the batter into the prepared pan.
In a small mixing bowl combine the reserved crumb mixture and the pepitas. Sprinkle this crumb topping over the batter.
Bake the coffeecake for 40 minutes or until a tester comes out clean.
Cool slightly before serving. Serve warm or at room temperature.
Preparation time: 15 minute(s)
Cooking time: 40 minute(s)
Number of servings (yield): 8
What's on YOUR plate?
What's on Your Plate? is designed to be a conversation amongst good eaters.
Tell us about a recent meal. Did it meet with rave reviews? Or did it bomb? What side dishes did you pair with the star of the show? Did you try a new ingredient? Find the groceries at great prices?
What's on YOUR Plate?
Share with us a recent meal you prepared. Either link it up below or tell us about it in the comments. Please make sure that you link to www.goodcheapeats.com in your post so others know where the dinner party is.
And don't forget to visit the other good eaters participating today. I'm sure you will be inspired to make all sorts of Good Cheap Eats at your house.