Enjoy a restaurant-quality entree salad at home with this Baby Greens Salad with Turkey, Cranberries, and Blue Cheese. Super easy, simple, and delish!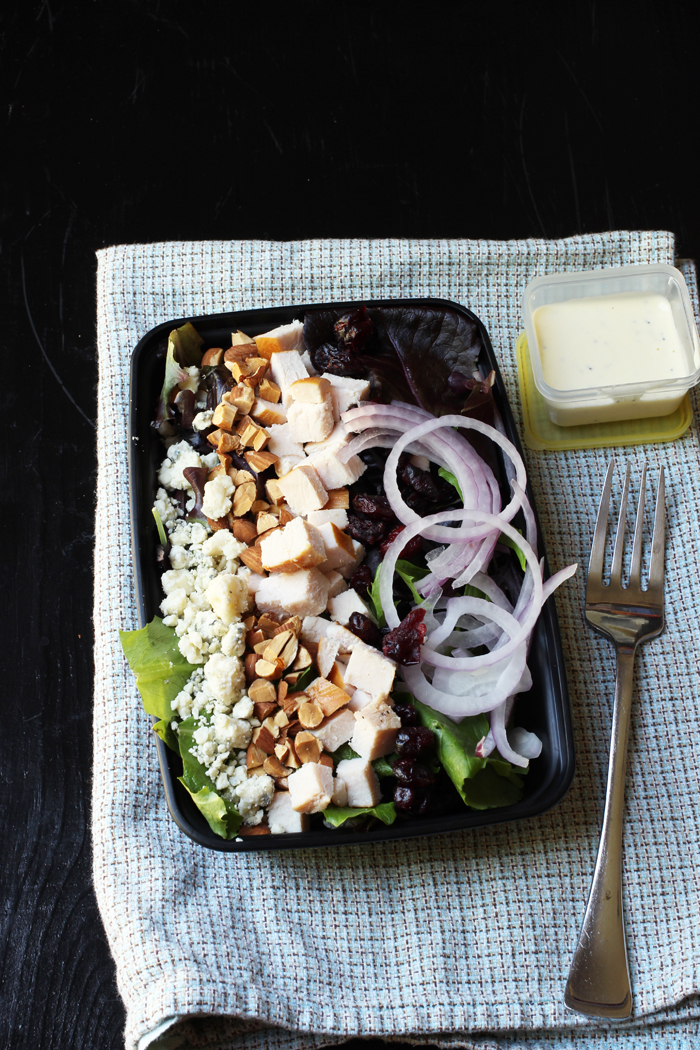 I'd like to make the case for salad.
You see, salads are pretty much happiness in a plate. You can mix so many different flavors, colors, and textures into a salad, that you will never get bored.
Garlicky Caesar Salad, tangy Greek Salad, and the oh-so sophicated Salade niçoise. Yep, they'll keep you entertained!
On a practical level, salads work well in for lunches or light suppers all year long. They can be made with just a few ingredients. And salads are easily packable.
Since we're always being encouraged to eat more fresh produce, enjoying salad on a regular basis is a great way to follow the doctor's orders.
This Baby Greens Salad with Turkey, Cranberries, & Blue Cheese is very likely one of my favorite salad combinations. It was taboo during my last few pregnancies, thanks to the soft blue cheese, but, blessedly, one doesn't stay pregnant forever.
You can bet that it's the salad I sent my husband out to buy as soon as that baby was safely delivered in my arms.
Want to bless a friend with a new baby? Pack her up a few boxes of different salads to much on at the hospital or at home. And include this tasty combo of turkey, fruit, and soft cheese.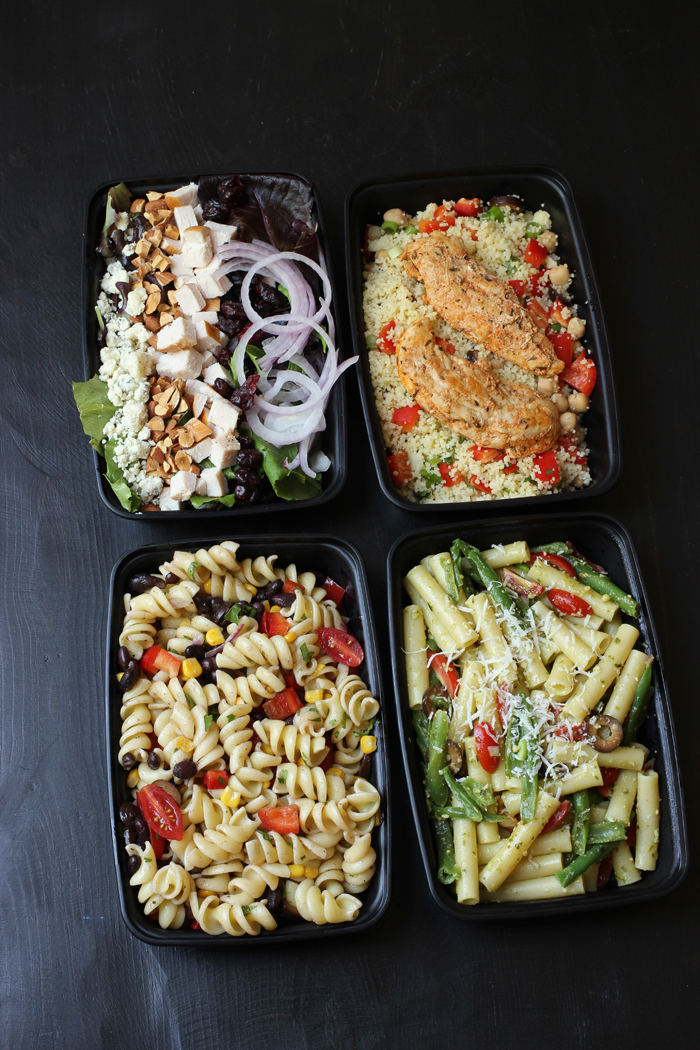 What is in mixed baby greens?
Mixed baby greens are usually available in boxes or bags in the refrigerated section of the produce section. The mixtures can vary, depending on the producer, but can include baby spinach, kale, mizuna, arugula, chard, and baby lettuces.
How do you make the best green salad?
The best green salad is going to depend on what your preferences are. However, keeping the ingredients dry and cold will help the salad and its toppings retain their crispness.
Make sure your ingredients are fresh and cold for best taste and texture.
What is the best dressing for salad?
How you match a dressing to a salad will depend on your preferences, but some basic suggestions include:
Can you make your own salad dressings?
Making your own salad dressings is super simple, not to mention better for you and usually cheaper. Commercial dressings have lots of sweeteners and preservatives mixed in.
Find tips to make your own salad dressings here.

How to make this good and cheap:
Here are some of the strategies you can use to make this recipe more economical:
Stock up on ingredients when they are on sale. Instead of paying full price, buy more than you need when you see it on sale. Then you always have it when you want it. I do this for dried cranberries, nuts, and blue cheese. It's always nice to have a stockpile of that kind of stuff.
Shop the stores that have the best prices. When I did my big grocery store showdown, I learned that ALDI and Costco have the best prices for a lot of the things I buy. You will naturally save money if you shop the best store for the items YOU buy. This may not be ALDI or Costco, so you'll need to do your own price comparisons. The time investment as your research it is super valuable!
How I make this recipe easy:
This recipe really couldn't be easier than it is, but having the right kitchen tools can really make your time in the kitchen more enjoyable. Over time, I've honed my collection so that they are perfect for my needs.
Here are the tools that I use for this recipe: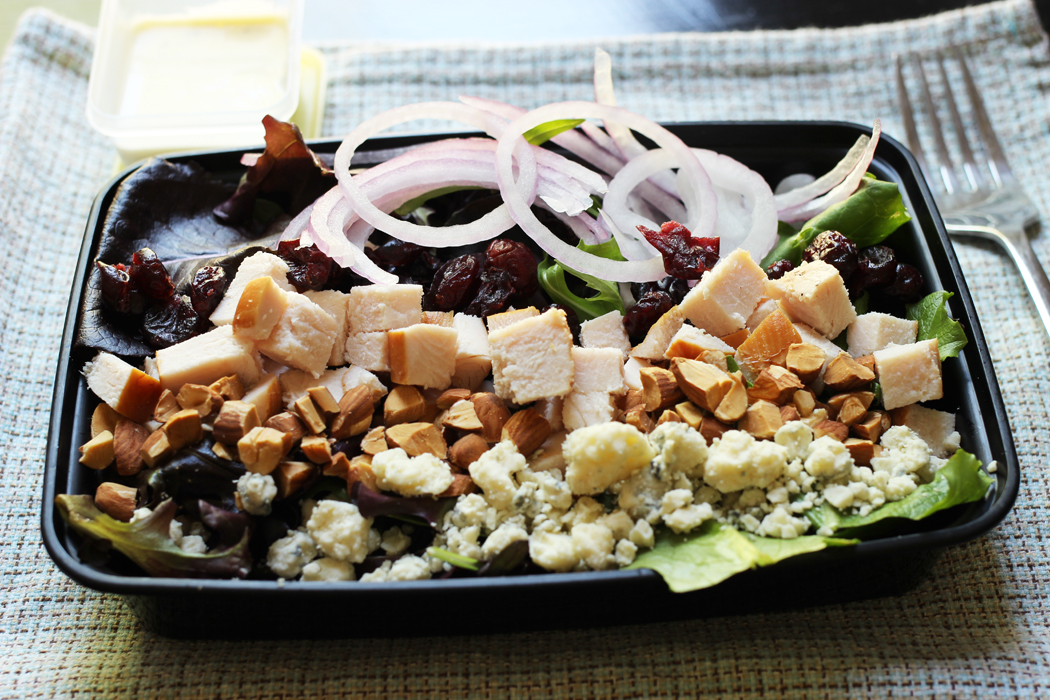 Baby Greens with Nuts, Cranberries, Turkey, and Blue Cheese
Enjoy a restaurant-quality entree salad at home with this Baby Greens Salad with Turkey, Cranberries, and Blue Cheese. Super easy, simple, and delish!
Ingredients
6

oz

baby greens

2

cup

turkey (cooked and cubed)

1

cup

dried cranberries

1

cup

chopped nuts

4

oz

blue cheese crumbles

(1/4 cup)

1/2

tbsp

poppyseed dressing
Instructions
Arrange the greens on a dinner plate.

Layer with turkey, cranberries, nuts, and blue cheese crumbles. Cover and chill until ready to serve.

Drizzle with dressing and serve.
Notes
Note: salad can be prepped up to 3 days in advance. Store the dressing in a separate container. Cover and chill until ready to serve.
Nutrition
Calories:
652
kcal
|
Carbohydrates:
51
g
|
Protein:
25
g
|
Fat:
42
g
|
Saturated Fat:
11
g
|
Cholesterol:
69
mg
|
Sodium:
759
mg
|
Potassium:
413
mg
|
Fiber:
6
g
|
Sugar:
33
g
|
Vitamin A:
258
IU
|
Calcium:
203
mg
|
Iron:
2
mg