This month, we're shopping our kitchen in order to use up what we have so we can save money and clear kitchen clutter.
Here we go with Day 5 of the Pantry Challenge, a mixture kind of day, spending the morning at medical appointments, the noon prepping some food, and the afternoon working at my desk.
In January I start each morning with green tea and a peek in the fridge. This is not my favorite green tea because I have too large a stockpile of tea (green and otherwise) and so I'm forcing myself to use what I have before I allow myself to buy my fave.
And the peek into the fridge is not a daily habit the other 11 months of the year, but I'm thinking it should be. It's been really easy to meal plan from day to day and to reduce food waste with this daily check-in.
The kids don't love it; it means they might have to eat something other than what they were hoping for because I'm hyper-aware of what needs using.
Today it was the ham I had thawed for last night's ramen that they didn't use as well as the gravy the CBs made on Sunday that will need to be used by tomorrow night. The boys got early morning texts from their mom about their plans for that. Ha!
I spent the morning with one of the girls at medical appointments and waiting at a very understaffed lab. I treated her to a free Chick-fil-A milkshake on the way home.
I have rewards that the local CFA owner sent at Christmas that need to get used up this month. I figured I'll just treat one kid at a time and use them up rather than feeling like we have to drop $70 on a family meal. (We'll see what really happens…)
When we got home, I made some lunch and prepped veggies for snacking as well as for making soup, pulled some things from the freezer, and finally did my freezer inventory. This is not something I love, especially since my hands freeze, but it needed to be done.
I guess I should say it was a preliminary inventory as some shelves were just a little too chaotic and I know it will be easier to organize in a week or two. I did find some treasure, though!
In the chaos we call December, some savories got put in the "dessert freezer" and therefore lost. This would include a bag of Bryan's burritos, so I just bought myself another week of burritos by checking the freezers!
I did have to chuck a few things that I know were there since before last Pantry Challenge, but I think we're fairly set on some things, like sausage and other ground meat. My daughter who used to eat vegan has now switched back to omnivore so there are some things she will need to eat up.
Already I'm developing some ideas of how I want to organize this deep freeze going forward and how I want to shop and store food. Hint: it involves a regular freezer cooking day each month to make my life easier and some more dishpans for organizing things. I know clear tubs are cool, but they are more expensive than dollar store dishpans.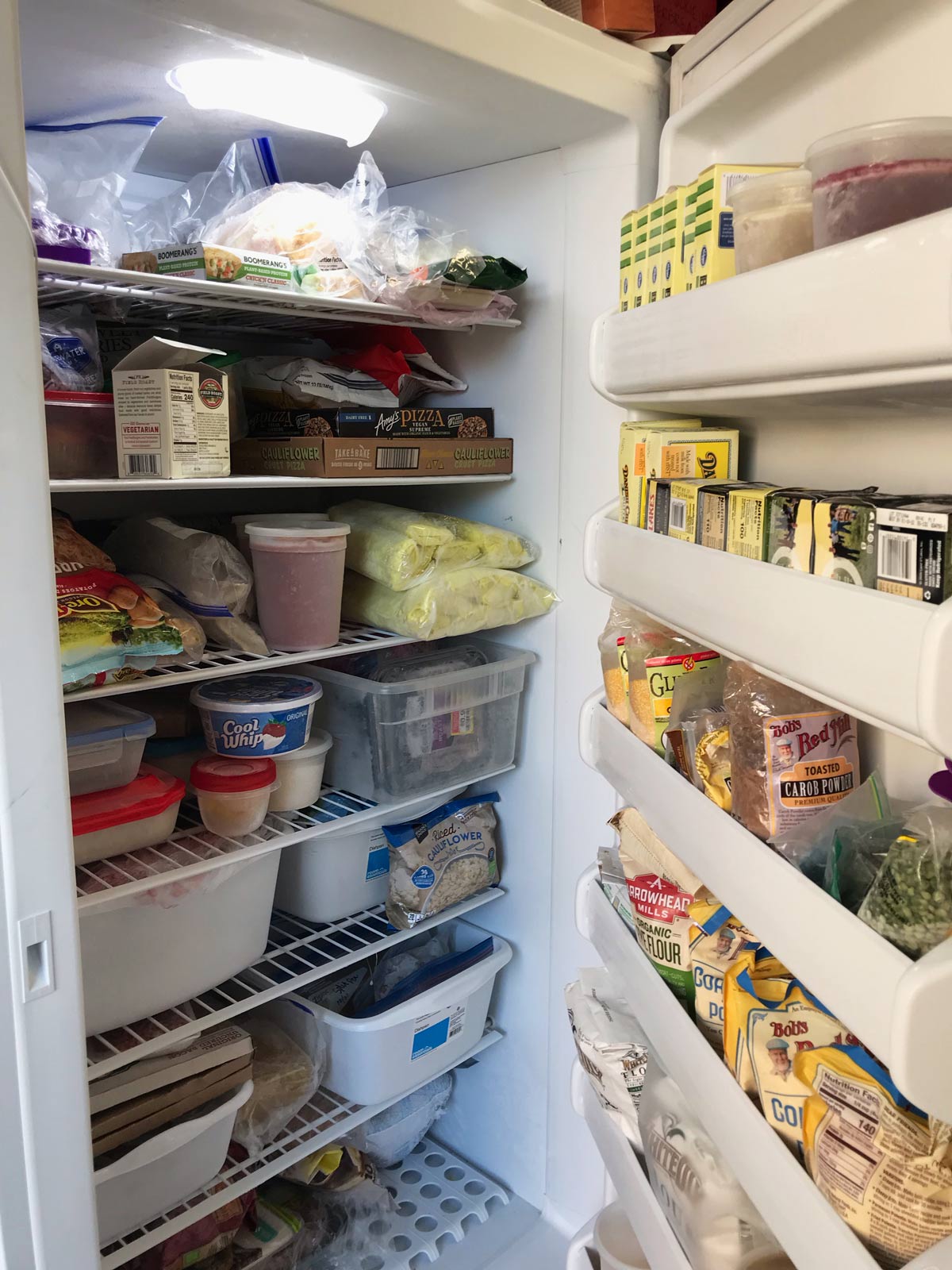 What We Ate
Here's how our meals went down today.
Breakfast – Again, I had avocado toast. That was the last of the avocado, so tomorrow will be interesting. Kids had eggs and toast and cereal.
Lunch – CBs packed their lunches with leftovers; Bryan had a Bean and Beef Burrito. Kids at home had ham/salami sandwich, ramen with ham, and egg salad sandwich, respectively.
There was one sweet potato that needed using, so I cut it into strips and made Air Fryer Sweet Potato Fries. I added some turkey meatballs I had prepped on Sunday as well as some leftover cranberry sauce. That was a tasty combination! Plus, I snacked on veggies while I prepped.
Dinner – Tonight was dueling soups. I made Quick Minestrone, starting with a mirepoix and a package of Italian sausage links, plus some leftover Sausage Bolognese, garbanzo beans, turkey stock from the freezer, canned tomatoes, and a bag of fideo. (I have a largish stockpile of small soup noodles that need using, so this soup wasn't gluten-free.)
The other pot of soup was Easy Homemade Broccoli Cauliflower Soup with a head of fresh cauliflower, a bag of frozen broccoli and gluten-free baking mix for the thickener.
Prepping the veggies earlier in the day really made the prospect of making dinner more palatable!
I also pulled out a few loaves of brown bread left from Thanksgiving and a bag of biscotti for dessert. There need to be perks during a Pantry Challenge!
What I Prepped
Meal Planning & Meal Prepping are key to enjoying your pantry challenge! Here's what I did today:
surveyed the contents of the fridge and adjusted my meal plans based on what needed using
chopped up all the fresh veg, including purple cabbage, cauliflower, carrots, celery, onion, cucumber, and bell pepper. That's pretty much all we have, and I predict it will be gone by Thursday afternoon. A run to the store for a few things (tonight or tomorrow?) will help get us through the weekend.
did a prelim inventory of the freezers – pulled things to use tonight and tomorrow.
rearranged a few things in the freezer so that like is with like.
How did your Day 5 go for you?