These double chocolate cookies are flavored with mint and rolled in powdered sugar. The result is a chocolate mint dessert that resembles a mountain top of snow.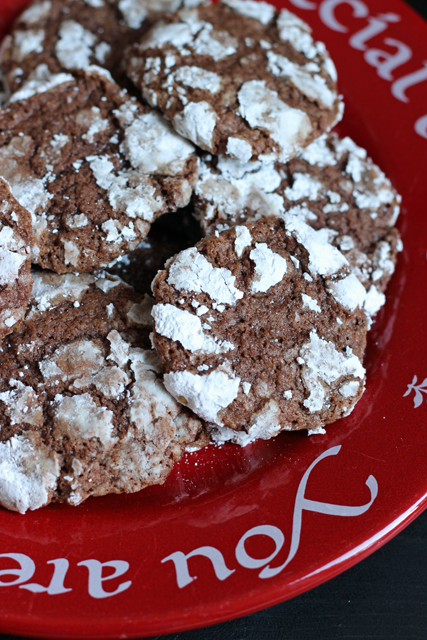 Christmas Cookies are the best. Snowballs, gingerbread, thumbprints — every family has their favorites. And it is so fun to be able to serve an assortment come holiday time! One of the tricks to having a great stash is to bake a few weeks ahead of time and package them carefully for the freezer. Then pull them out an hour before you want to serve them. Delish! (Plus, your guests will be amazed that you have so many different kinds at one time.)
Here is the FishFamFave: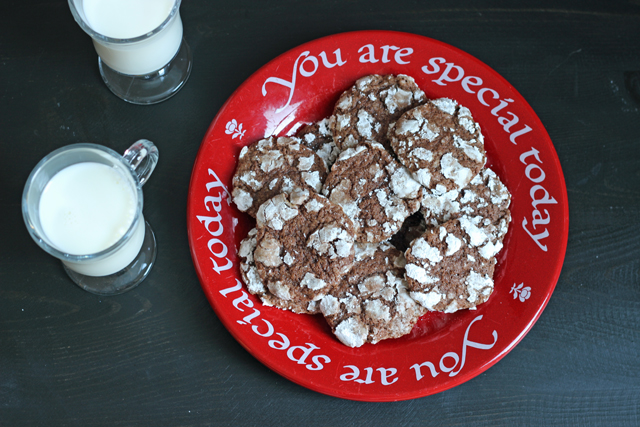 Update: I've made these cookies even more amazing with the addition of mint-flavored Hershey kisses. Grab the recipe for Chocolate Minty Melts and make them both. See which you prefer and report back.
Recipe: Chocolate-Mint Snow-Top Cookies
Summary: I found the recipe for these cookies in the 2002 edition of Christmas Cookies, a special interest publication of Better Homes and Gardens. They are absolutely delicious! I've made one modification regarding the form of the chocolate. If you like chocolate and mint, you will want to make a double batch.
Ingredients
1 1/2 cups all-purpose flour
1 1/2 teaspoons baking powder
1/4 teaspoon salt
3 packets pre-melted unsweetened chocolate
6 Tablespoons butter, softened
1 cup plus 6 Tablespoons granulated sugar
2 eggs
1 1/2 teaspoon vanilla
1/4 teaspoon mint extract
1/2 cup semisweet chocolate chips
powdered sugar for rolling
Instructions
Combine flour, baking powder, and salt; set aside. Beat butter with a mixer on medium speed for 30 seconds. Beat in granulated sugar until combined. Beat in melted chocolate, eggs, vanilla, and mint flavoring. Stir in flour mixture and chocolate chips.
Wrap dough in plastic wrap. Freeze 30 minutes or until firm enough to shape. Preheat oven to 350*F. Shape dough into 1-inch balls and roll balls in powdered sugar.
Place balls about 2 inches apart on an ungreased cookie sheet. Bake in preheated oven for 10-12 minutes or until tops are crackled. Cool 2 minutes on cookie sheet. Transfer to wire racks. Cool. Place in layers separated by waxed paper in an airtight container; cover. Store at room temperature for 3 days or freeze for up to 3 months.
Number of servings (yield): 42 cookies
Today is a great day to gather some recipes — and maybe experiment with a few as well. Cookies are great — year round, you know. You really do need to test them and make sure you'll like them, right? Wink wink.
And today you're invited to a virtual cookie exchange. Share your very favorite cookie recipe!
Option 1: Post it on your blog and come back here to share the link to that post.
Option 2: Share your recipe in the comments section.
Everyone who participates either way, with a recipe, will be entered in a random drawing for a copy of Susan Branch's fantastic book, Christmas from the Heart of the Home.
So, dig out your very best in the Christmas Cookie Department and report back here. Make sure to link to LifeasMOM so that others can join in the fun. Contest will be open until Friday at 8 am CST.
Update: This giveaway may be closed, but these cookies are always winners!