This easy chocolate cheesecake mixes up quickly and easily. Delicious and rich in flavor, it makes a great special event dessert.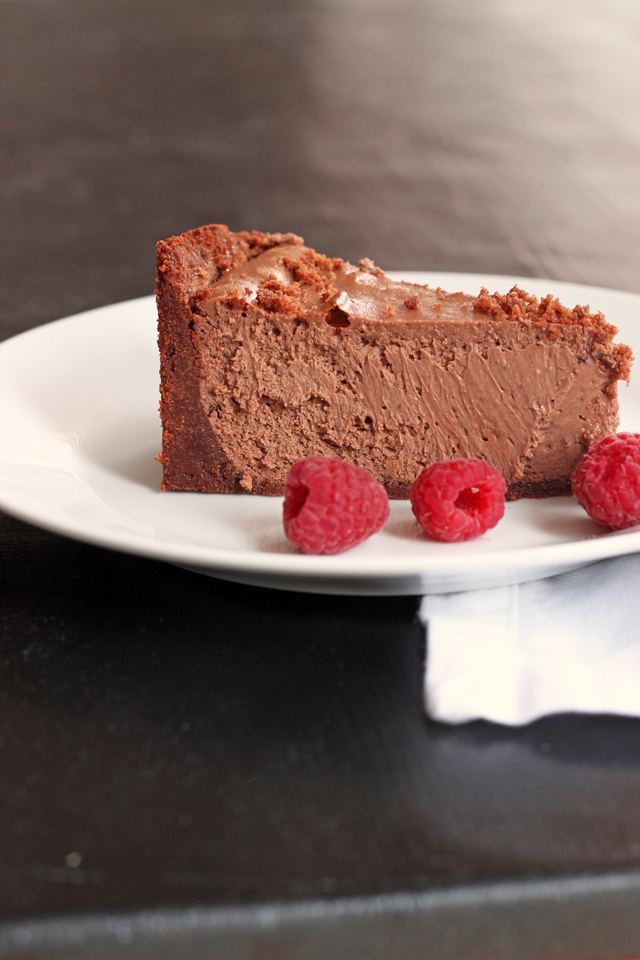 In the early days of blogging, it was common to meet people and share ideas by swapping links. While we still do this to a certain degree, the old linky party that once swept the internet in 2008 has gone the way of dial-up. We remember it, but we just don't do it anymore.
While I don't miss the slow, slow wait for a dial-up connection to "take", I do kinda miss the linky party. For years I hosted two weekly link parties, Ultimate Recipe Swap and Frugal Friday. Believe it or not, this is the recipe I shared on the very first edition of Ultimate Recipe Swap. Let's just call this a Flashback Friday, shall we? 😉
It all started when I posed the question back in 2008: What Make You Joyful? (If you haven't had a chance to read the comments section, please do! They are excellent: insightful, encouraging, compassionate, and creative. I really felt like, "Hey! What great advice! We're in this thing together!" Please feel free to keep the conversation going. Even if it's nine years later.)
One of the more light-hearted things mentioned was the helpfulness of chocolate in the life of a MOM. Ain't that the truth? Just a few bites after lunch is the perfect taste of sweetness and an excellent pick-me-up. Not to mention what it does to your brain. I'm sure it must do something positive.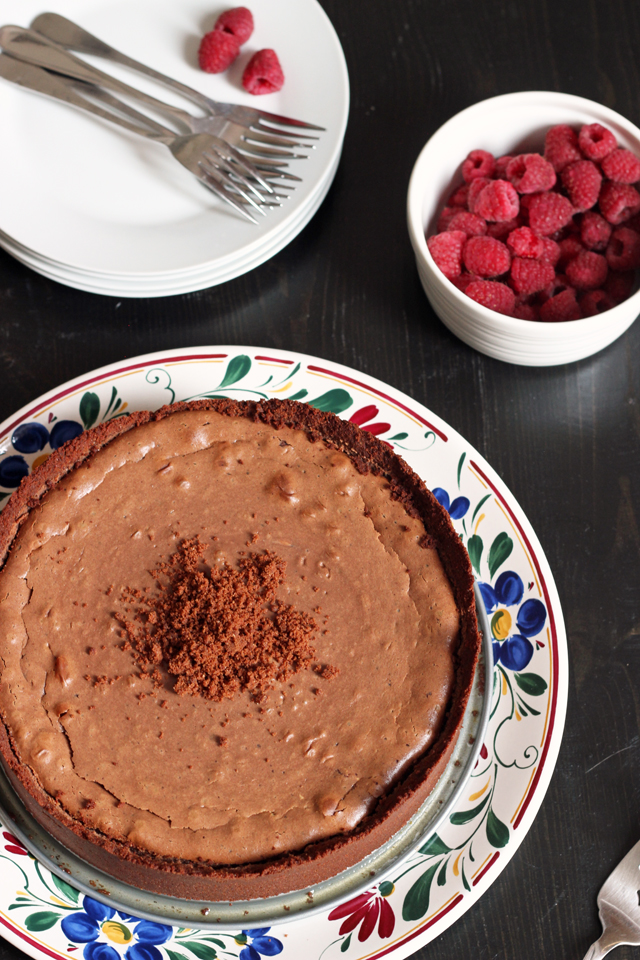 In honor of the great conversation we had about being joyful moms, I hosted a little chocolate party and shared this recipe for Chocolate Cheesecake. If I don't make it for my own birthday each year, FishPapa makes it for me! It's adapted from the Pillsbury Complete Cookbook.
This is for sure a family-favorite recipe. It simple to make and really requires no adornment, though fresh berries and whipped cream never hurt anything.
I've dusted off the recipe, updated the pictures, and figured it's time we all had a little more chocolate in our lives. This is a must-make. One of the beautiful things about this recipe is that you can wrap the chilled cake in layers of plastic wrap and then foil and stash it in the freezer. Once upon a time, our family couldn't finish a cheesecake fast enough so I would often freeze half. We don't have that "problem" any longer, but it's still nice to have a stash of Chocolate Cheesecake in the freezer!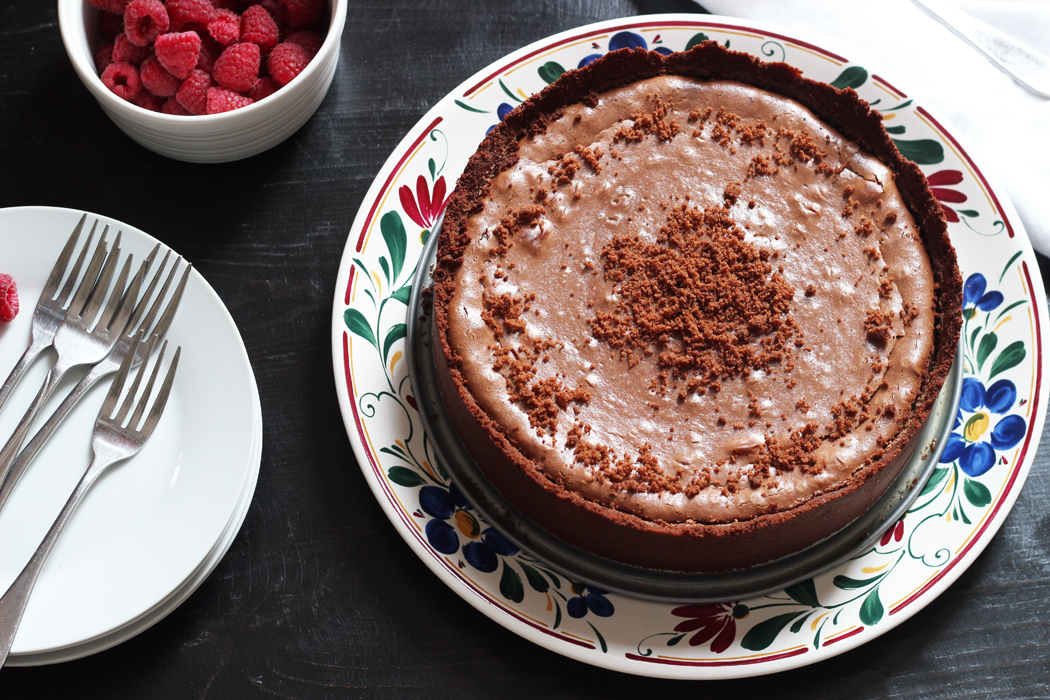 Chocolate Cheesecake
This easy chocolate cheesecake mixes up quickly and easily. Delicious and rich in flavor, it makes a great special event dessert.
Ingredients
1 3/4

cup

chocolate cookie crumbs

or chocolate graham cracker crumbs

8

tbsp

butter

melted

2

8-ounce package

cream cheese

softened

2/3

cup

granulated sugar

3

egg

2

cup

chocolate chips

1

cup

whipping cream

1

tsp

vanilla extract
Instructions
Preheat the oven to 325°. In a mixing bowl, combine the cookie crumbs and 6 tablespoons butter. Press this mixture into the bottom of a 10-inch springform pan and up the sides.

In another mixing bowl, place the cream cheese and sugar. Whip until smooth. Add the eggs one by one, mixing well after each. The eggs will blend into the filling.

Melt the chocolate chips in a small bowl in the microwave or in a double boiler. Add the melted chocolate to the cream cheese mixture. Beat in the whipping cream, remaining 2 tablespoons melted butter, and vanilla. Pour this mixture into the prepared pan.

Bake the cheesecake for 55 to 65 minutes or until set around the edges. The center should still be a little wiggle. Cool on a rack or in the turned off oven with the door open. This can prevent cracking.

Remove the sides of the springform pan and allow the cake to cool to room temperature before chilling for several hours or overnight in the refrigerator.
Notes
To freeze: wrap the chilled cheesecake in plastic wrap or foil and store in the freezer for up to 2 months. Thaw, wrapped, in the refrigerator.
Nutrition
Calories:
492
kcal
|
Carbohydrates:
47
g
|
Protein:
7
g
|
Fat:
31
g
|
Saturated Fat:
18
g
|
Cholesterol:
113
mg
|
Sodium:
401
mg
|
Potassium:
158
mg
|
Fiber:
1
g
|
Sugar:
37
g
|
Vitamin A:
860
IU
|
Vitamin C:
1
mg
|
Calcium:
117
mg
|
Iron:
1
mg
Here are some links to the original contributors to our little linky party, circa 2008. Originally published June 7, 2008.
Feel free to leave the link to a favorite chocolate recipe in the comments below!