Asian Bowls are my answer to an easy, delicious, make-ahead dinner. You can mix and match the ingredients however you like — and it's always amazing.
This post may contain affiliate links which provide a means for me to earn fees linking to Amazon and other affiliate sites.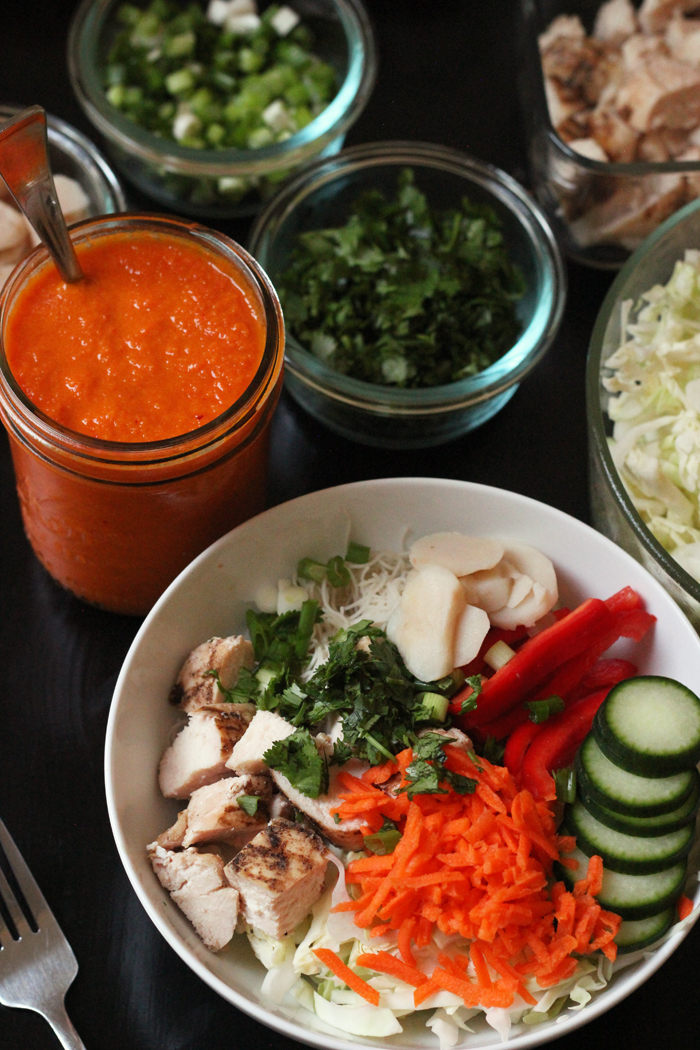 A few months ago my friend Jessika and her family were visiting for a few days. Needless to say, with an extra three people every meal needed to feed a crowd. Moms wanted to visit, but kids wanted to eat, so we cooked. And had a blast.
As Providence would have it, the weather didn't cooperate with my meal plan one night. And it turned into one of the happiest accidents of my life!
I had hoped to make Summer Rolls which are amazing — except in the high heat and humidity of summer. I know from experience that Summer Rolls are not amazing when it's too hot and humid; they disintegrate.
I had all the ingredients, so we made deconstructed summer rolls instead. Turns out this is a meal Jess and her family have often, but they call them Asian Bowls. And this is the moment that Carrot Ginger Dressing entered my life.
Now, I love Summer Rolls with a fierce passion, but I may never make them again since I love Asian Bowls so much. I mean, SO MUCH.
It's all the fresh, crunchy goodness with less work! Plus, you can assemble these Asian Bowls days in advance and enjoy them whenever or wherever you like. No matter the weather.
I've put them on weekly rotation at our house, and always try to make extra ingredients so that I can assemble extra Asian Bowls to enjoy for my lunches. They are amazing dolloped with generous amounts of Carrot Ginger Dressing and a drizzle of sriracha. Yum-O!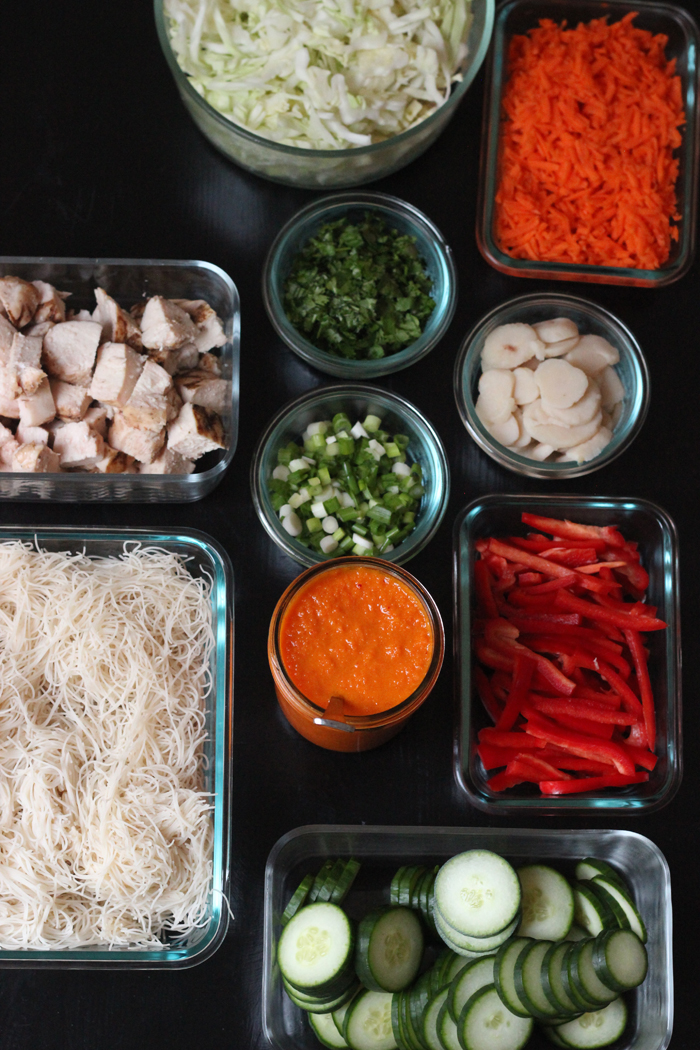 You can use whatever ingredients you like in your Asian Bowls, but I've narrowed it down to this amazing round-up: grilled chicken, rice noodles (or rice), shredded cabbage, sliced cucumber, julienned red pepper, sliced water chestnuts, chopped scallions and cilantro, and shredded carrots. Don't forget the Carrot Ginger Dressing and the sriracha.
How to make this good and cheap:
Here are some of the strategies you can use to make this recipe more economical:
Stock up on ingredients when they are on sale. Instead of paying full price, buy more than you need when you see it on sale. Then you always have it when you want it. I found a great deal on brown rice noodles (aka maifun; also affiliate link <--) and bought a full case (six boxes).
Shop the stores that have the best prices. When I did

 

my big grocery store showdown, I learned that ALDI and Costco have the best prices for a lot of the things I buy. I regularly stock up on chicken and vegetables at ALDI now so that I always have what I need to make Asian Bowls.
How I make this recipe easy:
This recipe really couldn't be easier than it is, but having the right kitchen tools can really make your time in the kitchen more enjoyable. Over time, I've honed my collection so that they are perfect for my needs.
Here are the tools that I use for this recipe:
Asian Bowls
Asian Bowls are my answer to an easy, delicious, make-ahead dinner. You can mix and match the ingredients however you like — and it's always amazing.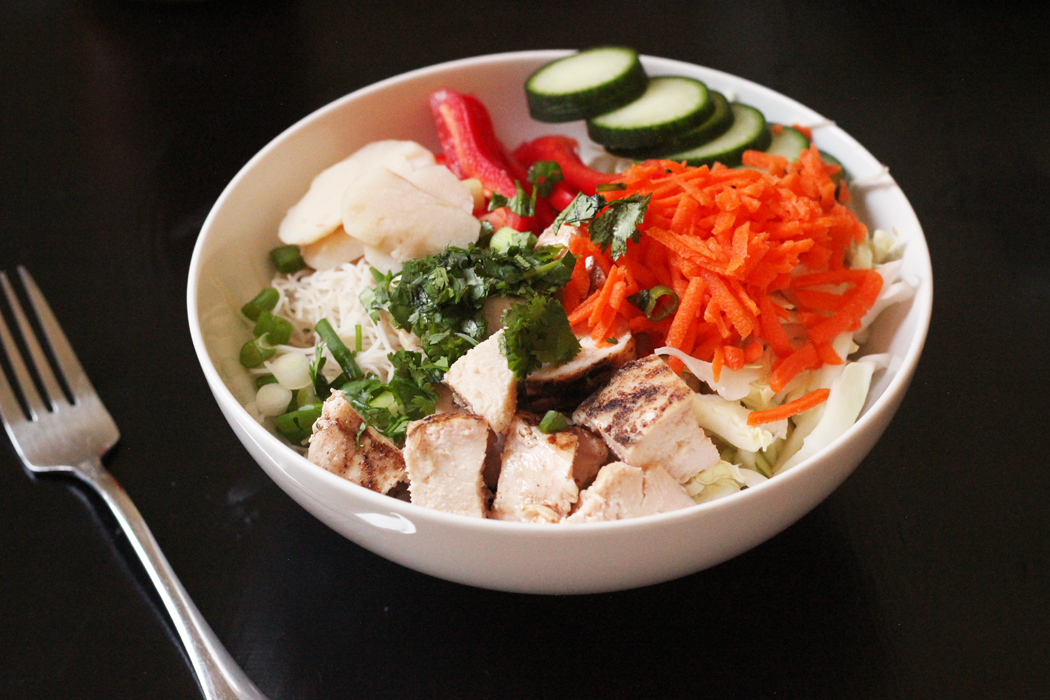 Preparation Time: 20 minutes
Cook time: 15 minutes
Total time: 35 minutes
4 servings
Ingredients:
1 1/2 pounds boneless, skinless chicken breast

salt, pepper, and garlic powder

8 ounce package maifun rice noodles (also marked rice vermicelli), softened according to package directions

small head cabbage, thinly shredded

2 cups shredded carrots

8 ounce can sliced water chestnuts, drained

1 red bell pepper, cut into matchsticks

1 large English cucumber, thinly sliced

1 bunch scallions, chopped

1 bunch cilantro, chopped

one batch Carrot Ginger Dressing

other optional sauces: soy sauce, sriracha, sweet chile sauce
Instructions:

Heat an outdoor grill or grill pan. Season the chicken generously with salt, pepper, and garlic powder. Grill the chicken until cooked through and the juices run clear. Allow the chicken to rest until cool enough to handle. Chop the chicken into bite-sized pieces.
Assemble all the Asian Bowl ingredients: chicken, noodles, cabbage, carrots, water chestnuts, bell pepper, cucumber, scallions, cilantro, and sauces. Allow diners to assemble their own bowls.
Leftovers should be good in the refrigerator, covered, for up to 4 days.