Poached chicken combines with a homemade seasoning blend to make for a luscious and easy dinner of Pulled Chicken Sliders.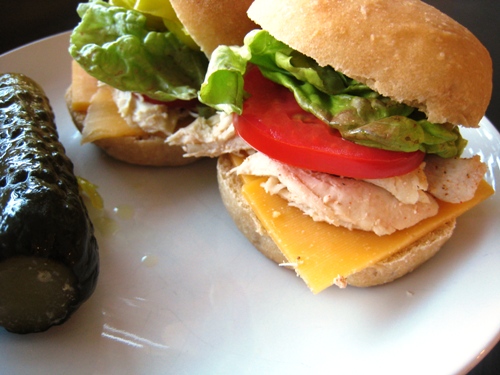 Last week I found myself in a bind. Saturday evenings we spend at the hockey rink. If we're lucky, there's some type of break at a decent hour so that we can have supper.
My girls were sick that night so I stayed home which gave me time to pull together a quick supper instead of the usual run through In-N-Out Burger. I had a batch of homemade rolls and a package of chicken tenders. I also didn't have a lot of time.
I could have grilled them quickly, but I have a child who had a bad experience with BBQ lava rocks exploding into his chicken years ago. He has a hard time disassociating that experience from our current situation with a better and different type of BBQ. Needless to say, grilled chicken is not his favorite.
But, I digress.
Instead I poached the chicken simply in water, pulled it to shred and then seasoned it with Jamie's Spice Mix. The result was a flavorful and easy meal that we'll be having again and again, especially as the summer months approach and Sandwich Night takes over for Soup Night.
You can cook the chicken anyway you like, but I've written this recipe for poaching which allows you to cook it on the stovetop.
Serve the chicken in lettuce wraps for a low-carb/Whole 30 meal.
Recipe: Pulled Chicken Sliders
Ingredients
1 to 2 pounds chicken tenders
1 bay leaf
3 peppercorns
1 to 2 tablespoons Jamie's Spice Mix
small rolls or hamburger buns OR lettuce leaves
sliced tomato
lettuce leaves
sliced pickles
condiments of choice: mayo, mustard, ketchup, BBQ sauce
Instructions
In a large pot with a lid, place the chicken, bay leaf, and peppercorns. Add water to cover. Bring to a boil.
Once the water boils, simmer for 15 minutes or until chicken is cooked through. Turn off the heat and allow to cool.
Remove the chicken from the pot, discarding the liquid.
Shred the meat with two forks. Season to taste with spice mix.
Serve with buns and sandwich toppings.
To freeze: the shredded meat can be frozen for a later date. Simply cool and wrap airtight. Chill completely before freezing. To serve: thaw completely in the refrigerator. Reheat or serve cold.
Preparation time: 5 minute(s)
Cooking time: 15 minute(s)
Number of servings (yield): 8