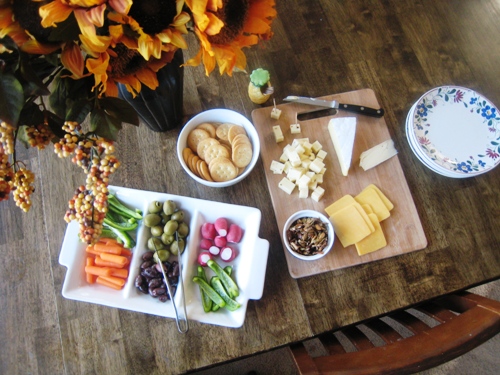 Holiday appetizers can get so complicated. We fool ourselves into thinking that we need to make a big froofroo spread before the bigger froofroo spread we call Thanksgiving dinner.
Times have changed. The appetizers, hors d'oeuvres, amuse-bouches, snack, whatever you want to call them, were always a pretty simple affair when I was growing up. My mom typically made one thing on Thanksgiving for the pre-dinner bite: the relish tray.
I've heard that this is perhaps a midwestern tradition. I dunno. To me, it says, "home."
The relish tray was nothing fancy, just celery and carrot sticks, cut the old-fashioned way, as well as an assortment of olives, pickles, and maybe a few radishes. The cut-glass dish that held them, however, was very fancy. It's probably smaller than I remember it, but it always exclaimed, "Special!" to me.
We'd snack on these little tidbits while the smell of roast turkey and stuffing drifted throughout the house. And later the dish would rest on the dinner table and perhaps be passed around so folks could add another tidbit or two to their plates.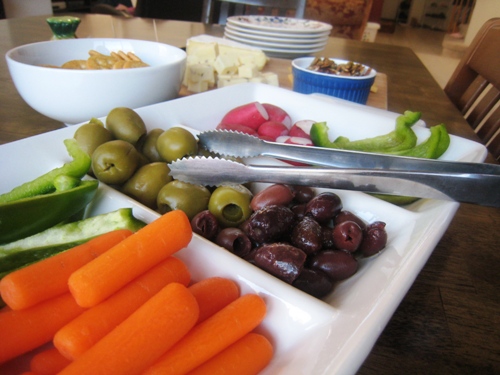 Consider creating your own relish tray this year, with a few updates:

Recipe: The Relish Tray
Ingredients
olives – try some different varieties from the olive bar at your local grocer's
pickles – vary the choices from dill to sweet to spicy, maybe throw in some itty bitty cornichons, too
radishes or sliced turnip
carrot sticks, cut the old fashioned way if you wanna go retro
celery sticks
peppers – try a few different colors and varieties like pickled cherry peppers or peperoncinis, roasted red bell peppers, and fresh red, green or yellow bell peppers
Instructions
Prepare the vegetables as necessary.
Arrange the various ingredients on a tray. Use a cut-glass dish for the olives if you're feeling fancy.
Is the relish tray new to you?
What's your family's appetizer tradition?