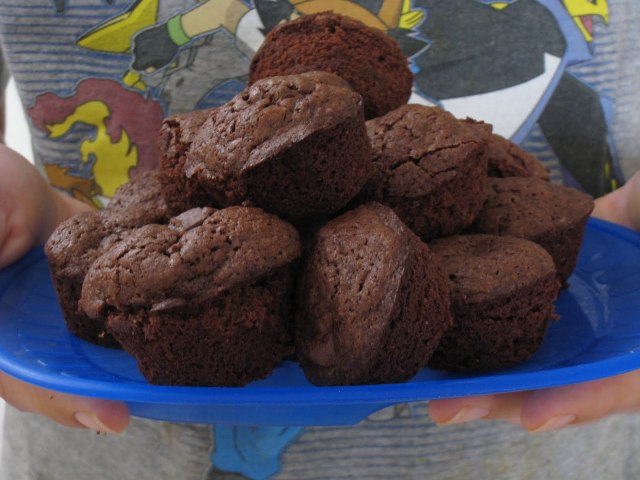 Cocoa Brownies baked in mini muffin tins. Just adjust your baking time.
I love brownies. But, frankly I consider it ridiculous what they charge for a box of brownie mix. I rarely even find it worth the price with a coupon. Instead I make my own mixes. I make several at once to stash in the pantry. But, this recipe is just as delicious mixed fresh, too. You get to choose.
We tried it this week with marshmallows and chocolate chips stirred in. I wasn't sure what would happen. I can now safely report that it's not a great idea. They kind of melt and don't give it that rocky road texture I was hoping for.
Recipe: Cocoa Brownies
Ingredients
Dry Team:
1 cup sugar
2/3 cup flour
1/2 cup cocoa
1/2 teaspoon baking powder
1/2 teaspoon salt
Wet Team:
Wet team:
1/2 cup oil
2 eggs
1 teaspoon vanilla
Mix-Ins: Choose 2 or 3
1/4 cup walnuts, chocolate chips, marshmallows, or M&Ms
2 teaspoons instant coffee
1/4 teaspoon cinnamon
Instructions
Preheat oven to 350. Grease an 8-inch square pan.
Place wet team in large mixing bowl and whisk to blend. Add dry team to the wet. Stir gently to combine. Fold in mix-ins. Spoon into prepared baking pan.
Bake until tester comes out with few crumbs attached, about 25 to 30 minutes. Cool. Cut into squares. Brownies can be wrapped in plastic wrap and stored in a ziptop freezer bag in the freezer for up to 2 months.
If preparing this as a mix, mark a quart-size ziptop bag with wet team ingredients and baking instructions. Combine the dry team in bag and seal. Store in pantry until ready to use. Store the mix in the freezer for longer shelf life.