Minestrone soup, chock full of veggies, beans, pasta, and beef will really hit the spot on the next cool night.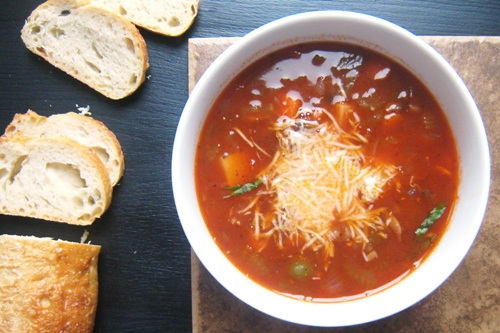 We've had a few chilly nights this past month, but fall hasn't really hit San Diego yet. Our locale just doesn't know the seasons. Summer goes from July to October; Fall lasts from November to February; and then Spring goes from March to June. If it follows that line of reasoning at all.
A girl can dream though. I'm ready for cooler temps. I'd like to start wearing jeans instead of shorts and sweaters instead of tanks.
Warm weather hasn't stopped me from making soup, though. Where's there's a will, there's a way. And I'll force fall to come!
We enjoyed this Vegetable-Beef Minestrone a few weeks ago. It got even better the next day, so these leftovers will be worth fighting over. Serve it with crusty bread and butter. Yum1
Recipe: Vegetable – Beef Minestrone
Ingredients
1/4 cup olive oil
1 1/2 cup chopped onion
1 cup chopped celery
1 cup chopped carrot
3/4 cup chopped bell pepper
1 1/2 cups chopped mushrooms
1 cup red wine
2 cups chopped potatoes
6 cups water or beef broth
15 ounce can tomato sauce
15.5 ounce can garbanzo beans
1/2 teaspoon kosher salt
1/4 teaspoon dried oregano
1/4 teaspoon dried thyme
1/8 teaspoon black pepper
1 1/2 cups cubed roast beef
1/2 cup orzo
1 tablespoon finely sliced basil leaves
Instructions
Heat the oil in a large stockpot until shimmering. Add onion, celery, carrot, and bell pepper. Cook over medium high heat for 5 minutes, stirring occasionally. Add mushrooms and continue cooking for 10 minutes, until the onion is clear and the vegetables start to brown lightly.
Deglaze the pan with the wine, stirring up any browned bits.
Add the potatoes, water, tomato sauce, beans, and spices. Bring to boil.
Add the beef and orzo. Cook until orzo is done, about 9-10 minutes.
Stir in fresh basil. Serve immediately.
Preparation time: 15 minute(s)
Cooking time: 25 minute(s)
Number of servings (yield): 8