Spaghetti Squash Jambalaya just may be one of my favorite low-carb recipes. Hot and spicy with a touch of sweetness from the squash, it's the perfect healthy supper that feels like so much more.
Craving something hot and spicy for supper tonight? Don't want a lot of fuss to make it? Looking for something healthy and good for you? Look no further. This Spaghetti Squash Jambalaya is just the ticket!
Over the years, I've tested out converting some favorite flavors into low-carb recipes. Dishes like Cheesy Chicken and Peppers and Submarine Salad have graced our table quite a bit over the last few years.
One summer day, craving something spicy, Bryan asked me, "What if you made jambalaya with spaghetti squash?"
What if….
What if it turned out so yummy you couldn't stop eating it and your pickiest eater went back for seconds?
True story, my friends. That's how good this Jambalaya is.
You can serve this spicy chicken and sausage jambalaya mixture over rice, pasta, or cauliflower rice, but in our testing I preferred it over spaghetti squash. The spices and the sweet play super well together. (Full disclosure: the picky eater did have his on rice.)
Bonus: this dish is perfect for a Whole 30 and it is freezer-friendly!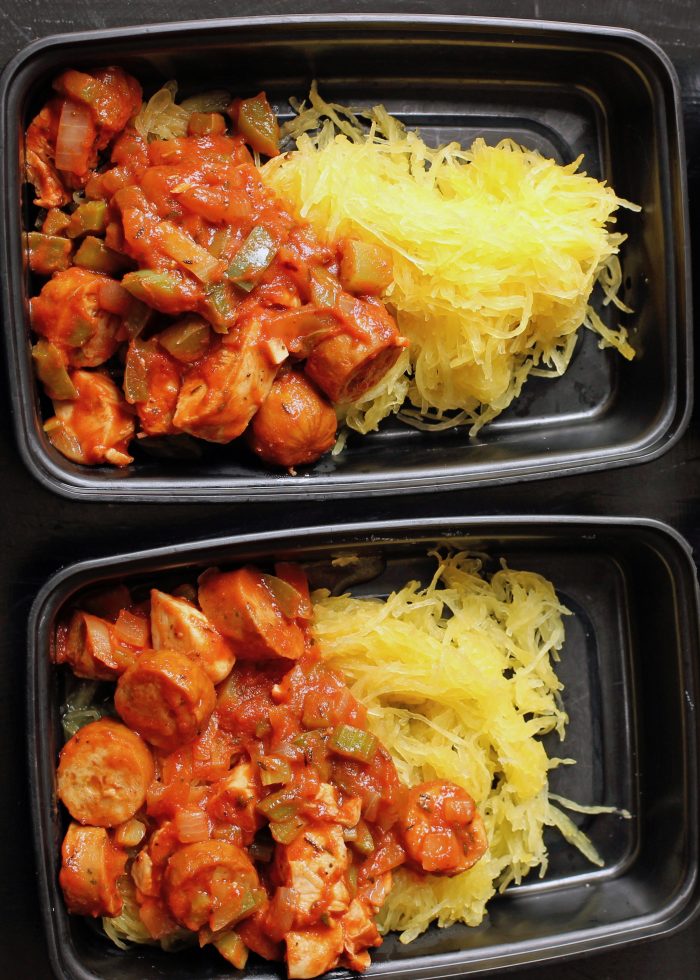 What is usually in Jambalaya?
Jambalaya usually combines cooked rice with a mixture of cooked celery, peppers, and onions as well as chicken and sausage, tomatoes, and seasonings.
This isn't traditional jambalaya. It doesn't have rice cooked in the liquid. I get that. Humor me. 😉
What foods go well with Jambalaya?
Jambalaya is great with seasoned green beans, sautéed greens like chard or collards, corn on the cob, and cornbread. If you're going for the low carb angle, stick with vegetable side dishes.
Can you freeze Jambalaya?
This jambalaya mixture freezes well without the spaghetti squash. Once you've cooked the meat sauce, divide it into meal size portions, chill, wrap, label, and freeze.
To serve, simply reheat the meat sauce and serve it atop freshly cooked spaghetti squash.
How long is Jambalaya good for?
As with all prepared foods, this jambalaya is good for up to 4 days when properly refrigerated.
It's great for a lunch meal prep for the week!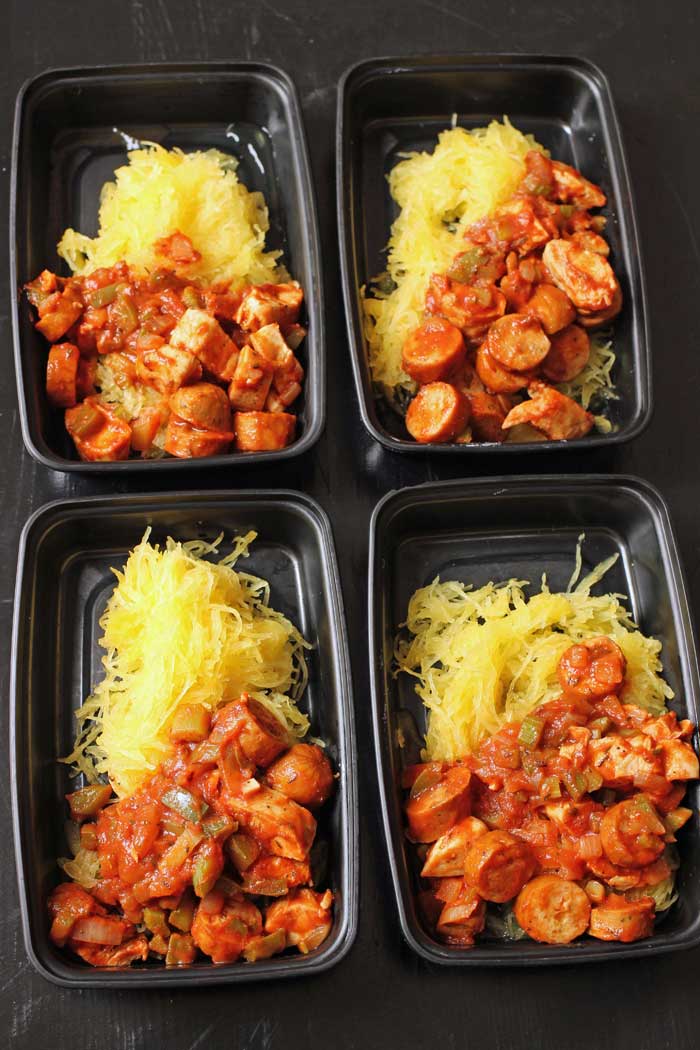 How I make this good:
Whenever possible I like to cook with plain old ingredients. While the convenience of mixes and canned sauces is nice, I feel better about feeding my family just real food whenever possible. (Go here for some of my reasons on all that.)
Read labels, read labels, read labels.
For this particular dish, the only "processed" items are the sausage and the tomato sauce. I like Aidells Chicken and Apple Sausage because there is no added sugar. They are really good in this recipe, despite their slightly sweet (from the apples) bent. The spice counteracts it in a beautiful way.
Tomato sauces often have sugar added to them. The only brand I've found that doesn't is Trader Joe's. That said, those cans are pretty pricey compared to other brands, so I go back and forth on whether that amount of sugar is a big deal to me or not.
If you're doing a Whole 30, you'll want to buy a tomato sauce without added sugar.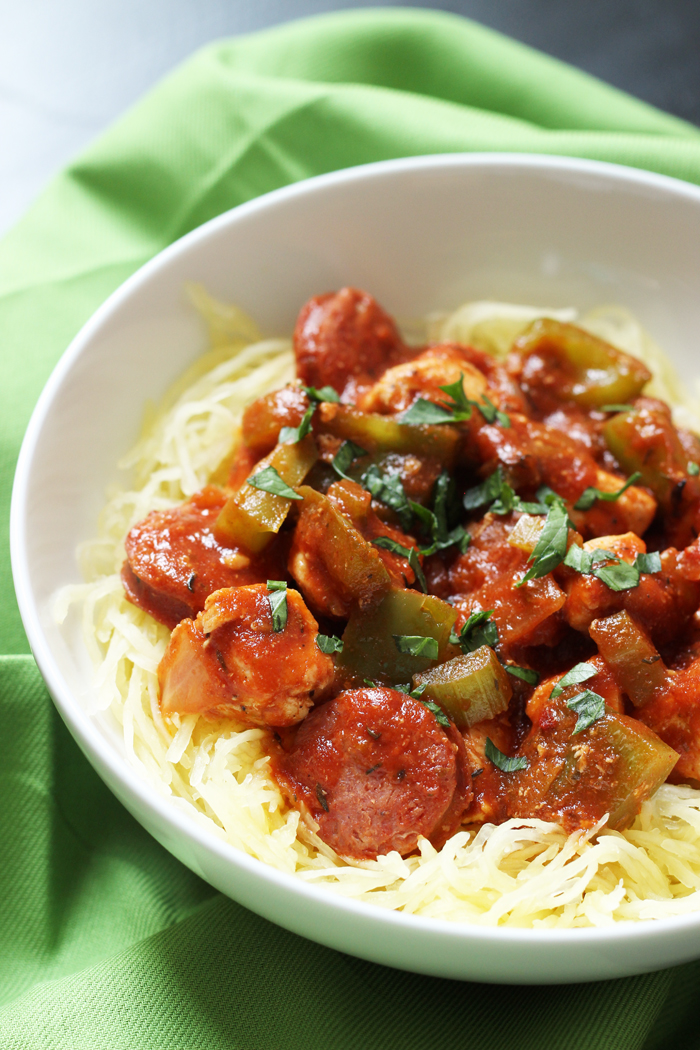 How I make this cheap:
Here are some of the strategies I use to make this recipe more economical:
Meal plan around what's on sale. Don't decide to make this when chicken is $5/pound (when you have none in the freezer) or squash has a hefty price tag. But, next time you see spaghetti squash on sale, make this!
Do a price comparison. I know that Costco is the best place to buy ingredients like bell peppers when there isn't a great sale elsewhere. I keep track of prices so that I know who has the best deal where.
Stock up on ingredients when they are on sale

. For instance, when I see a great price on tomato sauce, I buy a lot. The same goes for red bell peppers. Sprouts has had them for 50 cents a piece at different times this summer. I've bought 10-12 at a time!

Boost the veg to stretch the protein. Protein is usually the most expensive ingredient. If I need to, I often add more veggies to stretch our protein purchase father.
Tools I use to make this recipe easy:
This is a pretty straight-forward dish. You don't need any fancy equipment. However, having some good basic kitchen tools can really make your time in the kitchen more enjoyable. Over time, I've honed my collection so that they are perfect for my needs. Here are the tools that I like to use in this recipe.
Want to see this recipe in action?
Watch the video to see how easy it is to make this recipe!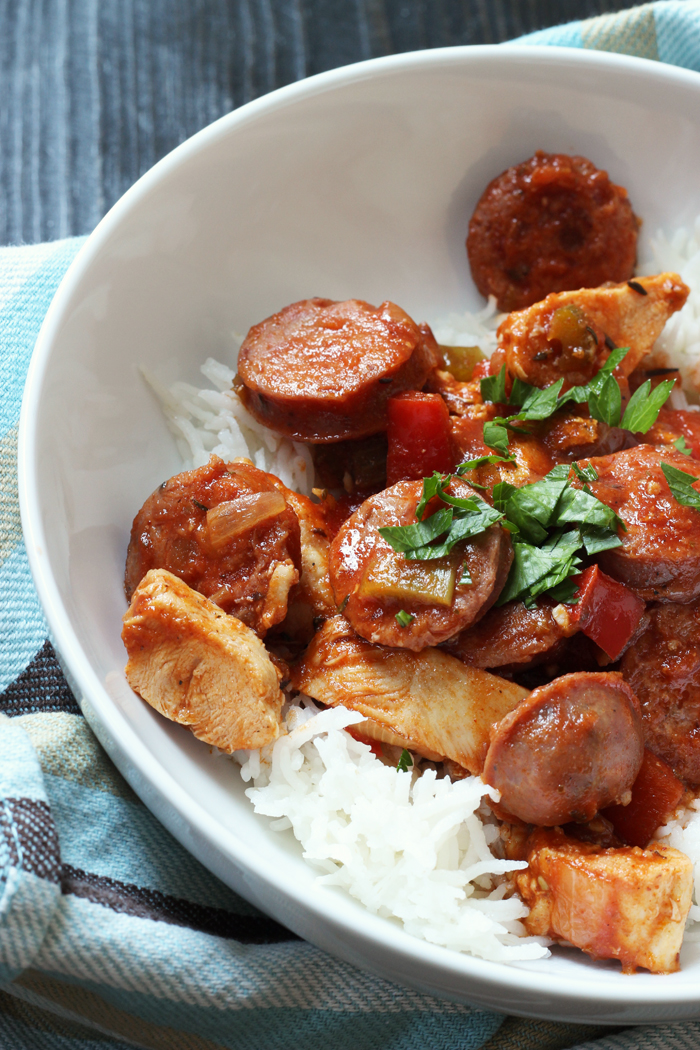 Spaghetti Squash Jambalaya
Spaghetti Squash Jambalaya just may be one of my favorite low carb recipes. Hot and spicy with a touch of sweetness from the squash, it's the perfect healthy supper.
Ingredients
1

lb

chicken tenders

salt

black pepper

2

tablespoon

olive oil

1

green bell pepper

for 1 cup chopped

1

onion

chopped

2

rib

celery

for ½ cup chopped

1

clove

garlic

minced

5

smoked sausages

sliced

15

oz

tomato sauce

1

teaspoon

paprika

1

teaspoon

dried thyme

1

teaspoon

dried oregano

¼

teaspoon

ground cayenne pepper

¼

teaspoon

red pepper flakes
For serving
1

Spaghetti Squash

cooked (You can also serve it on rice, pasta, or cauliflower)
Instructions
Season the chicken tenders to taste with salt and pepper. In a large skillet over medium heat, heat the oil until shimmering. Add the chicken pieces and cook just until no longer pink in the center. Remove to a cutting board.

Add the peppers, onion, celery, and garlic to the drippings in the pan and cook, stirring, for about five minutes. Add the sausage and cook, stirring, until the vegetables are tender and the sausages are browned.

Add the tomato sauce, paprika, thyme, oregano, cayenne, and red pepper flakes to the skillet. Stir to combine and bring to a simmer.

Meanwhile, slice the chicken tenders into bite-sized pieces. Add these back to the pan and warm in the sauce.

Adjust seasonings and serve the sauce over hot cooked spaghetti squash or other favorite base.
Notes
To freeze, cool the prepared meat sauce completely before storing in an airtight container in the freezer. Thaw and reheat to serve.
Nutrition
Calories:
356
kcal
|
Carbohydrates:
22
g
|
Protein:
29
g
|
Fat:
17
g
|
Saturated Fat:
3
g
|
Cholesterol:
98
mg
|
Sodium:
1221
mg
|
Potassium:
799
mg
|
Fiber:
4
g
|
Sugar:
10
g
|
Vitamin A:
1125
IU
|
Vitamin C:
32.6
mg
|
Calcium:
70
mg
|
Iron:
2.6
mg
Tried this Recipe? Tell us what you think!
Your reviews help us develop better recipes and give newcomers the confidence to try your favorites. Scroll down to leave a starred comment.