Snowball Cookies are a delectable concoction of butter, flour, and sugar. This no-nut version of the classic recipe is a delicious must-make for your cookie plate.
A recent poll of my progeny as to their favorite holiday traditions revealed that cookies top the list. And not just any cookies, mind you. We don't need no stinking packaged cookies here.
No, indeed.
Only homemade will do at the holidays, and we've got some family favorites that we make every holiday season. Chocolate Chocolate Chip Biscotti, Double Chocolate Toffee Cookies, Chocolate Mint Snow Top Cookies top the list, but man (or woman) cannot live on chocolate cookies alone. Oh no.
We need a few Sugar Cookies to balance things out. And Snowball Cookies, too, of course.
You've had these traditional holiday cookies before, I'm sure. They're known by other names: Mexican Wedding Cakes, Swedish Teacakes, Russian Teacakes. At our house we call them Snowballs. And they are a favorite, indeed.
These classic Snowball Cookies are soooooo good. I mean, butter, flour, sugar and nuts? You really can't go wrong with that combination.
Except for the nuts — in a nut allergy home. Years ago, I decided to omit the nuts from my favorite cookie recipe so that my daughter could enjoy them along with the rest of us. If you're avoiding nuts as well — or even if you're not — I nominate these Snowball Cookies as a must-make on your cookie plate this holiday season.
I do recommend that you weigh the flour to get the proper ratio of flour to butter. If you scoop the flour, you risk having a very dry dough. It's not the end of the world, just pack the dough with your hands to get it to stick together. Weighing your flour is simple and easy, though, so go with that!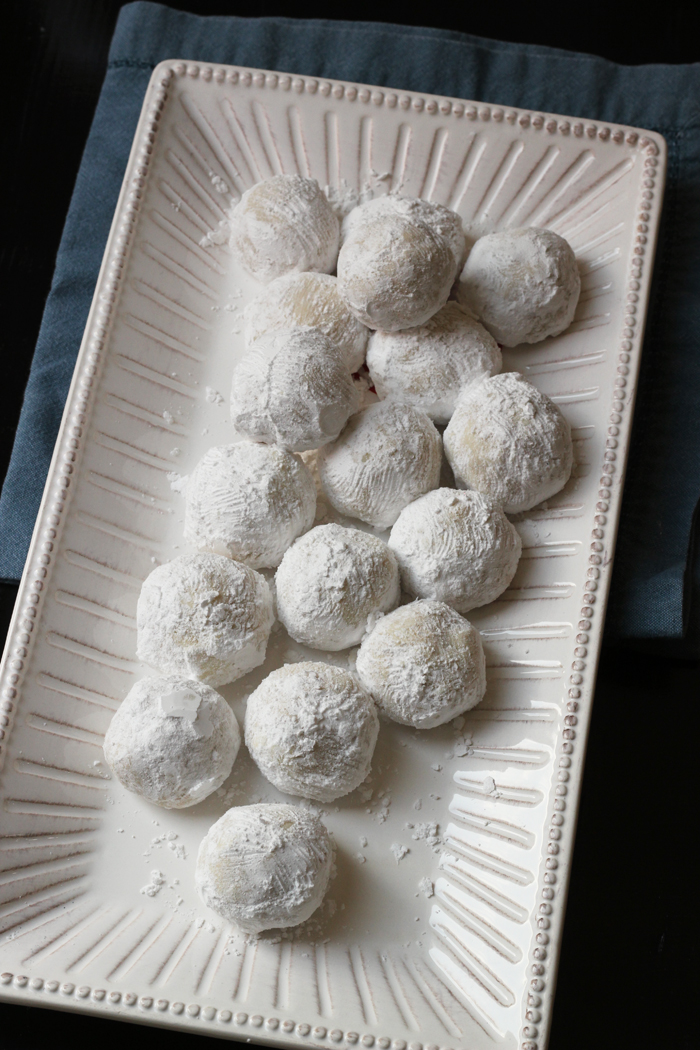 How to make Snowball Cookies good and cheap:
Here are some of the strategies you can use to make this recipe more economical:
Stock up on ingredients when they are on sale. When I find regular kitchen staples on sale, I buy a lot. I'm currently using a price book to track prices and that's saving me money. For this recipe, keeping an eye on the price of flour, powdered sugar, and butter can help keep the price down. And yes, you should use butter!
Buying in bulk – It's rare that I would buy just one bag of flour. Instead I stock up when I see a sale. I also have gotten into the habit of buying cases of flour from Bob's Red Mill. I practice the same bulk buying for all my baking ingredients.
How I make this recipe easy:
This Snowball Cookies recipe really couldn't be easier than it is, but having the right kitchen tools can really make your time in the kitchen more enjoyable. Over time, I've honed my collection so that they are perfect for my needs.
Here are the tools that I use for this recipe:
Snowball Cookies
Snowball Cookies are a delectable concoction of butter, flour, and sugar. This no-nut version of the classic recipe is a delicious must-make for your cookie plate.
Ingredients
1

cup

butter

softened

½

cup

powdered sugar

plus additional powdered sugar for rolling

1

teaspoon

vanilla extract

2 ¼

cup

unbleached, all-purpose flour

¼

teaspoon

salt
Instructions
Preheat the oven to 400°. Line sheet pans with parchment paper or silicone baking mats.

Combine the butter, sugar and vanilla in the bowl of a food processor (or in a mixing bowl with a mixer). Add the flour and salt. Pulse until coarse crumbs forms. Shape the dough into walnut-sized balls, pressing to pack your own snowball cookies.

Place the dough balls on an ungreased cookie sheet or one lined with a silpat baking mat. Bake until set about 9 minutes. Do not brown. Roll the warm cookies in powdered sugar.
Notes
Store in an airtight container. To freeze, layer the cookies between sheets of parchment or waxed paper.
Nutritional values are approximate and based on 1 cookie.
Nutrition
Calories:
80
kcal
|
Carbohydrates:
7
g
|
Protein:
1
g
|
Fat:
5
g
|
Saturated Fat:
3
g
|
Cholesterol:
14
mg
|
Sodium:
61
mg
|
Potassium:
9
mg
|
Fiber:
1
g
|
Sugar:
2
g
|
Vitamin A:
158
IU
|
Calcium:
3
mg
|
Iron:
1
mg
Do you make snowball cookies? What's YOUR name for them?
Don't forget to check out The 12 Days of Christmas Cookies.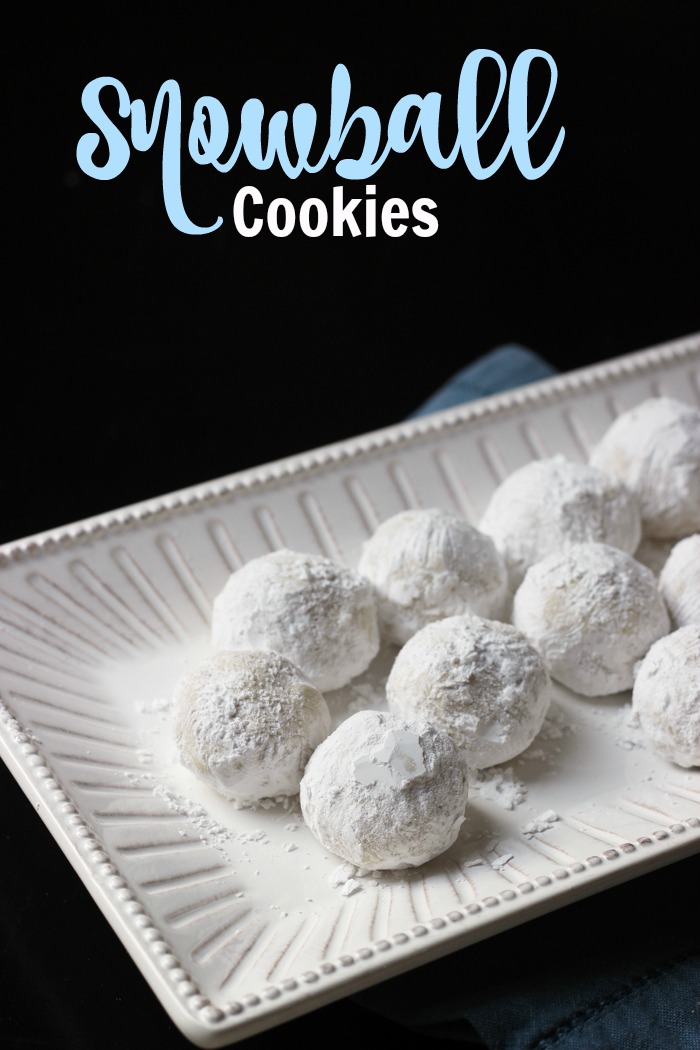 Originally published December 14, 2010. Updated December 16, 2017.