Mix up a pot of this quick and easy minestrone from simple kitchen staples. It's the perfect answer to a cold and blustery day.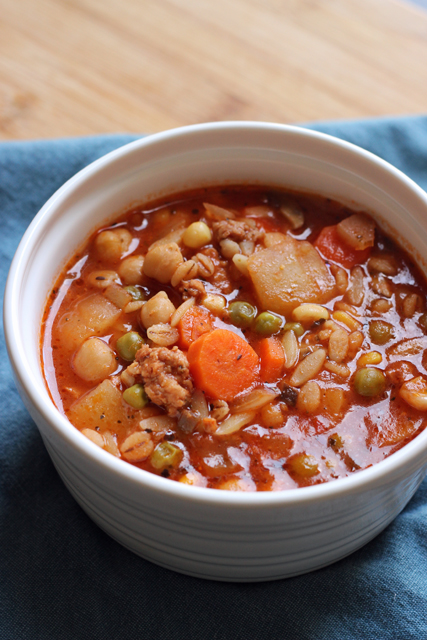 During the Pantry Challenge, dinner was often soup, for many reasons. Soup is quick and easy to prepare; it's a cozy, cold weather meal that can feed a crowd. Most importantly, soup can be made from almost anything, making it the perfect dish to use up odds and ends you find lurking.
Since my odds and ends were all of a similar variety, we had this soup, this Pantry Challenge Minestrone, several times during the challenge. My kids and husband love it, so it makes for a super win for supper.
If you've already got leftover cooked vegetables or meat on hand, just toss them in the pot. Feel free to vary the vegetables or meat or even go meatless. Soup is a very forgiving dish.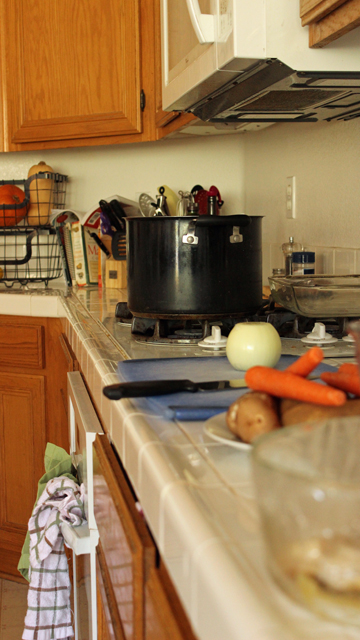 Recipe: Pantry Challenge Minestrone
Ingredients
2 tablespoons olive oil
1 onion, chopped
4 carrots, sliced
3 potatoes, chopped
3 mushrooms, chopped
1 tablespoon minced garlic
8 cups water
6 ounce can tomato paste
15-ounce can garbanzo beans (chick peas)
1/2 cup orzo pasta
1/2 cup quick cooking barley
1 cup frozen corn kernels (no need to thaw)
1 cup frozen peas (no need to thaw)
1/2 pound hot Italian sausage, cooked and crumbled
1 tablespoon Italian herbs
1/2 teaspoon fine sea salt
cayenne pepper to taste
Instructions
Heat the olive oil in a large pot over medium heat. Add the onions, carrots, potatoes, mushrooms, and garlic and cook until the onions go clear and the mushrooms are tender, about 7 to 10 minutes.
Stir in the water and tomato paste. Bring to a simmer.
Add the beans, pasta, barley, corn, peas, sausage, herbs, and salt. Simmer for 20 minutes or until the pasta and barley are tender. Dust with cayenne pepper, adjust seasonings, and serve.
Preparation time: 5 minute(s)
Cooking time:20 minute(s)
Number of servings: 8