The lunch hour is no longer 60 minutes. But, it can still be tasty and fun — with a little pre-planning and some make-ahead tips.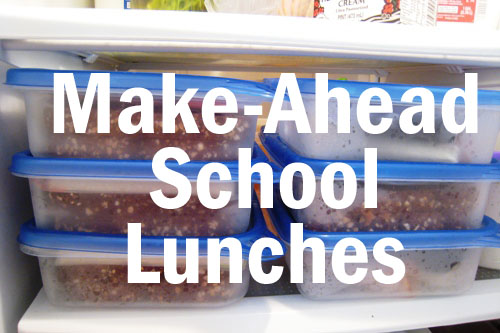 When I was a child, the lunch hour really was a lunch hour. The teachers had time to drive to a restaurant and order a sit-down meal. Kids could walk home and have lunch with whichever parent or caregiver might be home at that time.
It was only those of us who lived far from school who brown-bagged it or bought the cafeteria lunch. We had plenty of time to eat and then go play on the playground.
My how times have changed! Nowadays we're all in a hurry. Many schools have shortened the lunch break, some to as short as 35 minutes. And kids who want to go home for lunch? I don't think that happens anymore, does it?
School lunches, even in a homeschool setting, can be quick affairs. The day is so packed with activities that there's not time for the leisurely noontime meal of yesteryear. But, we want our kids to have good, nourishing meals at midday.
Since we're so busy, it can be hard to pull something together in the morning rush to get to school. Even though we homeschool, my day is pretty much packed, and I don't have a lot of time for meal prep throughout the day.
The answer is to make ahead as much of the lunch as you can. Then, you can pack the lunch box and be on your way or pull it from the fridge at meal time.
Here are some steps to making it easy:
1. Consider the proteins.
I like my kids to have a portion of protein at each meal. Good make-ahead proteins include:
Hard cooked egg – refrigerate in a dish.
Yogurt cups – divide a larger container into small portions and refrigerate.
Cheese slices or sticks – package in portion sizes and refrigerate.
Bean salad – mix a batch and then divide into individual servings and refrigerate.
Grilled and sliced chicken or meat – once cooled, package and refrigerate or freeze.
Peanut butter or sunbutter sandwiches – can be made the night before and kept in the fridge.
Soups and chilis – make ahead and freeze in individual portions. Reheat in the morning and pour into heated thermos.

2. Have some fruit and veg.
If we're going to get eight servings of fruits and vegetables in a day, they need to be the majority in every meal. Here are some ideas to get you thinking:
Applesauce – make a big batch and divide into small containers with lids. Freeze until the day of packing.
Fruit salad – refrigerate cut-up fruit in individual containers.
Grapefruit sections – cut the fruit a night or two in advance and store in the refrigerator.
Apple slices – Dip in lemon juice to prevent browning. Store in airtight containers for a day or two in advance.
Carrot sticks and other crudite – slice up a variety of vegetables and have kids help you assemble snack bags for the week.
Bagged raisins or other dried fruit – divide a larger package into snack sized bags.
Fruit leathers – storebought or homemade.
Green salad – make a large salad on Sunday night and divide into multiple containers to chill until ready to serve. Repeat on Wednesday night for the remainder of the week.

3. Keep the water bottles filled.
Storing empty water bottles is a pain. Caps and bottles separate and fall out of the cupboard. But, refilling them and storing them in them in the fridge? That will save you precious minutes when it's time to pack lunches.
4. Add a little treat.
Quick breads, scones, muffins, and cookies not only pack well for lunch, but they are also very freezer-friendly. Bake up a storm over the weekend, wrap well for freezing, and stash in the icebox. Pull out what you need when you pack lunches; they should thaw by serving time.
For crackers, trail mix, and pantry-stable snacks, divide large batches, either homemade or storebought, into snack bags and store in a basket in the cupboard.
Some of our favorites include:
5. Include a warm fuzzy.
My 2nd grade teacher, Mrs. Marcy, was my very favorite. She was so encouraging, and she often gave out "warm fuzzies", little tokens of affection and encouragement.
Include a warm fuzzy in your child's lunch to remind him that you think of him during the day. It can be a small toy or a little note. Print out these fillable Lunch Box Love Notes and tuck one in each lunch box throughout the week.
Click on the blue field and type whatever you want: words of encouragement, Scripture, or favorite things about your child.
If you want to be more spontaneous, print out several sheets and cut them apart. Store them in the kitchen with a box of markers for late night or early morning love notes. The personal touch looks pretty cool.
Get this FREE Back-to-School Printable Pack
Take things a little easier this year by downloading this FREE Back-to-School printable pack. The pack includes:
a form to interview your student and record what he or she is into this year.
a printable form to fill out and sign to excuse a tardy or absence
printable lunchbox love notes
grade level signs for that inevitable first day of school picture (in both colored and color-able formats)
Get the printables pack for FREE when you sign up for the Life as Mom newsletter, aka the Tip Sheet.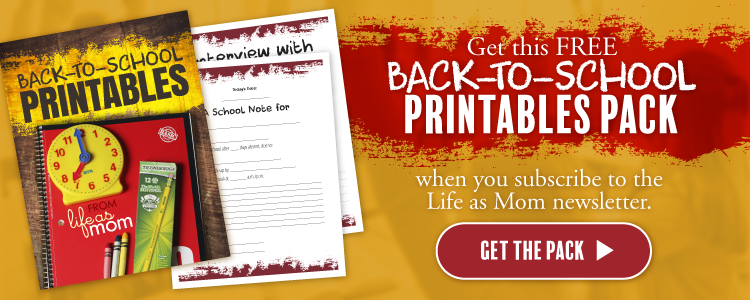 Brown bagging it doesn't have to be boring.
Or hurried. With a little pre-planning, you can make school lunches, easy, nutritious, delicious, and just bursting with warm fuzzies.
What is your favorite recipe for school lunches?
Now that lunch is taken care of…. Want help with dinner, too?

Grab one of these FREE printable meal plans and grocery lists. 5 main dishes, plus side, salad, bread, and dessert. All the work's been done for you. Just print and cook!