Gingerbread hot cocoa is true to its name. Rich in flavor, it'll warm your tummy this winter.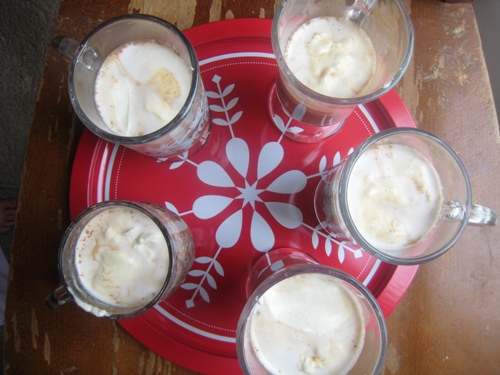 There's a chill in the air. Time to enjoy a warm cup of goodness. You might love coffee or tea. Hot cocoa is good, too.
We've been indulging a little too much in coffee shop fare, so I'm on a mission to make more of our hot drinks at home. Last week I experimented with a Gingerbread Hot Cocoa. As my son said, "It tastes just like you're drinking gingerbread."
And it does!
So whip up a batch of this for your gingerbread fans.
Recipe: Gingerbread Hot Cocoa
Ingredients
1/4 cup hot water
1/4 cup brown sugar (I used demerara)
1/4 cup molasses
1/4 cup cocoa powder
1 teaspoon ground cinnamon
1 teaspoon ground ginger
1 teaspoon vanilla extract
1/2 teaspoon kosher salt
3 cups milk
whipped cream for topping
Instructions
In a medium saucepan over low heat, combine the water, brown sugar, molasses, cocoa powder, spices, vanilla, and salt. Stir in the milk.
Heat mixture over medium heat, whisking, until hot. Serve with whipped cream.
Cooking time: 5 minute(s)
Number of servings (yield): 6