Building a great tasting pantry on a budget can take a little time and research. Here are my favorite frugal pantry staples.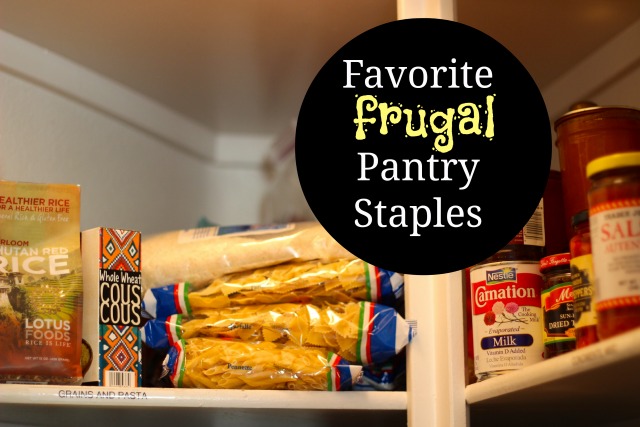 Cooking healthy, delicious meals and staying under budget starts with how you stock your pantry. If you aren't buying the right things at the right price, you will find yourself making extra trips to the store and spending or buying more than you need to.
Years ago when I first started doing my seasonal pantry challenge, I realized that a successful pantry challenge — when you eat mostly balanced meals that taste good and no one in your family starts a riot — begins with a great pantry. If you're putting problematic ingredients in your pantry, you're going to have meals that are problematic.
What goes in your pantry determines what comes out on your dinner table.
At the time of that revelation, I put together a Build a Frugal Pantry series. Much of it is still good and useful. Now's time for an update. Over the next month or two, I'll be giving you a tour of all my food storage in the next month.
Here are my favorite pantry staples that go in our walk-in pantry:
(My apologies for the flash photography. My pantry is a black hole.)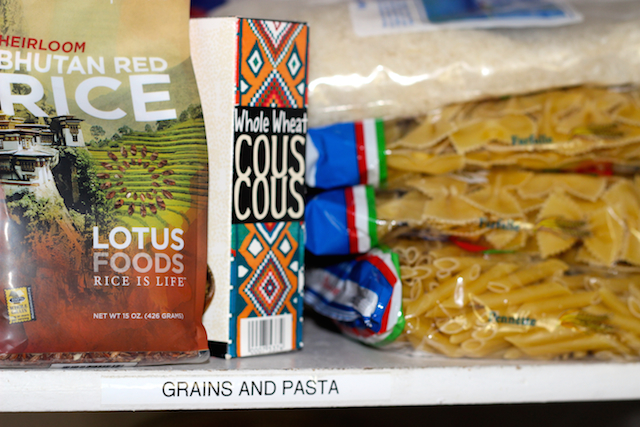 Pastas and grains
Pasta: I typically have several bags of pasta in various shapes and styles in the pantry, including traditional egg noodles, spaghetti, linguine, penne, rigatoni, elbows, orzo, couscous, and rice noodles.
My target price for pasta is $1/pound. I can get it organic for this price at Costco. I can get fun shapes at this price at Trader Joe's. Since finding bugs in a brand new cardboard box of pasta, I only buy it in plastic bags. This rules out much of the free-or-cheap-with-coupon brands of pasta, but I'm okay with that.
Grains: We eat a lot of rice, polenta/corn meal, popcorn, and hot cereals, as well as some quinoa and barley. I'd like to start experimenting with other grains, but I just haven't summoned up the guts to deal with picky kids on that front.
My target price for many of these items is $0.69/pound. I stock up when Sprouts has a sale. I've got big food storage containers for a stash. But, whole grains go in the freezer for longer storage.
I also keep a stock of Trader Joe's Shredded Wheat on hand. The kids would prefer Joe's O's, but those have a ton of sugar in them. Darn it. The shredded wheat is just wheat and about $2 a box.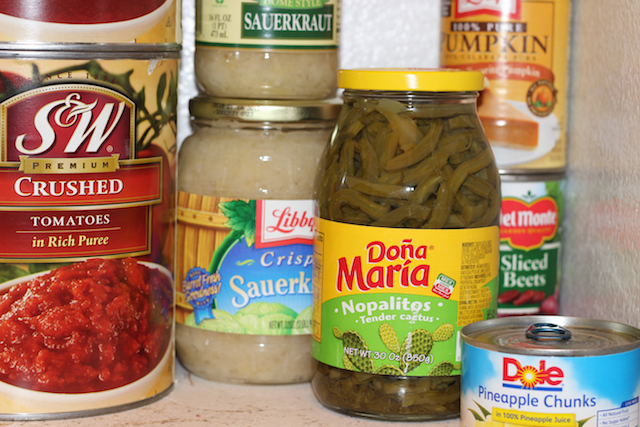 Canned vegetables and fruits
Since we get a lot of fresh organic produce, I don't buy as much canned as I used to. The canned items that I normally buy are olives, tomatoes, tomato sauce, tomato paste, crushed tomatoes, sauerkraut, hominy, and some canned chiles. Sometimes I get marinated artichokes and roasted peppers.
I typically buy a lot of these items in bulk at Costco or by the piece at Walmart which seems to have the lowest nonsale price. I don't serve hominy or sauerkraut so often that searching for a sale really would make a big diff. We're running low on all these things, so there isn't much to picture.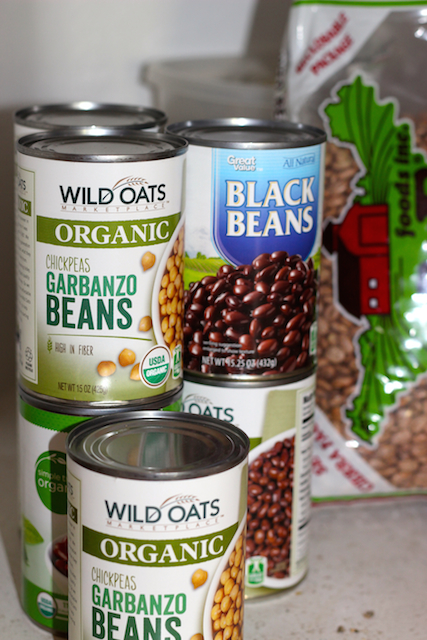 Beans
We got through a lot of beans, both canned and dried: garbanzo, pinto, black, and cannellini. I love the convenience of canned, but the price of dried is compelling.
When I crunched the numbers, dried beans cost about $0.33/2-cup portion. So, that's the best deal. However, if I find beans for 50 cents, I will buy all I can store. That makes it worth it. When I really need canned, I try not to spend more than $1/can.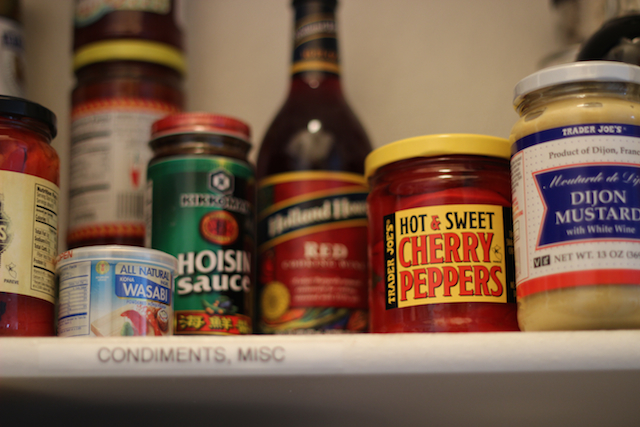 Condiments
I call "condiments" those things that you could probably live without, but that add color, texture, and flavor to foods: the obvious ketchup and mustard (yellow, Dijon, and spicy brown), but also soy sauce, fish sauce, wasabi, cooking sherry and marsala, sesame oil, hoisin sauce, and hot sauce. I also stock up on Trader Joe's light canned coconut milk. Love it for baking and in my coffee.
These prices can be all over the map. Usually I buy it when I need it, but if there's a great sale, I buy enough to have a few extras in the pantry. I also tend to buy these items at Trader Joe's or Walmart where they have great off-sale prices anyway.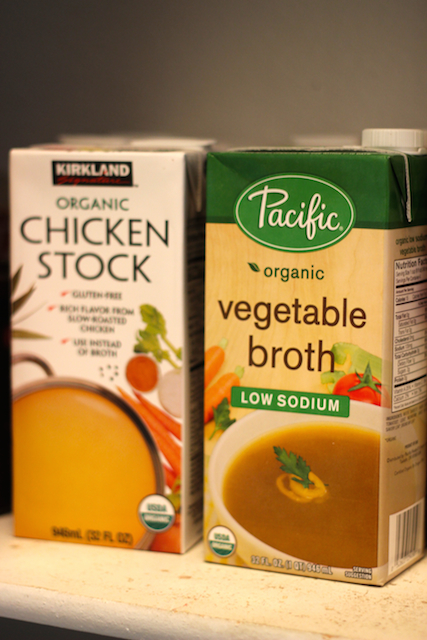 Boxed stocks and broths
I am a big fan of making your own chicken stock as a good cheap eat, but for the last few months, I haven't been buying whole chickens or even bone-in chicken. There haven't been that many great sales on either. And honestly? I've been miffed by the whole Foster Farm ickiness, and that's the kind of chicken I was buying super cheap. Now we know why it was so cheap. Blerg.
Instead, I've been buying quart boxes of stocks and broth from Costco or Trader Joe's. Organic varieties are not that much more than conventional, so I'm getting better quality for my investment.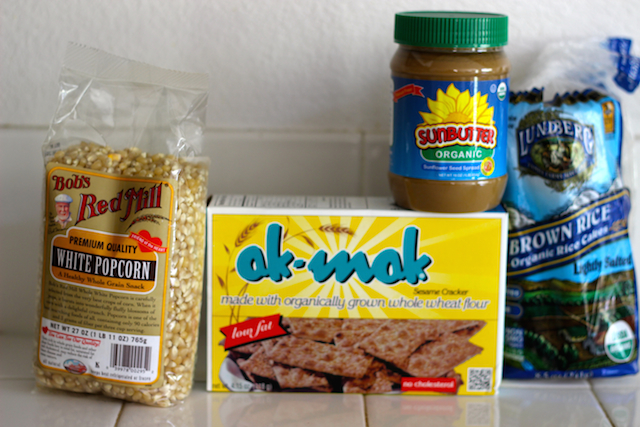 Snacks
We don't do a ton of processed snack foods on a regular basis. I've tried to steer the kids away from
My staples are Lundberg Farms rice cakes and Akmak crackers, both bought at Trader Joe's. TJ's is the cheapest for those items but you can buy both the rice cakes and the crackers on Amazon as well. Amazon's Prime Pantry price on the crackers matches Trader Joe's. The Subscribe & Save price on the rice cakes beats TJ's. Gonna buy me some, right now.
We also keep a steady supply on hand of  Bob's Red Mill popcorn that I buy via Amazon Subscribe and Save. Those are items we keep on hand pretty much all the time. They are whole grain and have few other ingredients.
In addition to the rice cakes, crackers, and popcorn, we regularly go through a lot of jam and sunflower butter. My youngest daughter has a peanut and walnut allergy. We could do almond butter, but it's more expensive than sunflower butter and the boys don't like it as well.
They may change their tune now that I started buying the unsweetened Sunbutter. The Trader Joe's sunflower butter has sugar, so I ordered a big case of Sunbutter off Amazon awhile ago. It's currently pretty pricey, so we may give almond butter a go. The only trouble is finding a brand that is guaranteed peanut- and walnut-free. Let me know if you know a brand.
Build a Frugal Pantry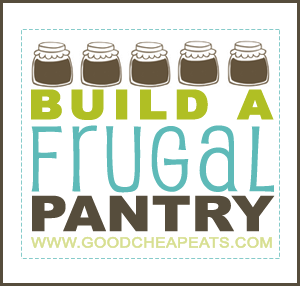 Over the next couple months I'll be sharing tips for buying the foods that pack the biggest punch nutritionally as well as dollar for dollar. Upcoming posts in the Frugal Pantry series include:
Favorite Freezer Ingredients
Favorite Baked Items and Baking Ingredients
What are YOUR favorite pantry staples?