Want to serve several different Christmas Cookies this year? No problem. Here are some tips for you to blitz through the process and keep your sanity.
Don't you love the tradition of Christmas Cookies? There are so many memories attached to cookies. Whether it's a memory of baking them with your gramma or mom or decorating them with your siblings, most of us have some sweet recollection of cookies, especially at the holidays.
Can you stop at eating just one?
I mean, really, think of all the cookies that are special to Christmas that you rarely enjoy the other 11 months out of the year. How can you choose? How can you limit yourself? Should you even try?
Wouldn't it be fun to have them all congregated in one place? I think so.
Serving a variety of different Christmas cookies at one time can be a tricky feat. I mean, do you have to spend a week baking? Will your kitchen be a blizzard of snow and sugar when you're done?
Or worse, who has the willpower to resist eating all that "wide variety of different Christmas cookies at one time" before Christmas?!
This is where your freezer and some savvy strategies come in handy to make things a little easier for you at the holidays! There are several techniques to bulk-batching cookies and freezing them that can help you this month.
You can have 12 different Christmas Cookies this year and not go insane. Here's how:
How to Make 12 Different Christmas Cookies Without Going Insane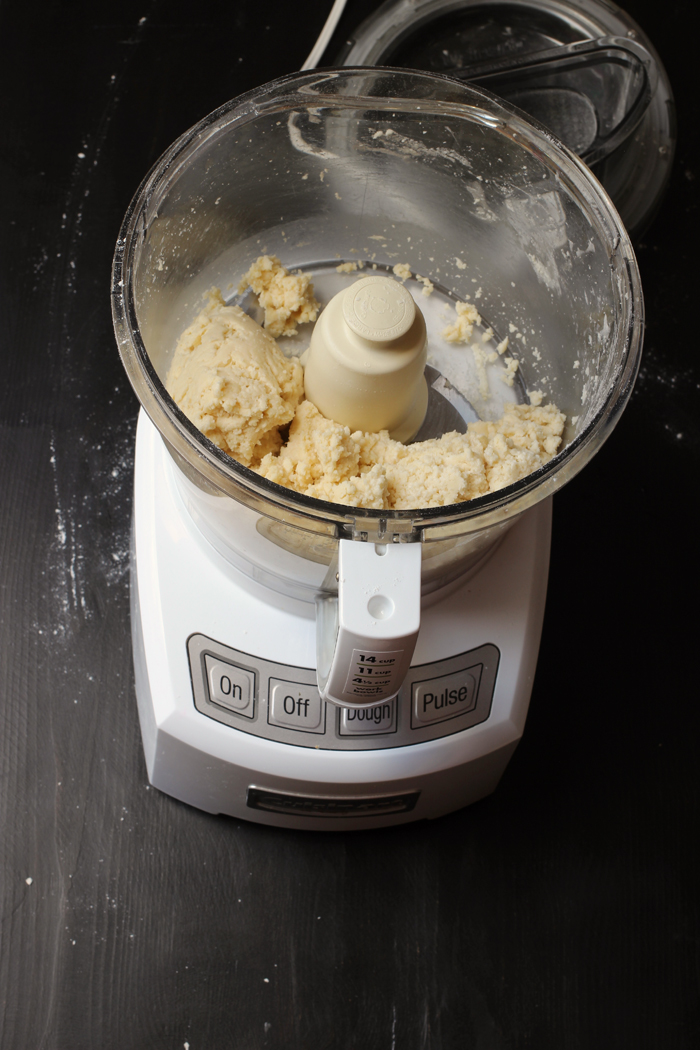 Use a food processor or stand mixer.
By using a small kitchen appliance like a food processor or stand mixer, you can quickly prepare many batches of dough in quick succession.
In fact, start with the plainest cookie dough (like sugar) and work your way up to the chocolate and then the peppermint. Since these cookies most likely all start with butter, sugar, and flour, you don't need to wash the bowl between each batch.
Yes, really. This is totally safe. Provided that you're mixing things in a short amount of time, food safety is not be a problem. Food is good for two hours at room temperature, so plan to whip out all the dough within that time frame.
If you'd rather wash the bowl in between batches, feel free to do so. You'll still save time by using a machine and by mixing many batches of dough in quick succession.
As each batch of dough is prepared, wrap it in plastic wrap or place it in an airtight container and stash it in the refrigerator. By performing all your like tasks together, mixing, forming, and baking, you'll save time and energy.
Make and freeze bulk cookie dough.
Once you have your doughs prepared, you can just freeze them "as is" until a day that you want fresh baked cookies. Just thaw the dough overnight and it should be ready to shape and bake the next day.
If you freeze the dough in round logs, you won't have to wait more than an hour. You can have slice and bake cookies in a jiffy.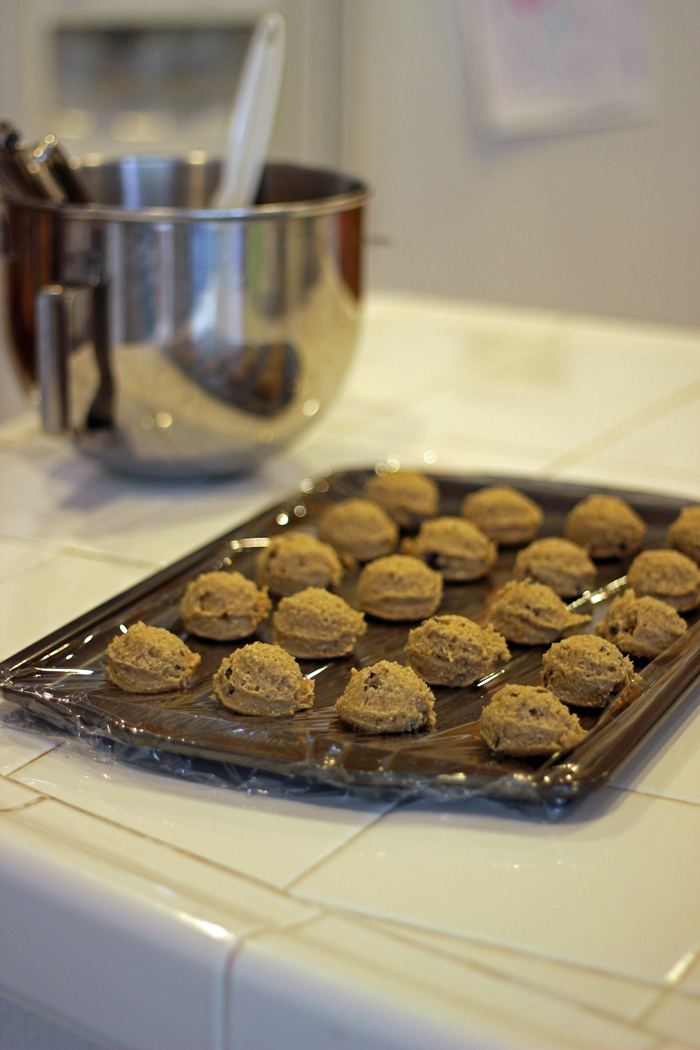 Make and freeze individual cookie dough balls.
Another option is to freeze the dough in "ready to bake" dough balls. Line a baking sheet with parchment paper or plastic wrap. Arrange the dough balls on the lined tray and freeze them until firm.
Once the cookie balls are frozen, transfer them to a ziptop freezer bag and return them to the freezer. Now, you've got an extra step already taken care of. Just bake them off when you have time — or whenever you want the aroma of freshly baked cookies to spread throughout your house.
Bake and freeze the cookies.
This is probably the easiest — and my favorite — way to make many different Christmas Cookies at one time. Prepare the doughs and then shape and bake in quick succession.
Rather than doing all 12 varieties at one time, divide your work into 3 or 4 cookie baking sessions.
Layer the cooled cookies between layers of waxed or parchment paper in large, airtight containers. Baked cookies should be good in the freezer for at least a month if wrapped properly.
Be sure to store like with like: storing soft cookies with crunchy cookies will change their textures. Peppermint stored with anything else will overtake the other flavors.
When you want to assemble different Christmas cookies on trays, pull your boxes out of the freezer and place a few cookies on each tray. They thaw in a matter of minutes, and you'll have a great gift or dessert without a lot of last minute prep work.
This also gives you a breather and a chance to spend some time making your presentation a little prettier.
Tackle your baking in stages.
However you decide to prep your dough, consider holding three or four baking sessions — unless you want to bake all day.
Some years, I just plan to bake a batch of cookies every day for a couple weeks. It doesn't take more than an hour each day, and I build a sweet little stockpile without much hassle.
Bake Some Different Christmas Cookies this Year:
Wondering what's going on our cookie platters this year? Here are some of our family's favorites, listed in the order that you should prepare them so as to avoid washing the mixer: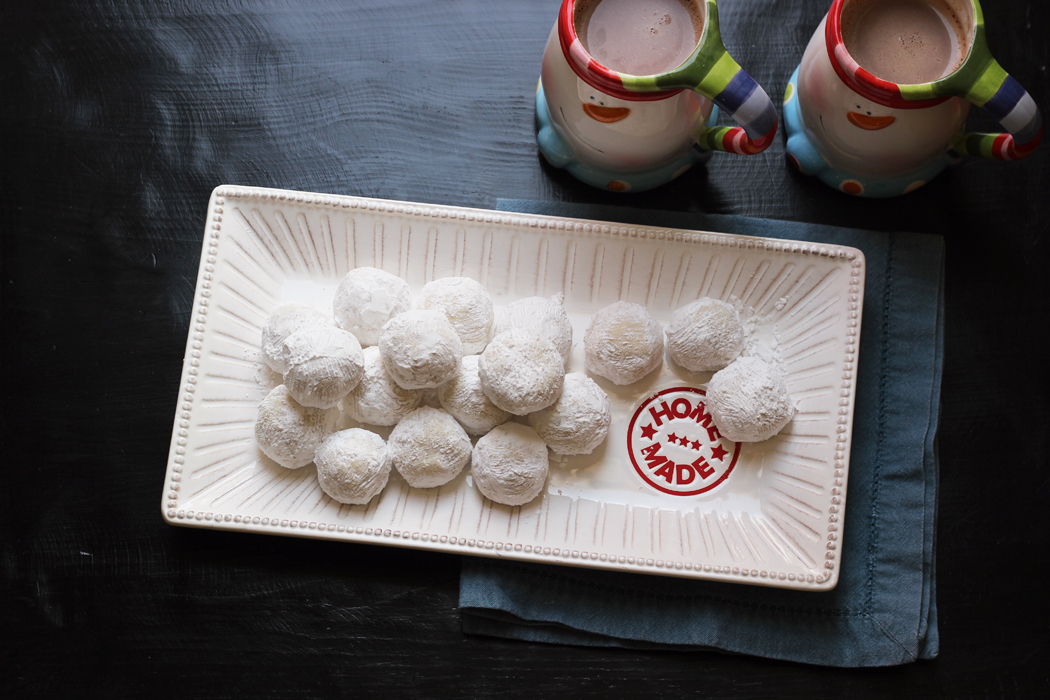 Snowball Cookies – we make them nut-free and egg-free. Make these first to retain their freedom from those allergens. Package them separately if you'll be serving to folks who are allergic to nuts and eggs.
Lemon-Ginger Bars – I took an old favorite and added crystallized ginger. So very delicious! Do not let the dough cool. Make sure you've got the filling ready to go right away else you'll have weepy bars. Ask me how I know.
Jesus Cookies — a regular Christmas tradition for at least 16 years! Try Smitten Kitchen's tip for not messing with dough chilling here. Brilliant!
Oatmeal Thumbprint Cookies with Cassis Jam – Love these with different jams, too. Again, I made these nut-free, but you can swap chopped nuts for the oats if you'd like the more classic thumbprint.
Pepita Cookie Bars – You can also makes these with your favorite nuts if you like. My great-grandmother Josephine Pellowski made them with walnuts. Don't tell my mom that I revealed the old family recipe. 😉
Gingerbread Crinkles – an easy alternative to cut-out cookies, these are super simple to form and bake.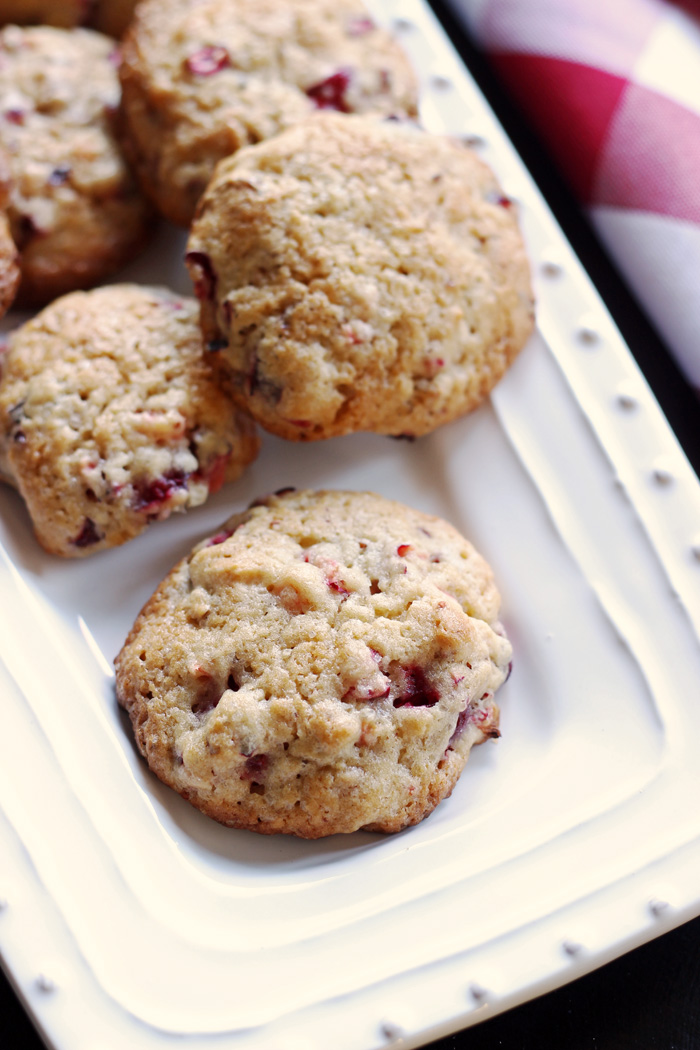 Cranberry Christmas Cookies – perfection! Adapted from the classic children's book, these cookies are addictive!
Double Chocolate Magic Bars — 7 Layer Bars with Oreos! So good. Can't stop eating them. They are even good fresh from the freezer!
Salted Double Chocolate Toffee Cookies – seriously the best chocolate cookie ever. You probably won't want to share them with anyone else.
Chocolate Chocolate Chip Biscotti – My husband's favorite for dipping into coffee. He likes to dip things in his coffee. If you're a dipper, you'll love these.
Peppermint Brownie Bites – so easy and delicious! No pan to wash or crumbs to scrape from the brownie knife. Make these (and the Chocolate Minty Melts) at the end so peppermint doesn't invade everything you're making.
Chocolate Minty Melts – A yearly must-make, these were an accident that has turned into a family tradition.
What are YOUR favorite Christmas cookies?
Just for kicks, here's the old video I made of my cookie baking, circa 2010.