Make things easy on yourself! Roast a whole chicken in the slow cooker for tender, delicious cooked chicken.
This post contains affiliate links which provide a means for me to earn fees linking to Amazon and other affiliate sites.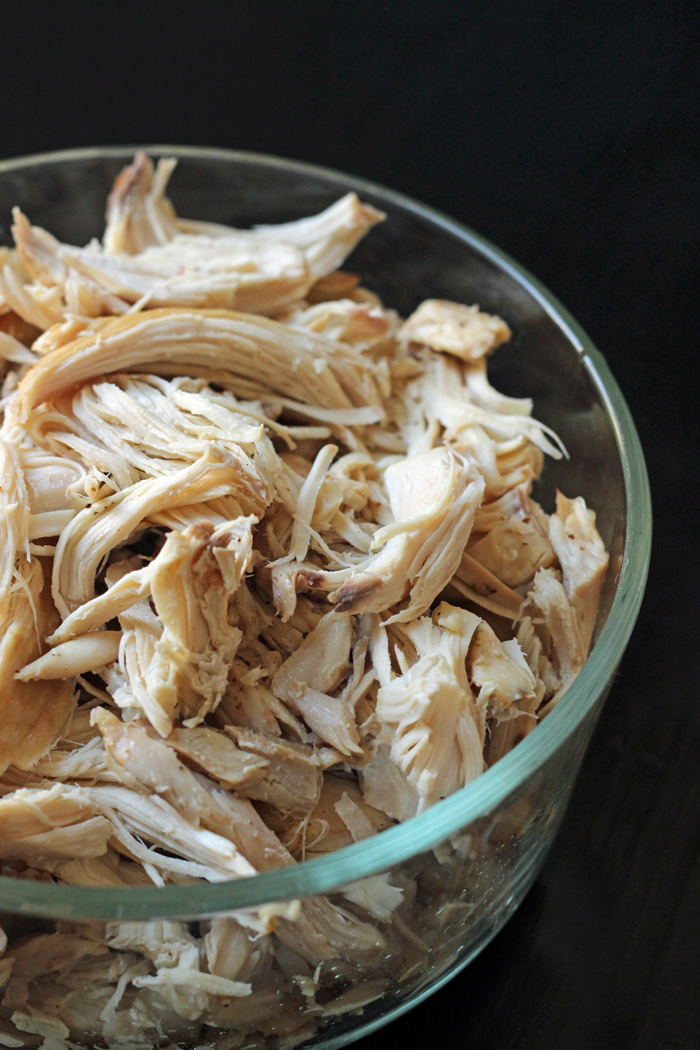 Cooking a whole chicken — as opposed to cooking pieces — can be a great way to stretch your grocery dollar. Not only do you get an abundance of cooked chicken plus a carcass to make homemade chicken stock, but you also benefit for lower prices and more tender meat. (Bone-in chicken tends not to try out like boneless can.)
It's also a great way to bulk cook and provide for many meals in one fell swoop.
Cooking a whole chicken in a slow cooker is one of the easiest and tastiest ways to prepare a whole bird. It's not hard. The meat is tender and juicy. And you do very little work.
Ready to learn? Here we go.
1. Thaw the chicken completely.
Typically whole birds are stored pretty cold, so even the ones I buy from the store are often partially frozen when I bring them home. Store it in the fridge in a dish to catch drips while it thaws.
2. Remove the giblets.
Remove the neck and giblets from inside the bird. Sometimes they are packed in a bag, sometimes not. You can use these for cooking, like in homemade stock, or discard. Your choice. (I ditch them usually, unless I'm making this recipe.) Pat the bird dry.
3. Season the chicken.
Place the chicken in your slow cooker. Rub on some butter or oil and then season it. You can use any spice blend you like as well as plain old salt and pepper. Sometimes I give it a heavy sprinkling of dried onion flakes as well as salt, pepper, and garlic powder. Consider thyme, herbes de provence, rosemary, oregano, basil, or sage to add to your seasoning.
You can even just give it a good dousing in Taco Seasoning Mix.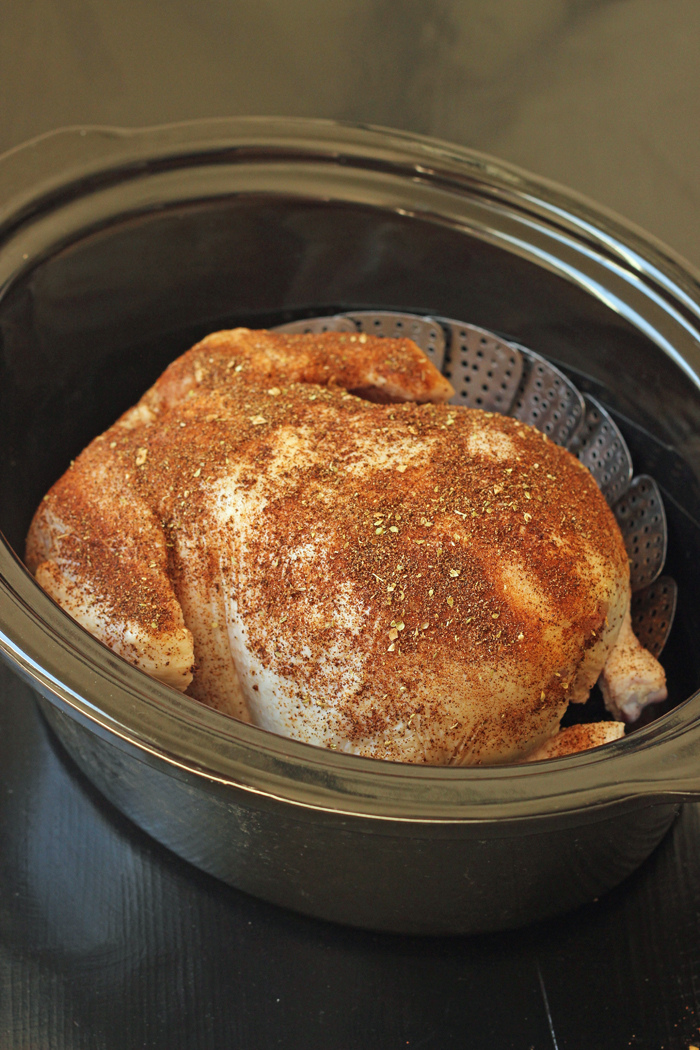 4. Cover and cook.
Place the cover on the slow cooker and turn it on to high for 4 hours or low for 6 to 8 hours. You do not need to add any liquid. Chickens today typically have some solution added, so they rarely need added liquid. At the end of the cooking time, the meat will be tender, practically falling off the bone. This is ideal for shredding or simply carve and serve.
Optional: since the chicken does produce a lot of drippings, I like to put it atop a steamer basket so that the chicken isn't sitting right in all the liquid. It also makes it easier to remove the chicken in one piece.
I typically serve sliced chicken and chicken pieces one night and then have enough leftover for soup or chicken pot pie the next night. I use the bones and drippings to make broth in the same slow cooker as soon as I've finished carving the chicken.
If you don't have a slow cooker, you can roast your chicken this way in the oven.

Chicken in a Slow Cooker
Forget the expensive rotisserie chickens. Roast a whole chicken in the slow cooker for tender, delicious cooked chicken with this easy recipe.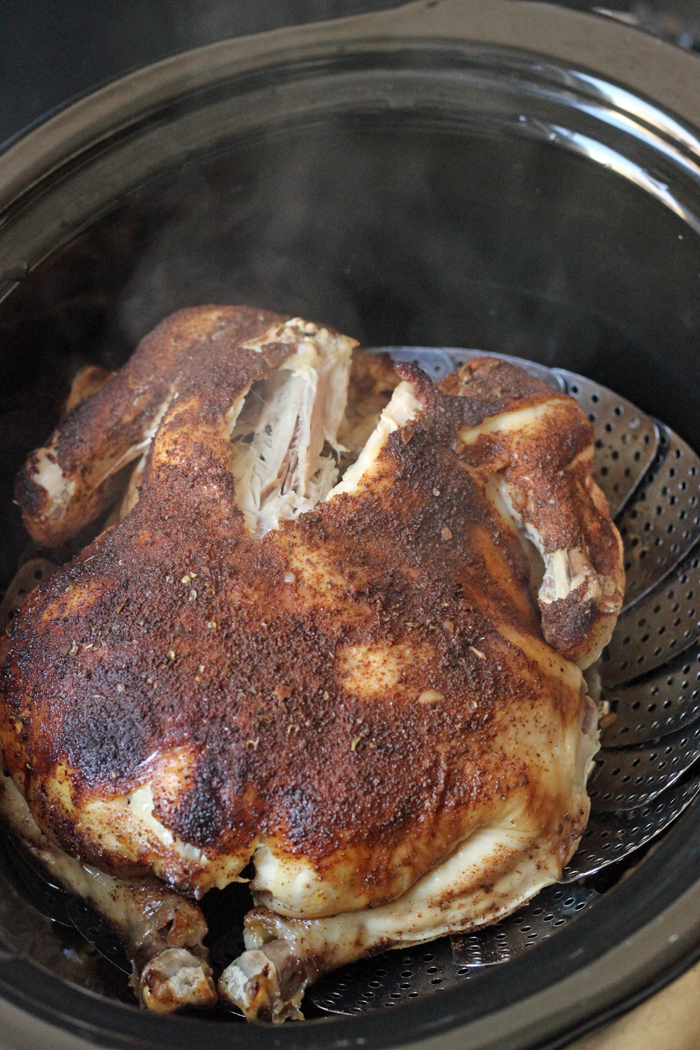 Preparation Time: 10 minutes
Cook time: 4 hours
Total time: 4 hours 10 minutes
serves 6 to 8
Ingredients:
one whole chicken, completely thawed and giblets removed

1/4 cup softened butter or olive oil

fine sea salt and freshly ground black pepper

1 to 2 teaspoons other spices of your choice: garlic powder, dried chopped onion, rosemary, thyme, herbes de provence, oregano, basil, or sage
Instructions:

Pat the chicken dry and place it in the slow cooker.
Rub the chicken with the softened butter or drizzle it with oil. Season to taste with salt and pepper and your choice of spices.
Place the cover on the slow cooker and cook on HIGH for 4 hours or on LOW for 6-8 hours. You can place it on a small roasting rack or steamer basket if you prefer.
Carve and serve chicken or shred it for use in another chicken meal.
Use the bones and drippings to make homemade chicken stock in the slow cooker.
Tools I use to make this recipe:
Originally posted January 17, 2012. Updated 2017.