Sandwich Night will become something super special when you top creamy chicken salad with bacon in these Chicken Salad Club Sandwiches.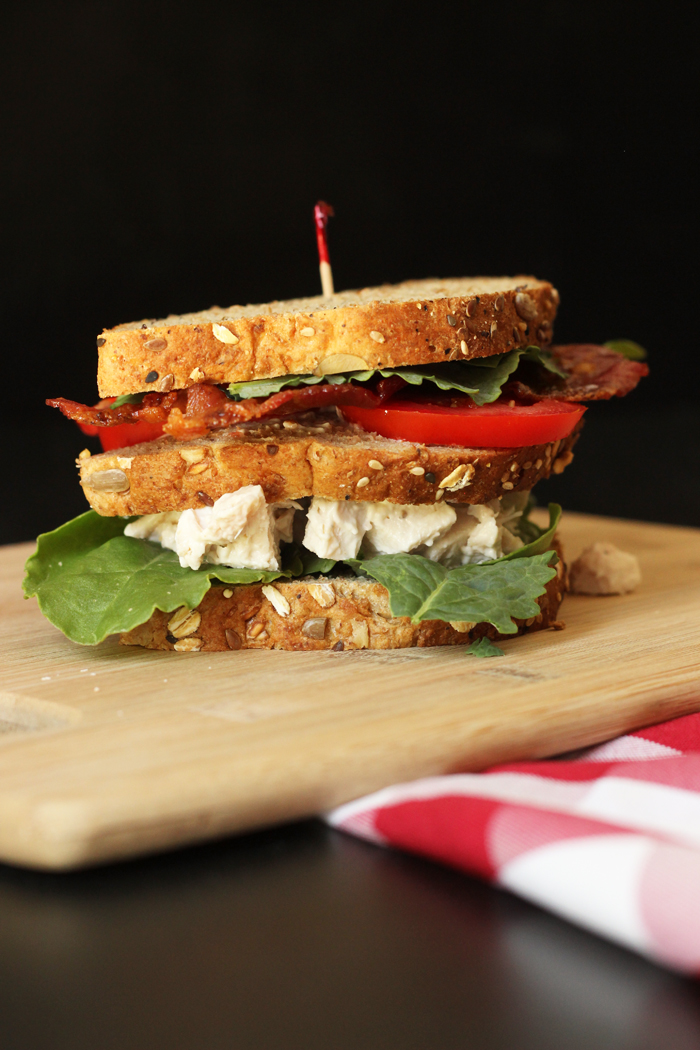 A few months ago we found ourselves hungry in York, United Kingdom. We had spent the morning touring the National Railway Museum. It was cold and threatening to rain. And we were hungry.
York is very much a pedestrian-friendly city, so we could have walked back to our apartment, stopping at the grocery store on the way, but I knew it would take much longer than our grumbling tummies could stand. We knew we could grab sandwiches at the Pret a Manger, but we'd grown a little tired of Pret by this time in our month-long journey through Great Britain.
So, I did what I did almost every day for a month: turn to my Trip Advisor app for advice. Surprisingly, the lunch spot that ranked high on the list was called the Teddy Bear Tea Rooms. I consulted the menu, decided there was enough that wasn't too weird for my people and that it was more or less in our price range, so we headed through the hustle and bustle of tourists on a bank holiday weekend, and landed….
…in front of a teddy bear store.
Seriously. It was a little toy store, jam-packed with teddy bears. Can there really be a restaurant here? A highly-rated one at that?
Turns out there was. Up this tiny, rickety, spiral staircase to two very funky, ancient levels of "tea shop". I spoke with the manager about the food, trying to ascertain that the sandwiches would be hearty enough for teen boys, and got the lay of the land as to, no, they don't take reservations. Grab a seat when you can.
This is no small feat for a party of 8 hungry people, but within 10 or 15 minutes, we'd secured two tables, and placed our order, amusing the waitress with our questions about the different items on the menu, items that were decidedly English and absolutely foreign to us Californians.
We even tried Elderflower Lemonade as well as British Dandelion & Burdock Soda with star anise! Between you and mean the Strawberry & Raspberry Soda was better.
And when our lunch arrived, we were thrilled! The littles had ordered "the teddy bear picnic" that came with a stuffed elephant. And the Chicken Salad Club Sandwich, since renamed The Grizzly, a HUGE 3-tier, pulled chicken & bacon club with tomatoes, lettuce and mayonnaise was, indeed, AMAZING. As well as huge!
We loved it so much that four of us went back for lunch at the Teddy Bear Tea Rooms the next day! I knew that I would want to recreate that sandwich for you all, and here it is!
Now one thing to consider about this sandwich is that, unless you live in the UK, you won't be able to make it exactly like they do in York. Unless, of course you have a US source for British Back Bacon.
British bacon is different than what we would call bacon here in the States. Most people either love it or hate it. I think it has the texture of ham with more flavor of bacon. I like it, but I also like uncured "streaky" bacon better.
As you can tell from the collage picture, it looks more like ham. The photos of my sandwich are obviously American bacon. Both are good in this sandwich, just not the same.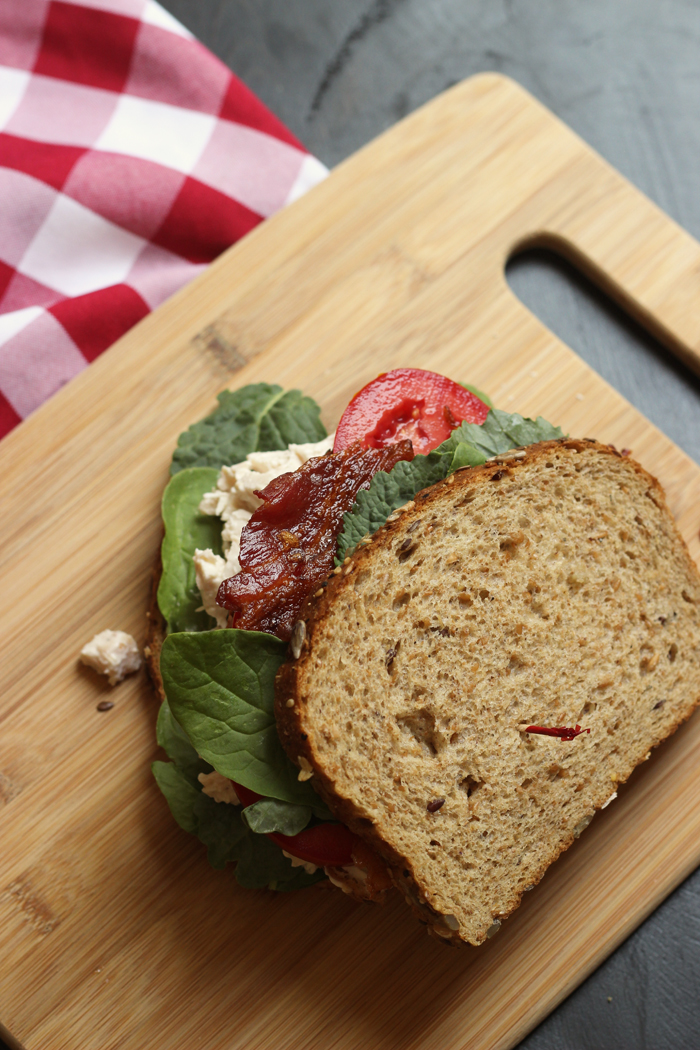 How to make this good and cheap:
Here are some of the strategies you can use to make this recipe more economical:
Stock up on ingredients when they are on sale. Chicken and bacon are your big ticket items here. Stock up when you see a good sale.
Shop at Costco. When I did

 

my big grocery store showdown, I learned that Costco has the best price for a lot of the things I buy, plus they sell all the ingredients needed for this recipe. I love their rotisserie chickens and buy their uncured bacon in bulk from them. They also have good prices on whole grain bread.
How I make this recipe easy:
This recipe really couldn't be easier than it is, but having the right kitchen tools can really make your time in the kitchen more enjoyable. Over time, I've honed my collection so that they are perfect for my needs.
Here are the tools that I use for this recipe:
Chicken Salad Club Sandwiches
Sandwich Night will become something super special when you top creamy chicken salad with bacon in this Chicken Salad Club Sandwich.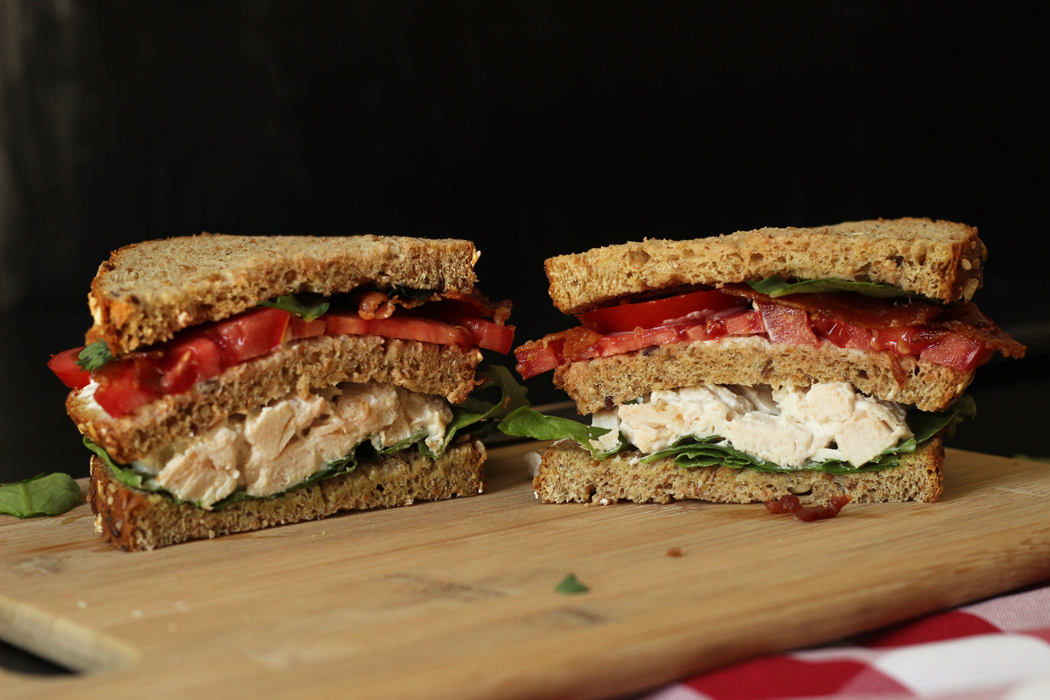 Preparation Time: 15 minutes
Cook time: 0 minutes
Total time: 15 minutes
4 servings
Ingredients:
3 cups cooked and chopped chicken

1/3 to 1/2 cup mayonnaise, plus additional for spreading

salt and pepper

8 slices bacon

12 slices whole grain bread

2 tomatoes, sliced

2 cups baby greens
Instructions:

In a large bowl, combine the chicken and mayonnaise. Season to taste with salt and pepper. Chill the chicken salad until ready to serve.
Cook the bacon until crisp. Drain on paper toweling.
Assemble the sandwiches by spreading mayonnaise thinly over the first slice of bread. Top with tomatoes, bacon, and some baby greens. Add a second slice of bread.
Divide the chicken salad over this second slice of bread. Top with more baby greens and the third slice of bread. Serve immediately.
If packing for take-away, wrap each sandwich carefully and consume within 8 hours. Toasting and cooling the bread before assembly will help it hold up longer.